S'more Traditions: The Lucky Pig
Hello, all my Christmas loving friends! Gather 'round, kids! I have s'more traditions to tell of oldeee. Today, I have the story of the lucky pig to share with you!
As stories tell…
According to Old World Christmas (our go-to for all our traditions), Pigs are considered to bring good luck and prosperity. In Germany, the word dickbauch means fat stomach, and it is often heard in December. According to tradition, you should eat well on Christmas Eve to avoid being haunted that night and to insure luck and prosperity in the New Year.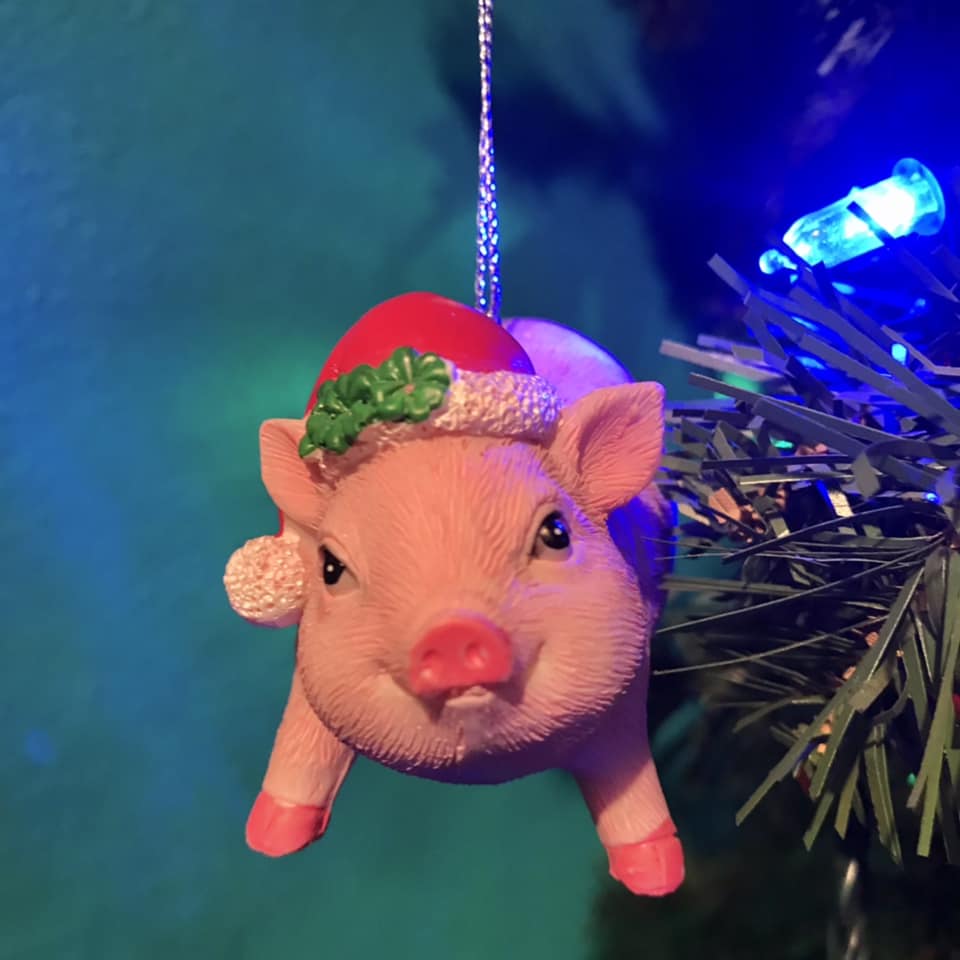 S'more Peppermint!
As luck would have it, there is s'more to tell about the lucky pig. Many years ago, at a Christmas Shoppe Christmas Party, the elves were celebrating another year of wonder, magic, and prosperity, and one elder elf introduced us to the tradition of The Peppermint Pig.
Carola the elf had grown up in New York and learned of this tradition from Saratoga Springs, NY. So, she brought a peppermint pig to our festivities. These hard peppermint candy pigs come with a bag and a hammer. Don't be alarmed! They are for whacking the candy pig.
We placed the pig in the bag and passed it around, each taking a turn to whack the pig with the little hammer. According to Carola, whoever was first to successfully break the pig would have prosperity and good luck in the new year.
It was a fun tradition, and we got to eat the peppermint!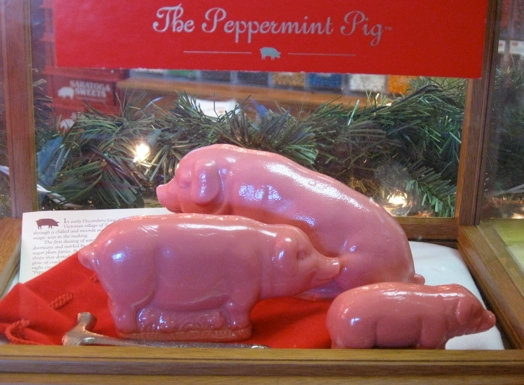 For more information, be sure to visit this website: The Famous Peppermint Pig by Saratoga Candy Co.! (saratogasweets.com)
Hopefully, we can sell them sometime in the future.
This little pig went wheeeee…..
Of course you can buy the lucky pig I took my picture with, but it's only in store (not online). So, if you are far away, feel free to give us a call to purchase over the phone, and we will ship it to you.
We have another pig in store, too! And he FLIES! This blown glass ornament from Christopher Radko is $43 and will be in our online store soooooon.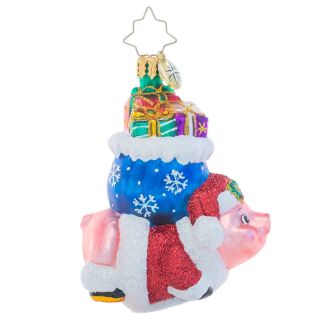 S'more Traditions
We've been sharing lots of ornament traditions over the years. So, if you have a hankering to read about s'more traditions behind the ornaments, be sure to check out:
S'more Updates!
Here's what's been happening on social media that you may have missed.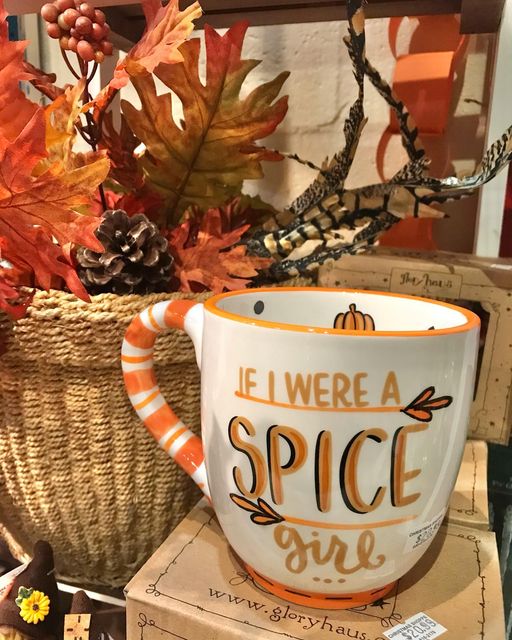 If I were a Spice Girl… I would be Pumpkin Spice
You need this mug, ladies! Come grab one tomorrow from noon to 6.
Commemorate 2022 with something special.
Our dates ornaments are always in demand, but shop early. We aim to sell out before Christmas, and we would rather have too few than too many.
Shop online: The Christmas Shoppe – 2022 Ornament – The Christmas Shoppe (thechristmasshoppetx.com)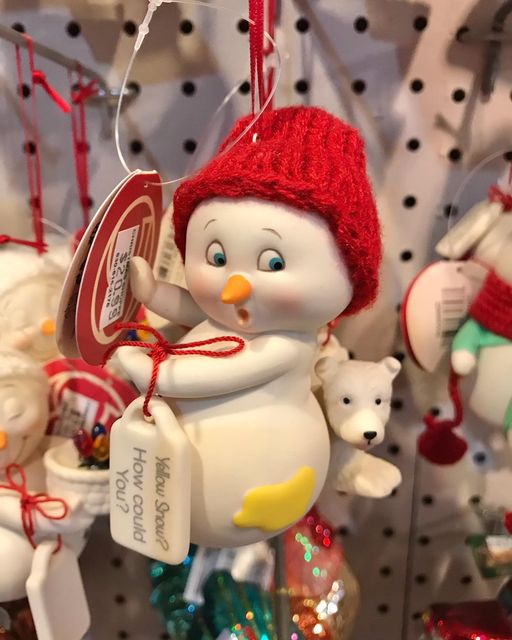 Uh oh! Don't eat the yellow snow!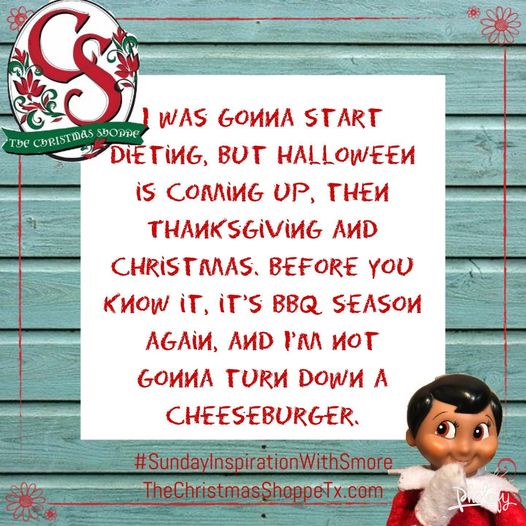 I need me a cheeseburger. With a side of Easter basket candy.
Gotta keep my elvish energy levels up, you know.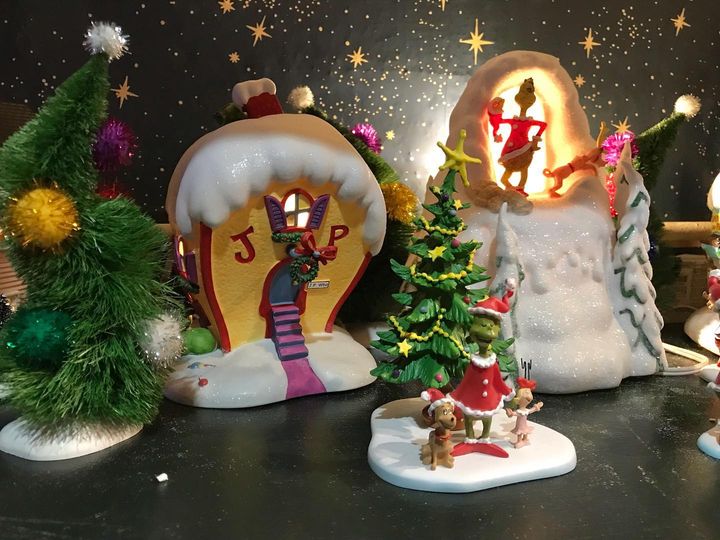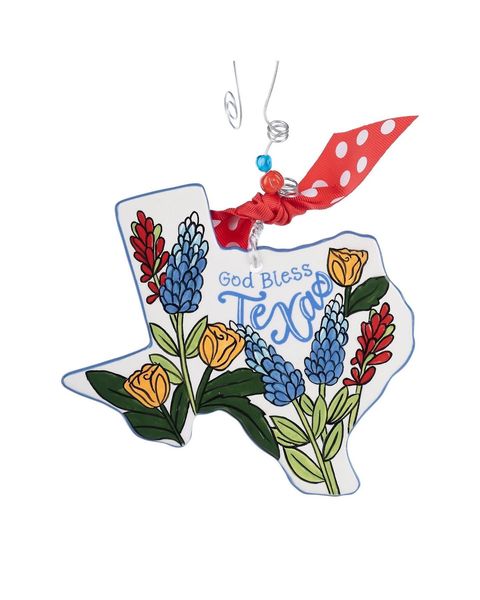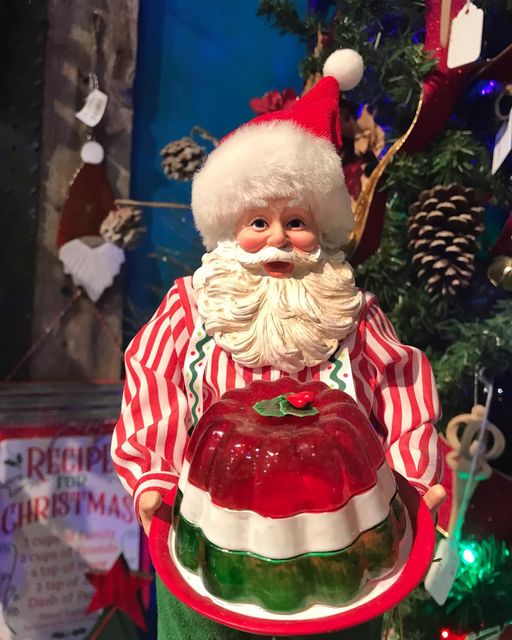 There's always room for…
So, have you ever tried Tomato Aspic? The elves are not a fan, but you have to try it once, right?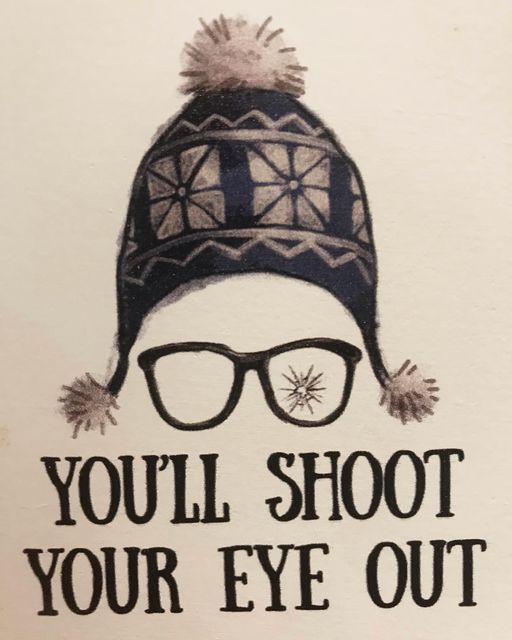 You will never guess what this is!
New kitchen magnets arrived today to make your refrigerator jolly!!!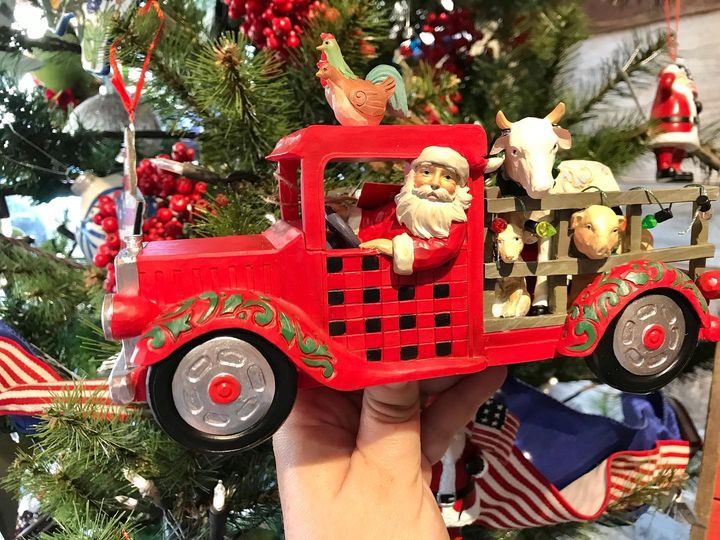 Rolling into the weekend like a boss!
Closing Time video: The First Noel parody
Another store in town recently did a video of what they a slow day looks like.
Anyway! We decided to give you a sneak peek at what closing The Christmas Shoppe looks like with S'more Elf.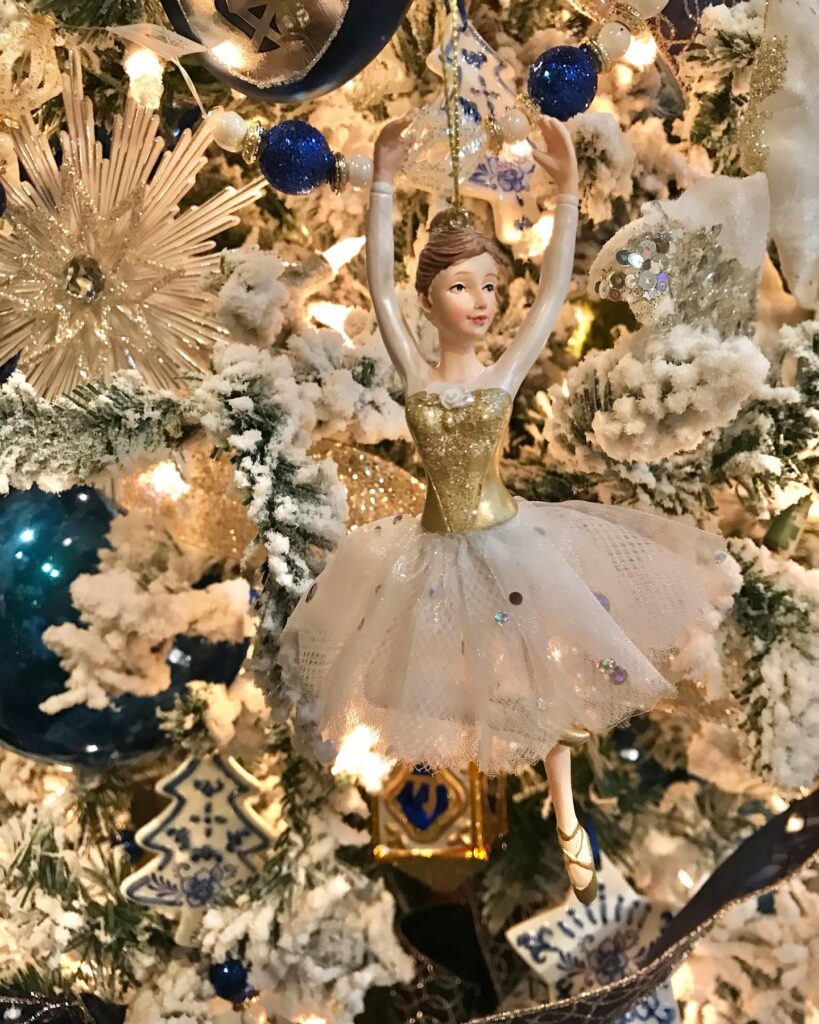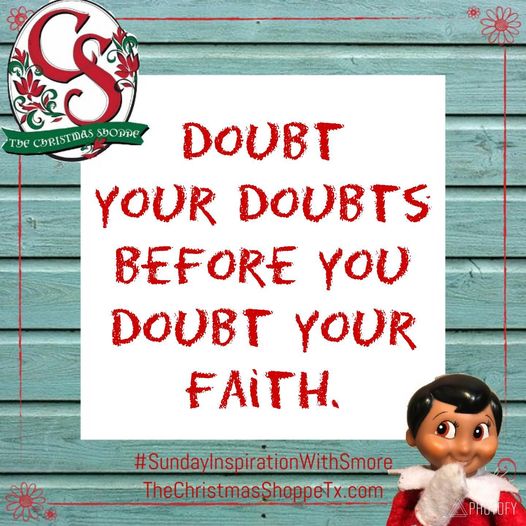 Which brings me to my next pearl of wisdom…
Not everything you think is true.
hmmm… yes, wisdom! Of course, this depends on what or who you put your faith IN. So, put your faith in the only One who is faithful, true, and wise – Jesus.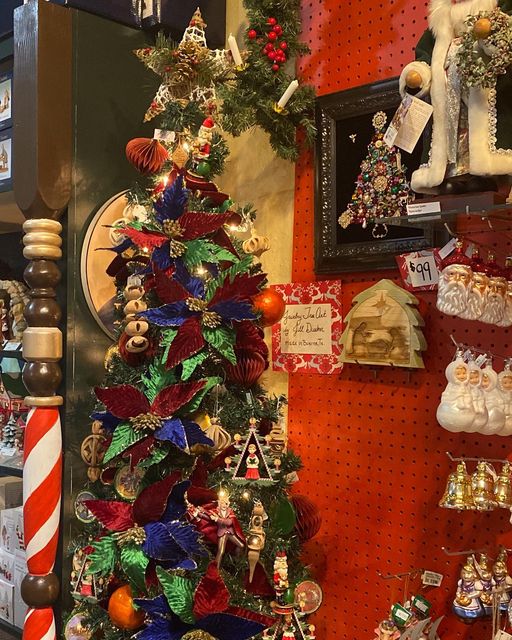 Our Bavarian themed Christmas tree just got finished!
I am loving all those rich colors and wood and touches of gold. A few more loving touches are on their way from a couple companies, but it looks lovely already!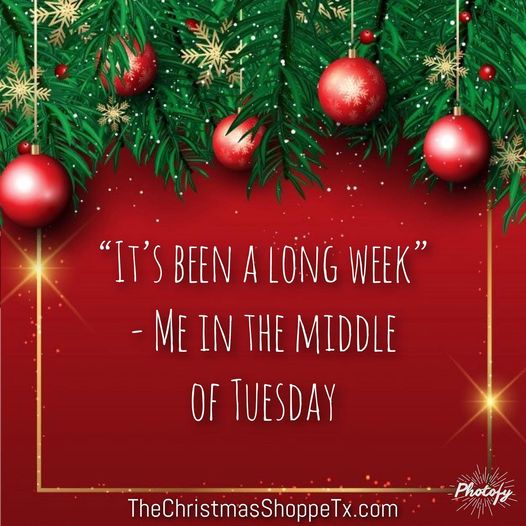 I think I need a vacation…
Who's having a day? It's not just me, is it?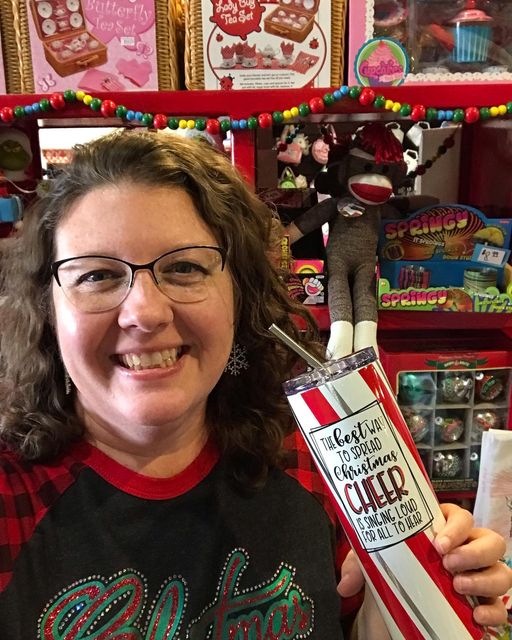 We think you look so pretty you should be on a Christmas card!
Come see us soon!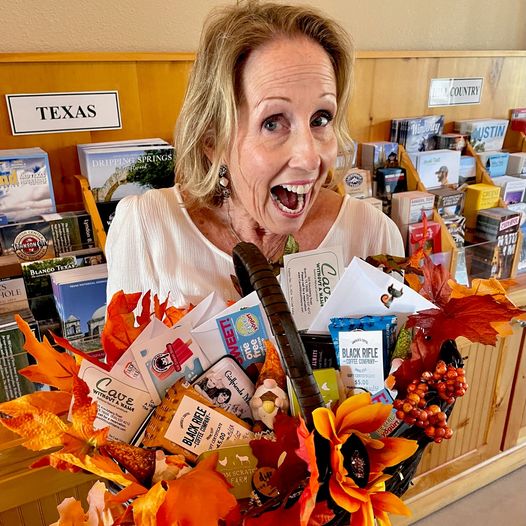 Calling trick-or-treaters of ALL ages! The Boerne Visitors Center has partnered with dozens of local businesses to offer some scary-good treats for the entire month starting October 1st!
Come say hi to our amazing volunteers, and don't forget to holler "Trick-or-Treat"!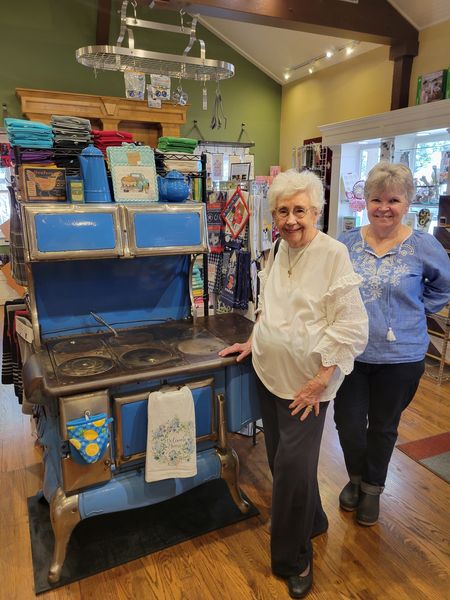 If you haven't visited Kiss the Cook recently, then you should stop by and see their new addition. They were fortunate to have Mrs. Patricia, "Pat," donate her prized 1920's Royal Windsor Stove to their store. Mrs. Pat is originally from Minneapolis, Minnesota and was born in 1933. In the 20's, this Royal Windsor Stove was available for sale at Montgomery Ward for $80. Mrs. Pat, who was very fond of collecting stoves, came across this 1920's stove from a newspaper ad and knew she needed it.
This 1920's stove has been featured at Kiss the Cook since early September. They have thoroughly enjoyed being able to remind people of a simpler time and a quick escape from the current hustle and bustle of our daily lives. Thank you again to Mrs. Pat, her son Dean, and her daughter-in-law Susan for allowing Kiss the Cook to display this beautiful treasure in time.
Read more here: (5) Kiss the Cook | Facebook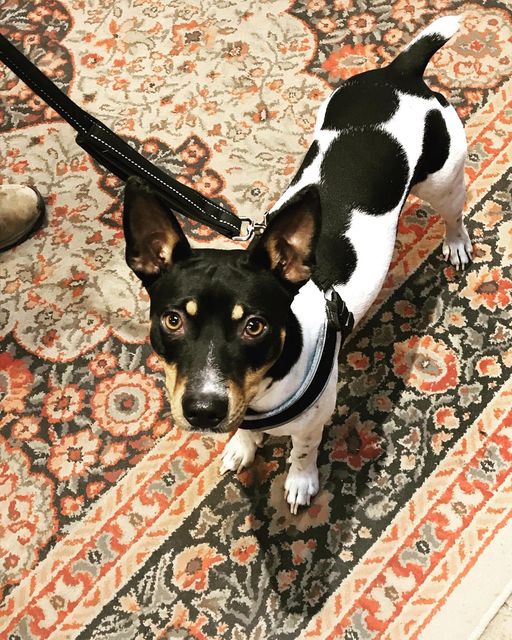 Well, hello!
Thank you for stopping by, Sarge!
Did you know that we are pet friendly??? We sure are! So, if your pet is shop friendly, bring them by!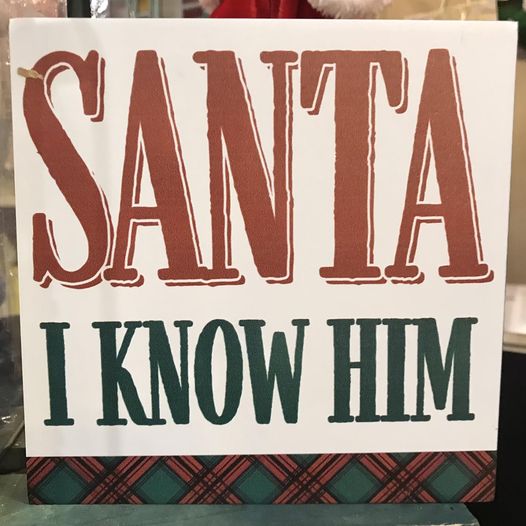 Getting excited with our new block signs!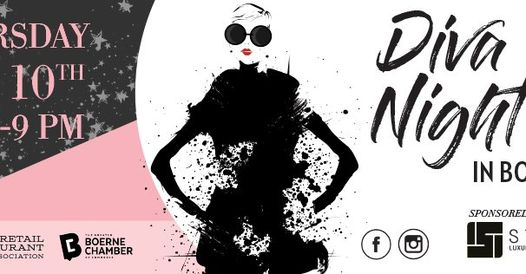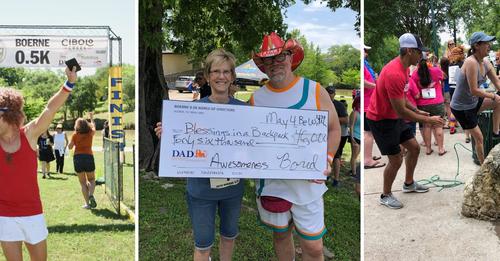 For all you slackers, couch potatoes and general laggards who have grown to love this event, here's a heartwarming story about the brainchild behind it. Jay Milton, you are loved and greatly missed.
This year's "racers," let's make Jay proud — have an absolute blast, throw back some donuts and beers and let's raise some cashola for Blessings in a Backpack – Boerne, Texas!
Remembering Jay Milton: The Man Behind the Boerne 0.5K – Blessings in a Backpack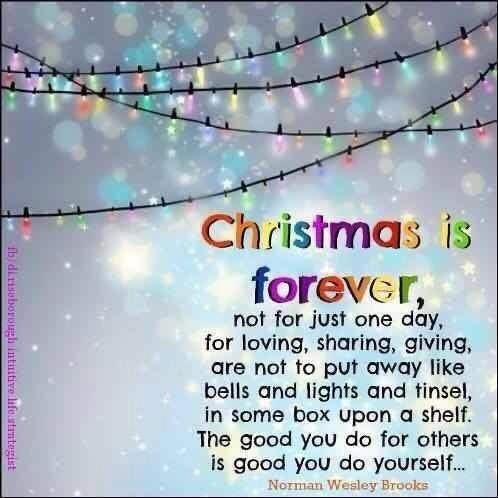 That's why our business card says, "Celebrate always where it's Christmas every day!"
We should rejoice every day because we don't just celebrate the birth of Jesus, we celebrate that He's alive, God with us!
We hope all these traditions help you to "Celebrate Always" (I Thessalonians 5:16) where it's Christmas every day!
LOVE FROM,
S'MORE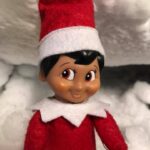 Want to see my past blogs?
CHECK OUT OUR BLOG ARCHIVE HERE
Want to be the first to see my future blogs?
Want to see what we are up to EVERY DAY?
FOLLOW US ON
TO BE SUPER UP TO DATE!