S'more Wedding Wishes
Two of my dear elf friends got engaged at Christmas. Don't they look happy? As happy as they looked at their engagement, I have even s'more wedding wishes for a life of wedded bliss.
That's what weddings and showers and wedding gifts are all about, boys and girls. It's a chance to show the couple all the blessings you hope for them and bless them with something that makes them happy now and in the future.
So for today's blog, I thought I would share with you all the details of their beautiful day and my advice on finding the perfect wedding gift!
Merry and Bright's beautiful wedding
The wedding went off like a dream this past weekend. Well, there was one hitch… the couple got hitched! Teehee!
Due to COVID, the happy couple chose an outdoor wedding venue. (I am sure lots of you are experiencing similar situations for weddings.) Luckily, there was lots of shade to keep us cool.
Thanks to Wedding Planner Barbie, we even had a beautiful altar. I snapped a quick picture at the pulpit before the wedding began. Check me out in my fancy dress suit! I bought it from Mr. Heart a long time ago, and if you remember The Heart Family of Barbie dolls, you might be able to guess how old this suit is.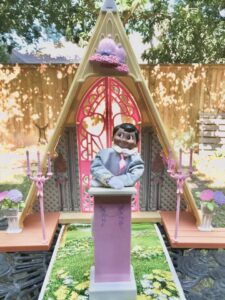 It was a simple ceremony. Santa (as head chief and mayor of the North Pole) officiated. Merry, the bride, was beautiful. Bright, the groom, was in a happy daze. And despite the pandemic enforced simplicity, at the end of the day, the couple was happily married. Merry and Bright are planning a reception for their one year anniversary in order to keep family and friends safe.
Wishing Wedded Bliss with a Gift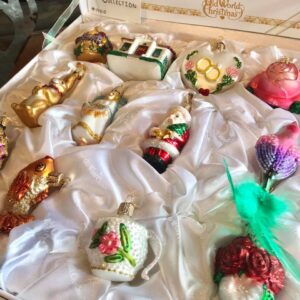 In my last blog, I explained the symbolism behind the anchor ornament and the sand dollar ornament. Symbolic ornaments are a unique way to give a wedding gift that demonstrates your happy hopes for wedded bliss. In fact, people have been giving symbolic gifts at weddings for hundreds of years!
For example, giving carrots to a new bride is a way of wishing her good luck in the kitchen! Seriously. It's a thing. Be careful with this knowledge, though. By giving a bride a bunch of carrots, you might give the impression that you don't trust her cooking skills or that only wives should be in charge of cooking.
Years ago the Old World Christmas company began making a set of ornaments that ensure all the wishing bases are covered. It's a twelve piece set in a beautiful white box, and I mailed it to my friends for their wedding gift. Now, they're ready to decorate their first Christmas tree as elf and wife. Click the link above for a closer look or to order one for yourself.
However, you may want to creatively choose individual ornaments that include the wishes you hope for most. (We are happy to box all your treasures for gift giving.)
The Twelve ornaments of wedded bliss and their meanings:
A Flower Bouquet – good wishes
A House – shelter & protection
Santa – unselfishness & goodwill
An Angel – God's guidance in the home
A Rose – beauty and affection
A Rabbit – hope & faith
A Pine Cone – motherhood & fruitfulness
A Bird – happiness & joy
A Fruit Basket – generosity
A Fish – God's blessing & provision
A Teapot – hospitality
A Heart – true love
Pretty perfect, am I right?
The Christmas Shoppe has lots of other wedding gift ideas, too.
In fact, we have a special "love" themed tree every year. The tree hasn't been put up yet for the year, but it will definitely involve gnomes in love with lots of red hearts.
Here are some pictures from our wedding corner showing our lovely wedding and anniversary gifts.
Shope our wedding gifts online here: Search results for wedding – The Christmas Shoppe (thechristmasshoppetx.com)
We are happy to personalize any items with smooth flat spaces for FREE! Just ask at check out! Ornaments that personalize well include the engaged ring box ornament and wedding heart ornament pictured above. We usually put the couple's names or last name and the year. Keep in mind, the shorter the personalization, the better it looks on the item.
Hope these ideas help you celebrate any upcoming weddings and "Celebrate Always" (I Thessalonians 5:16).
Want to see my past blogs?
CHECK OUT OUR BLOG ARCHIVE HERE
Want to be the first to see my future blogs? 

GET IT IN YOUR EMAIL HERE
LOVE FROM,
S'MORE