It's Smore's Birthday Weekend!
Hello, all my Christmas loving friends! It's my birthday this weekend, and I am ready to have s'more fun! It's going to be E P I C .
We would love for you to join us this Friday & Saturday for the party itself, but this is just the kick off for our Christmas in July celebration which won't end until the end of July!
Crazy? Yes. Yes, we are.
Celebrating when money is tight
Yup. We are like you and starting to feel the effects in the economy. The number of people coming in is about the same as last year, but fewer people are shopping. However, just because money is tight doesn't mean we can't "celebrate always" (I Thessalonians 5:16). In fact, when you look at the full context of this verse, the whole point is that no matter what we are going through, there is something to rejoice about.
So, I am here to share some tips for celebrating big on little moolah.
S'more Birthday Food!
It wouldn't be a birthday without cake or cupcakes. So, Mrs. C. is going to make some s'more inspired brownie bites based on her well-loved recipe: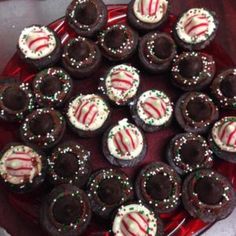 We'll be serving them all day Friday and Saturday, unless we unexpectedly run out early.
You see, one of the best ways to save money is by either making something from scratch or assembling something from inexpensive parts. If you make the brownie bite version of this recipe, you just have to buy or make brownie bites and top them with store bought or homemade frosting and Hershey's kisses. The whole thing is not very expensive.
S'more Birthday Bevs!
I like party drinks, and we have the perfect Christmas-y drink to keep you cool this weekend.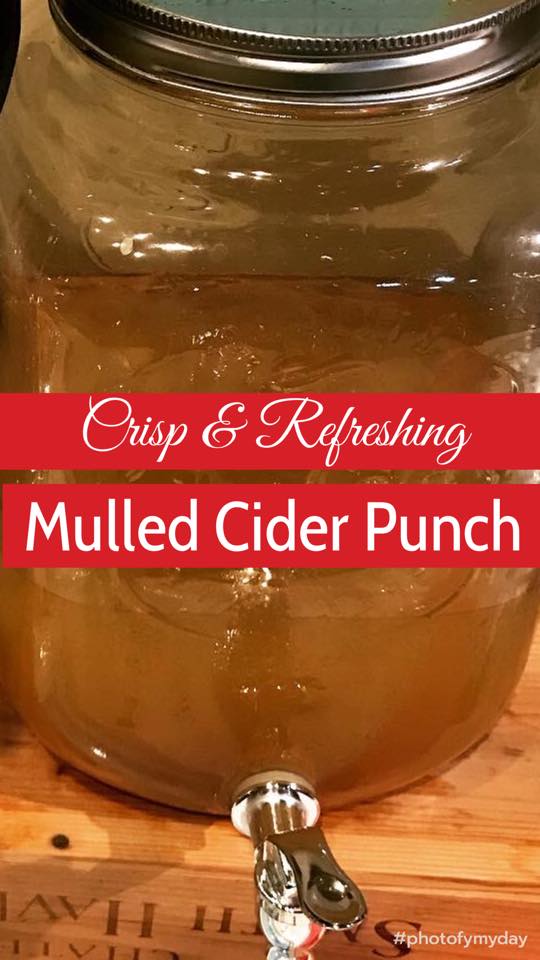 Just like the brownie bites, this is pretty inexpensive to make from scratch. The best way to keep your drinks area from costing a bunch is to limit how many kinds of drinks you serve. So, maybe one special punch or soda or tea. Then, have plain old ice water, too.
Little elves like myself shouldn't be drinking alcohol anyway, but if you do like alcohol, you can save a lot of money by not serving it at parties. If you do, try mixing wine with fruit juices to make a cool Sangria.
S'more Birthday Gifts!
This year, we decided to create a section entirely inspired by birthday celebrations! It's full of fun birthday gifts to buy for yourself or to give. As always, we do our best to keep the prices on our products low and fair.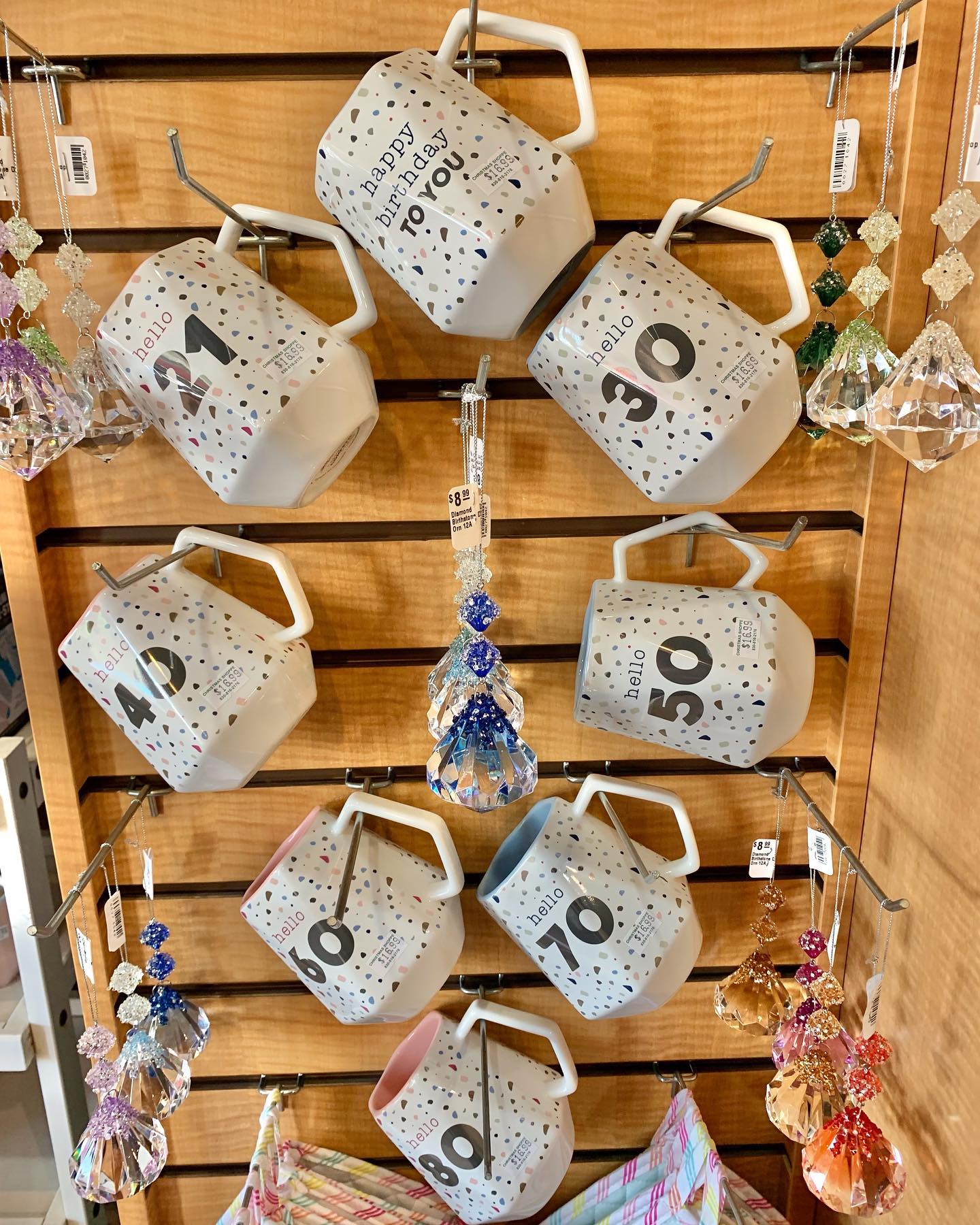 I'll be hanging out this area in case you want a selfie with me, the birthday elf.
S'more Birthday Prizes!
It wouldn't be a birthday without something special for you to take home! So, we are doing a very special reward if you buy anything starting Friday through the end of the month of July.
$25 spent gets you 5% off!
$50 spent gets you 10% off!
$75 spent gets you 15% off!
$100 spent gets you 25% off!
$150 spent gets you 35% off!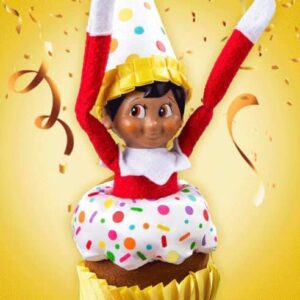 So, my last tip is to use coupons and discounts whenever possible, but (and here's the secret) only if you really want it. Our special sale for Christmas in July is a great way to save on your Christmas and gift shopping later.
There's another reason why you should buy now. We are still having problems with shipments. There is a chance that we might sell out of something you love and not be able to get it back in stock in time for Christmas. Getting it with a little discount is just the cherry on top!
S'more Updates!
Here's what's been happening in store that you may have missed.
An elf on the shelf has to be a master of stealth!
What skills are you practicing on your summer vacation?
Follow me on YouTube for more fun videos! https://youtube.com/shorts/MtfN11tyouI?feature=share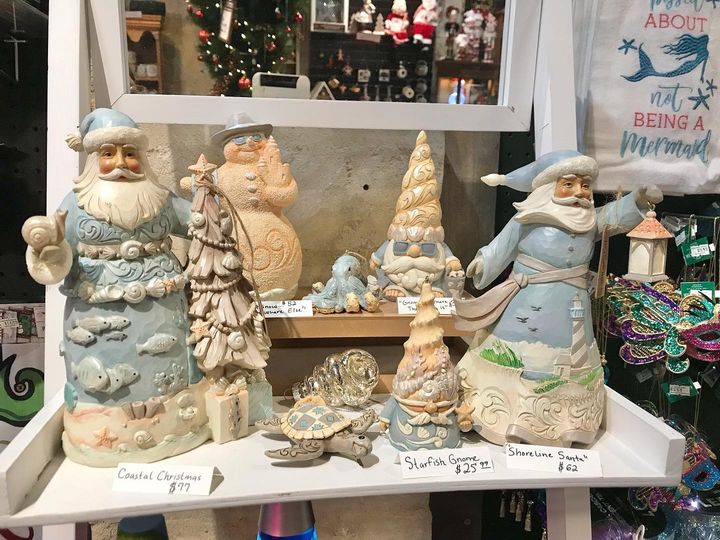 Sending summer vibes your way!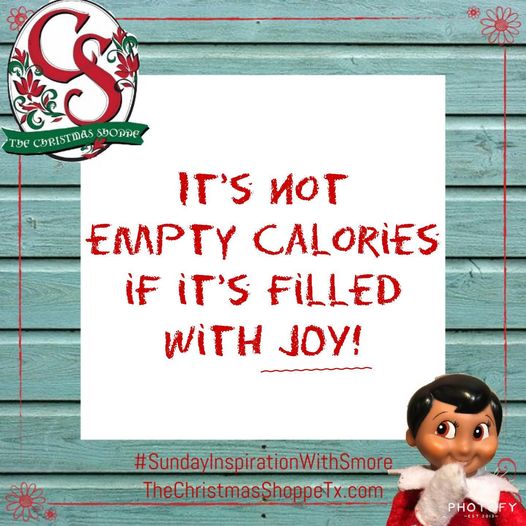 I say as I dive into a gallon of ice cream big enough for an elf to swim in….
The kitchen is my happy place, you know.
So, tell me: What foods bring you joy?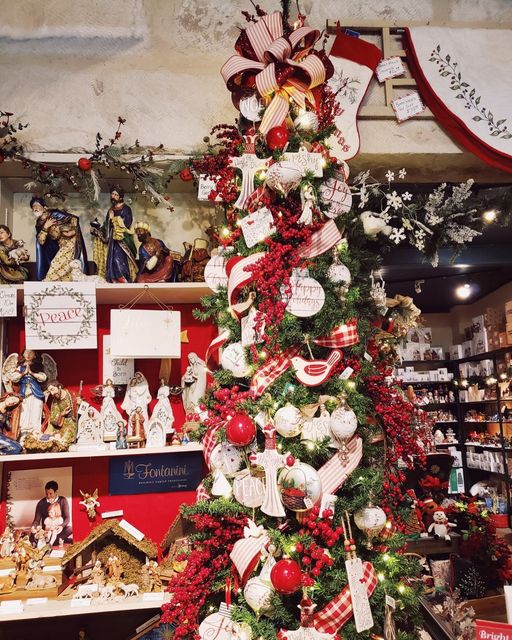 Dream of cold weather as you take a look back at one of our beautiful trees from 2018. We called this nativity tree Glory and it was inspired by Glory Haus.
Our 2022 nativity tree is going to be totally different and in a different location. This year, we are inspired by St. Patrick's Day and will be very Celtic in greens and golds.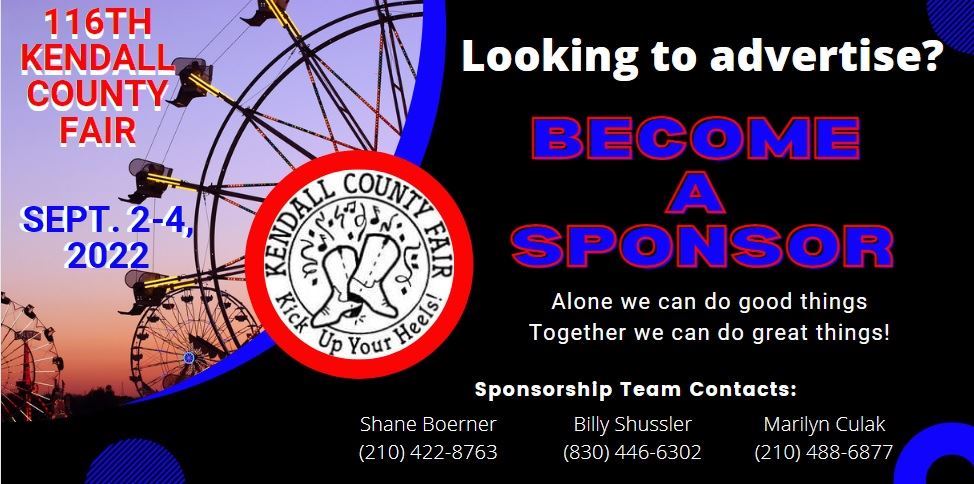 If I can't win it, I guess I will just sponsor it.
If you want to read all about my adventure competing (and get my applesauce pie recipe), here is the link: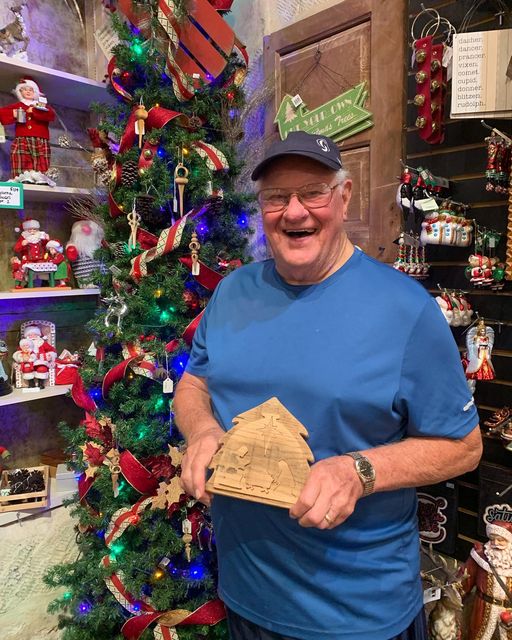 Meet Ron Gibbs!
One bustling Dickens weekend some years ago, this friendly gentleman came into our Shoppe.
He was in town visiting family, but lives in Olney, Illinois where he spends the cold winter months (in fact all the months) hand carving beautiful creations. He asked if we would be interested in carrying his ornaments and nativities and trees.
It was very busy in the store. So, we didn't have much time to talk, but we came to an agreement to start small.
What began as just a handful of items in the store has grown to whole themed trees inspired by his work.
In this picture, Mr. Gibbs is posed with our Santa's Stable tree which highlighted his work for Christmas 2021. In the not too distant future, you will find Ron Gibbs's creations in our new Bavarian tree corner.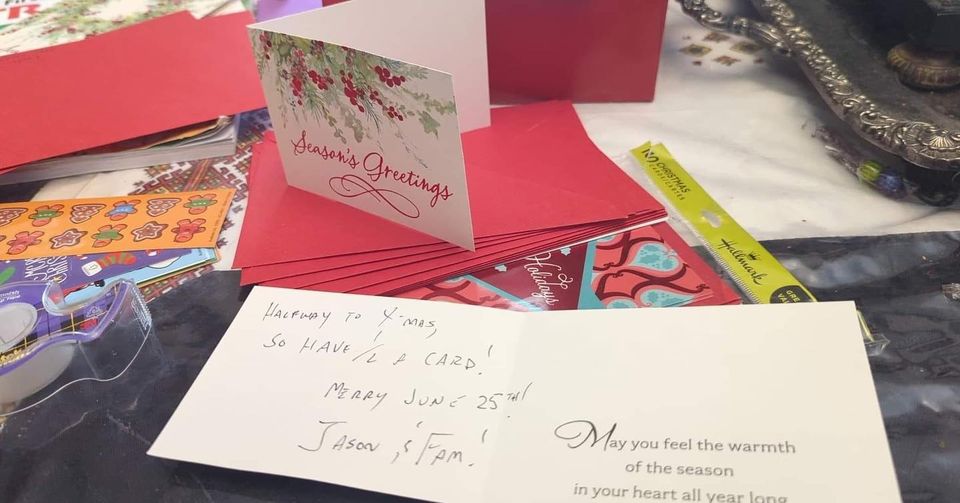 We are nearly halfway to Christmas!
Here's a tip I just saw on Facebook: This year, ostensibly for June 25th or Half Christmas, I cut up leftover cards into halves and sent them out. I've already started hearing both the cheers and jeers…
How will you be celebrating Half Christmas?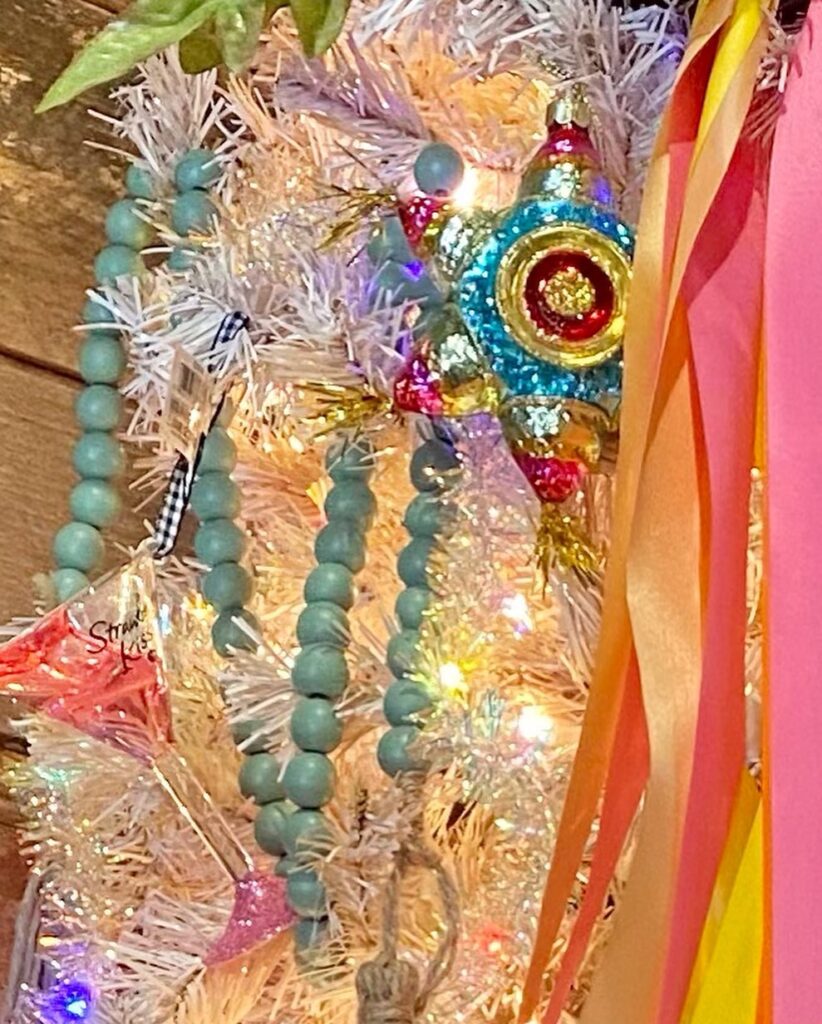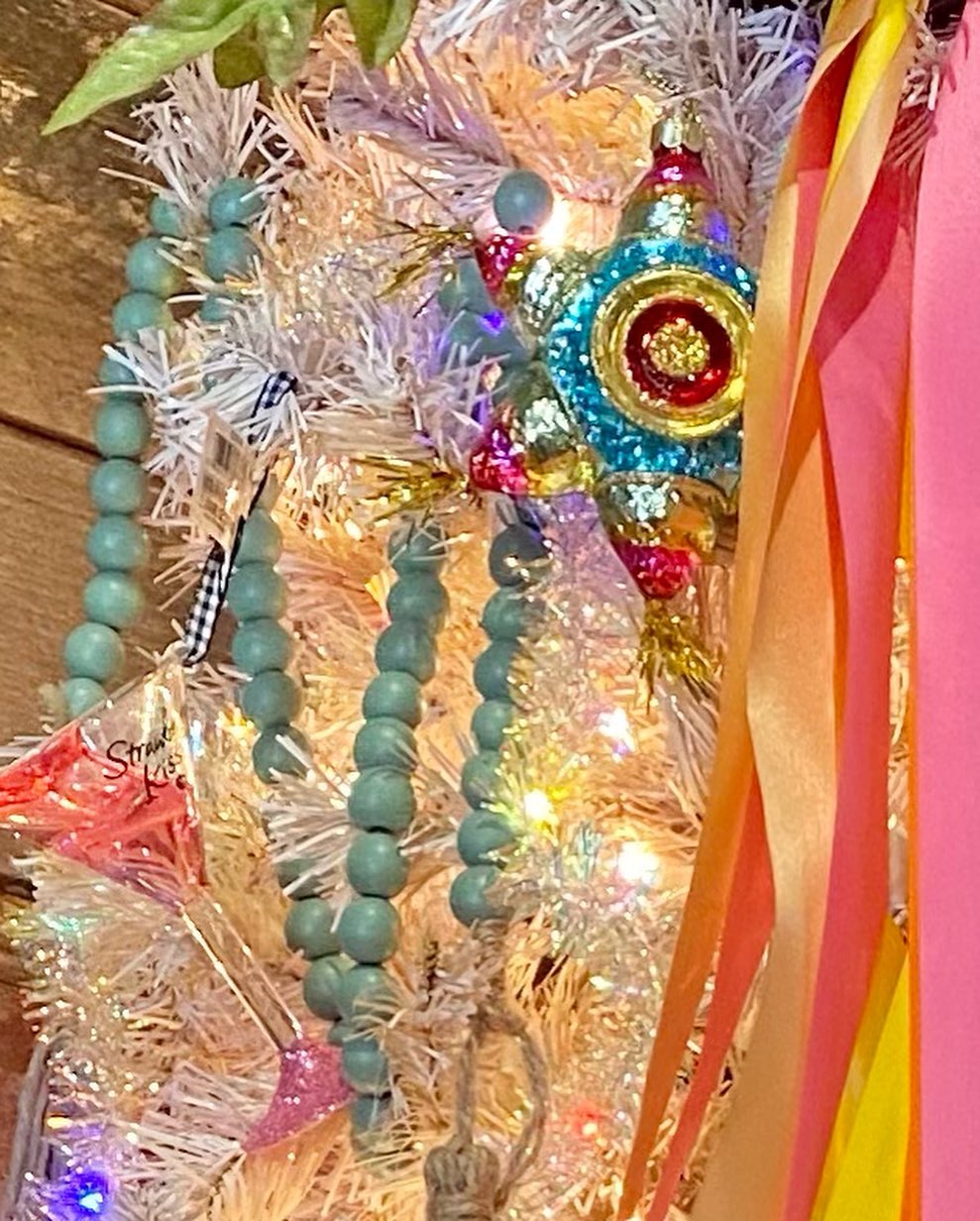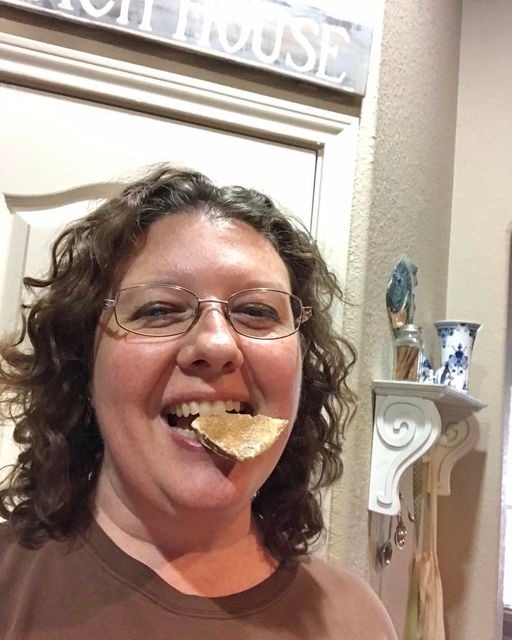 Reward your elf!
We've been hyper productive lately. I think I just might treat myself to some churro toffee by Doubleside Toffee Co that I picked up at Handmade on Main.
Yes, please!
Maybe I should have gotten more to share with the other elves…
Oops!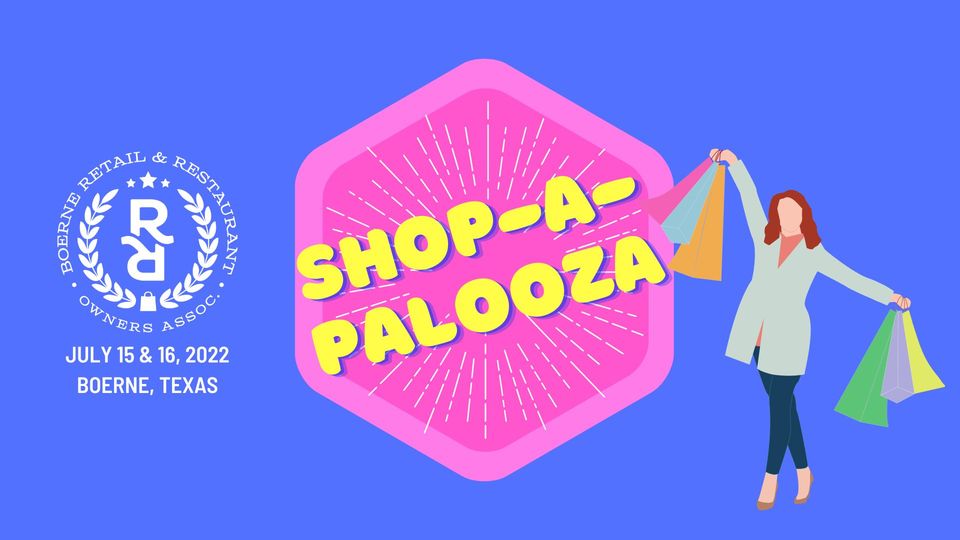 Yayyyy!!!! Shop-a-palooza is happening July 15th and 16th!!!
You won't want to miss this fun event designed especially for all the shopaholics out there.
Head on over to Handmade on Main to check out her latest IGTV episode where we give you all the details.
Tickets are $25 each and only 200 will be sold!
Boerne Shop-A-Palooza is a day full of shopping fun. Your Ticket is your GAMEBOARD for this event. The GAMEBOARD has different items to be purchased or amounts spent at participating stores and restaurants.
You receive Raffle Tickets for each of the items marked off on your Gameboard. Prizes are amazing – lots of gift card bundles as well as the GRAND PRIZE…. Boerne Gift Cards totaling over $1000.00. Giving You A Shopping Spree at many of our Boerne Shops and Restaurants.
Get your shopping shoes on, and bring your gameboard ( TICKET), to join the fun!
Tickets will be printed & available for pickup starting Monday July 11 at The Pearl Antler 312 River Rd Boerne.
Please be aware of people trying to sell tickets to the event, unfortunately there are ticket scammers. If you have questions about tickets please contact us at boernerroa@gmail.com.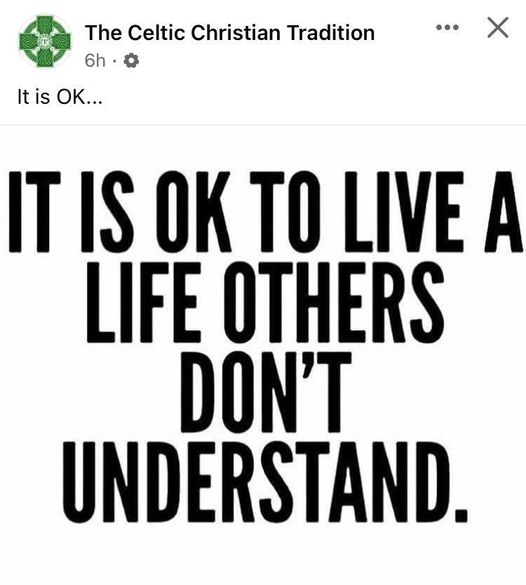 When I (Mrs. C.) first told my mom that I thought I had found my perfect career working at The Christmas Shoppe, she said, "Are you sure you don't want to be a teacher?"
Seven years ago, I was able to buy the business after working here over a decade. It's been hard, unpredictable, and certainly hasn't made me financially stable, but I wouldn't trade my career for anything.
I get to celebrate Christmas every day!
One of my favorite things to tell young people is that they don't have to know what they will be when they grow up. Just make a plan and go for it to the best of your abilities. If it's the wrong path, you will find out and course correct. If you follow God first and foremost, He can use the wrong path to lead you to the right one.
Thanks for the reminder The Celtic Christian Tradition.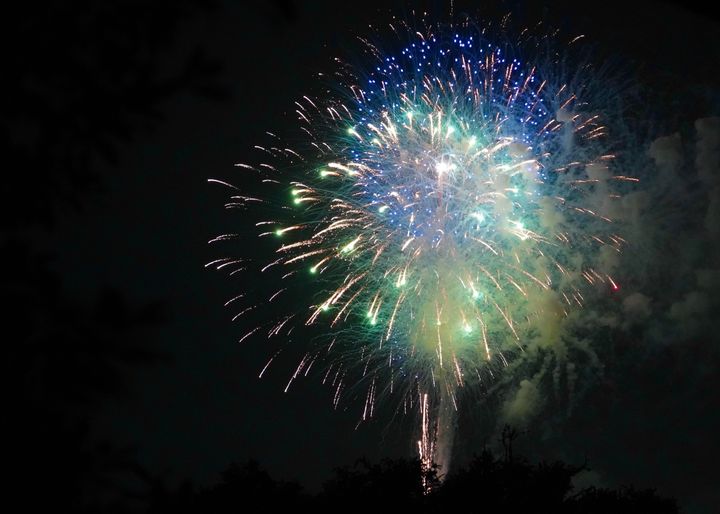 Yay! Fireworks are still in the plans for Boerne this year on the 4th of July!
FYI: We are in the middle of a serious drought. The city fireworks are planned and created by professionals to insure that a fire doesn't happen. Home fireworks this year won't be safe.
So, come on out to join the fun!
LINK: https://www.ci.boerne.tx.us/CivicAlerts.aspx?AID=1258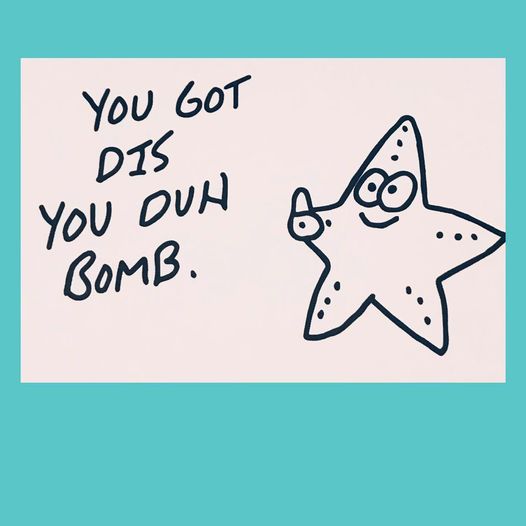 A message from Mr C:
Weekdays are hard, but you got dis.
Did you know Mr C has designed his own greeting card line featuring sea creatures? It's true!
Come on by to check out the full line in store. Just ask for Fabricio and Friends. After all, you are duh bomb.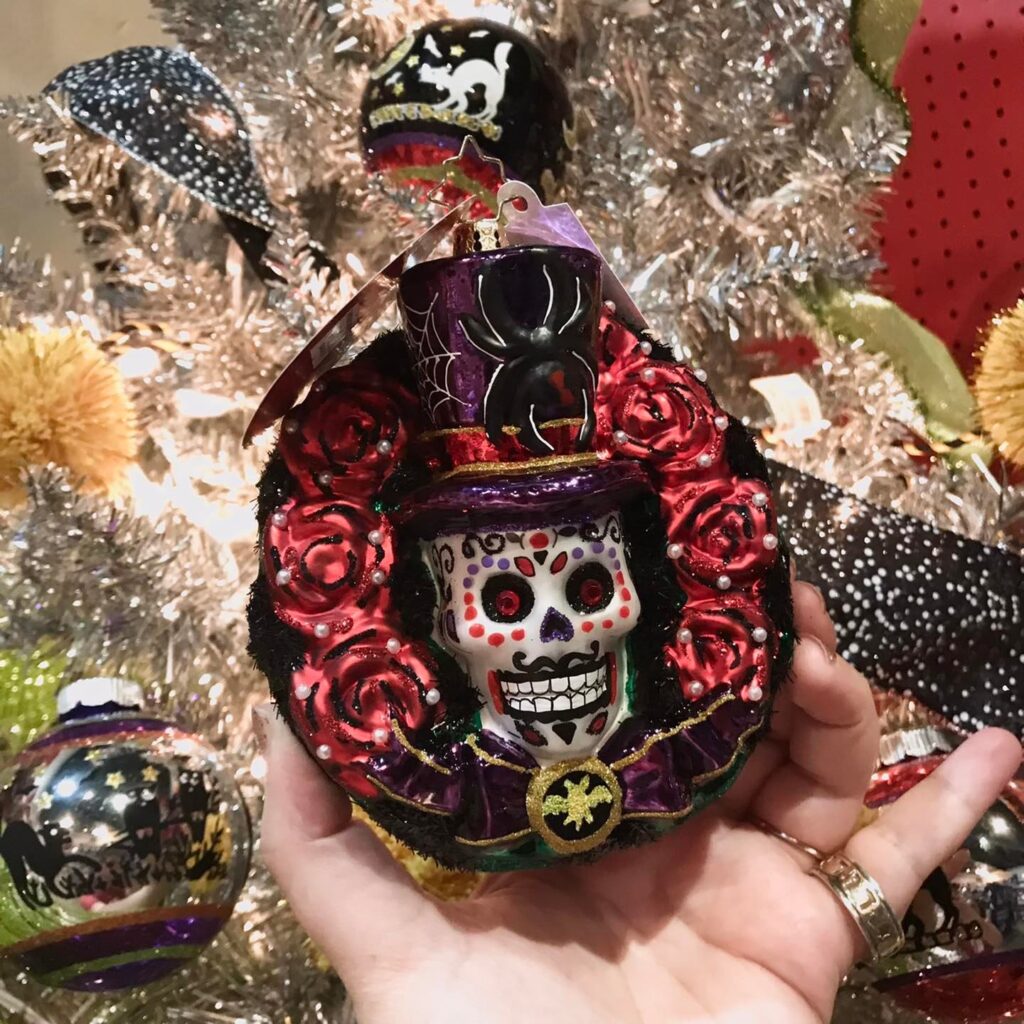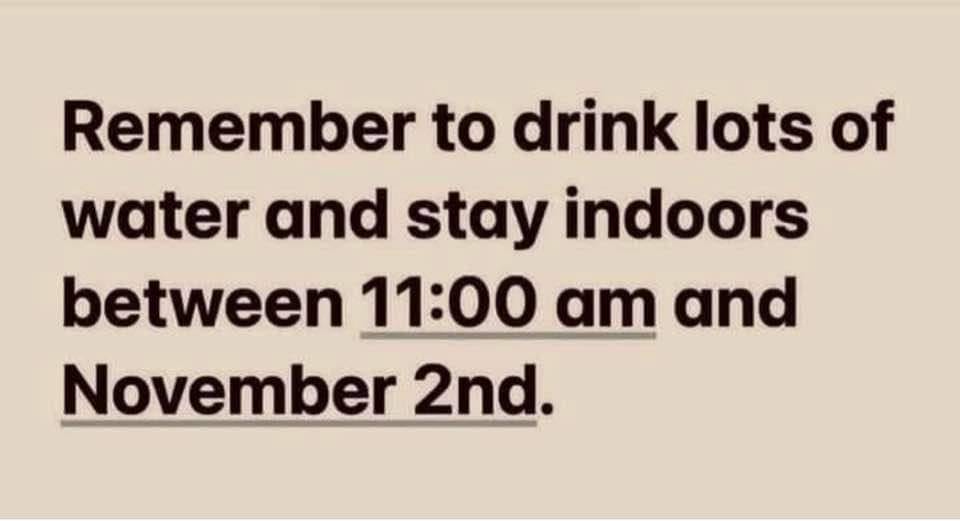 Stay hydrated, friends. It's hot out there, but it's cool in The Christmas Shoppe.
It's Christmas in June at Boerne Nutrition!
This elf needed to drop by on this hot summer day and try the Santa Claus per another elf's recommendation (thank you, Bonnie). It's quite tasty and refreshing.
We'll be halfway to Christmas this Saturday. How will you celebrate?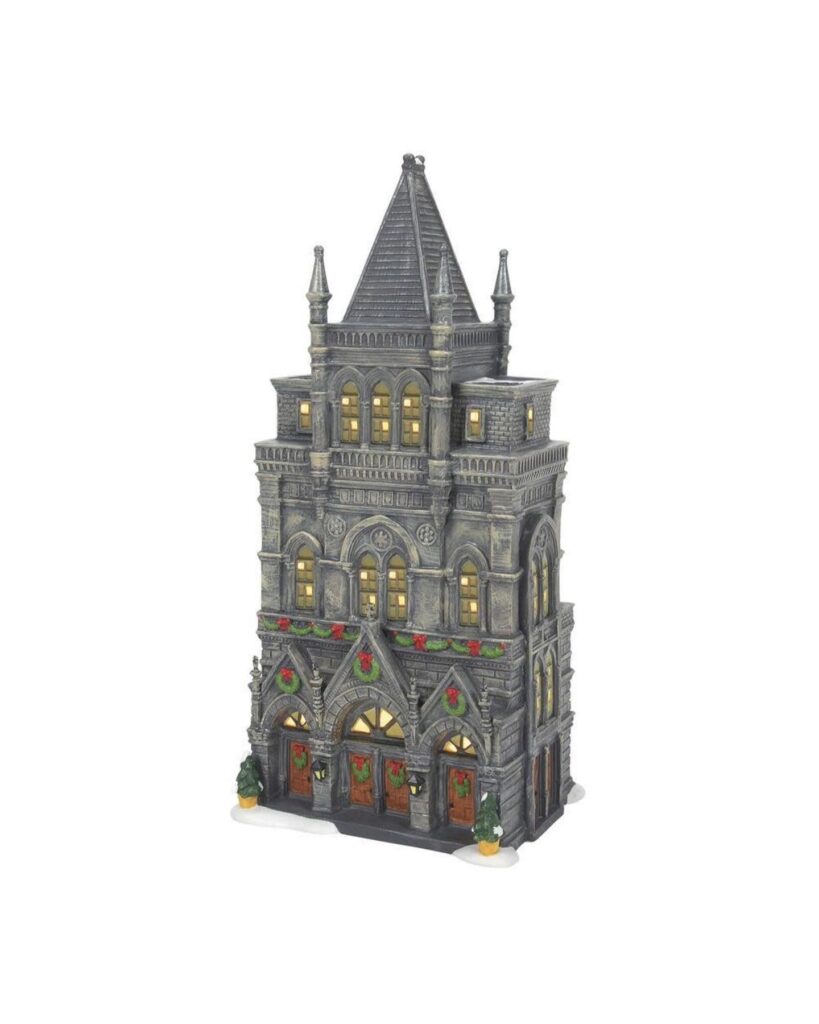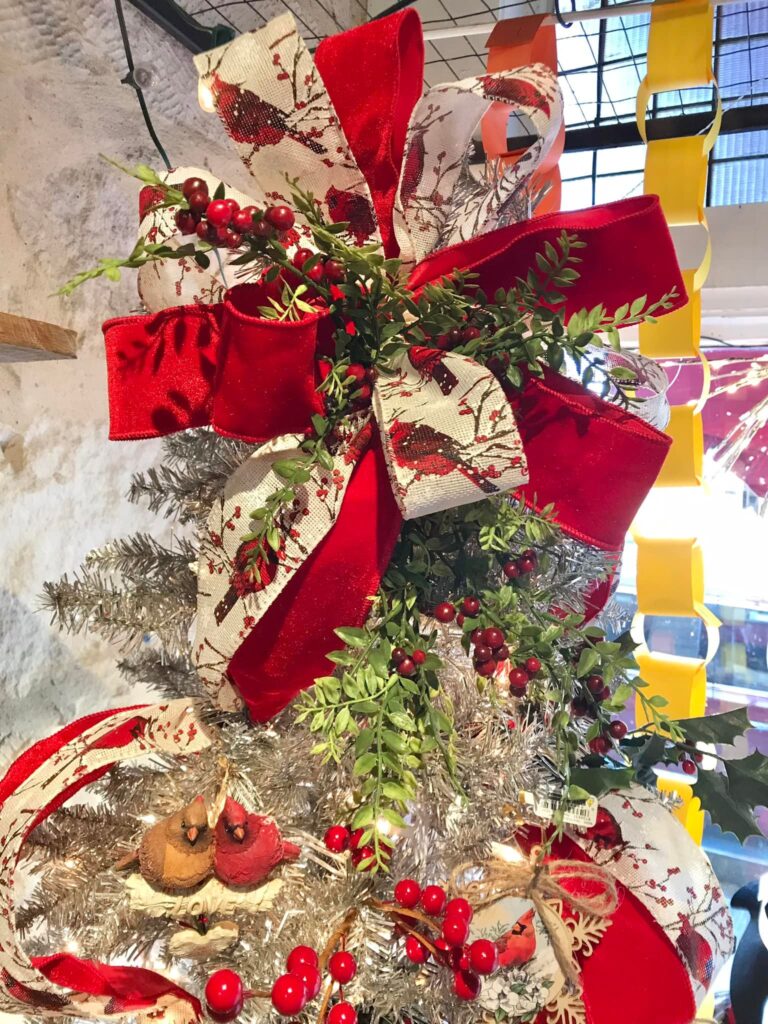 I sure hope you can "Celebrate Always" (I Thessalonians 5:16) with me this weekend for my birthday!
LOVE FROM,
S'MORE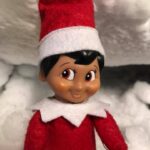 Want to see my past blogs?
CHECK OUT OUR BLOG ARCHIVE HERE
Want to be the first to see my future blogs?
Want to see what we are up to EVERY DAY?
FOLLOW US ON
TO BE SUPER UP TO DATE!