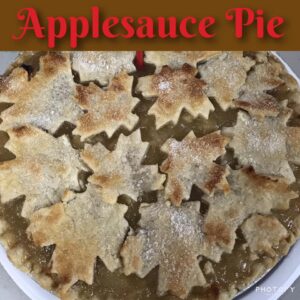 Applesauce Pie Recipe!
It's the recipe you've been waiting for…. my definitely not award-winning Applesauce Pie Recipe! In case you have missed this last week's social media posts, here's the story: I (Mrs C, herself) entered the Kendall County Fair's Apple Pie Contest. I was so excited! I pretty much looked like this all weekend long: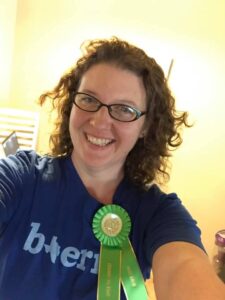 Pretty amazing to keep that smile going as long as I did because it was a very busy weekend. The C household has been making multiple drives into San Antonio for doctor's appointments. It's been a busy week at the shop, getting the last of the Halloween items set up for fall. We marched in the Kendall County Fair with a bunch of our fellow retailers to support the Shop Small and Shop Local movement and invite everyone to the Boerne Retailers Style Show and Shopping event coming up September 21st to benefit the Kendall County Women's Shelter. (That's a mouthful)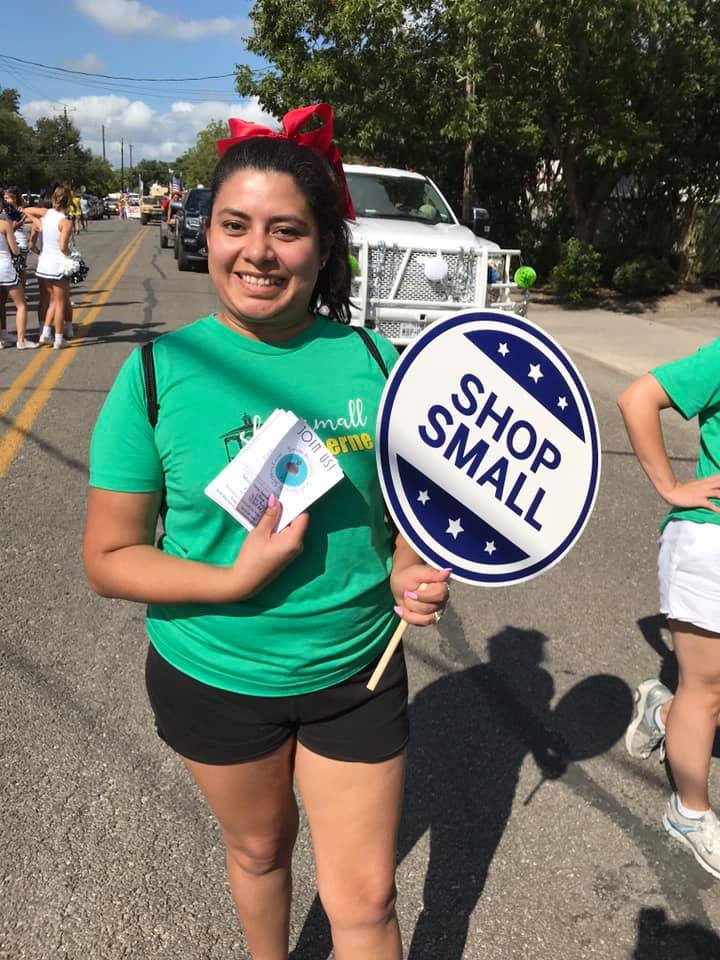 Then, I worked the rest of the day at The Christmas Shoppe with Marty the Elf. FINALLY… late Saturday evening, I started baking my pie. We woke up early Sunday morning to finish the pie and deliver it to the judges.
I was grinning ear to ear the whole time! What could be better than a weekend full of all the reasons why I love living in a small town? Mr. C. and I even spent a few hours at the fairgrounds on Sunday, eating fair food, drinking lemonade, and checking out all the neat things submitted for contests. I loved the quilts! You can't get much more down home than a quilt contest.
We got to see a bunch of friends and meet some new people. We got to meet Scooter, the grand champion chicken! Then, we sat in suspense while the judges viewed and tasted each of the 16 submitted pies. 16!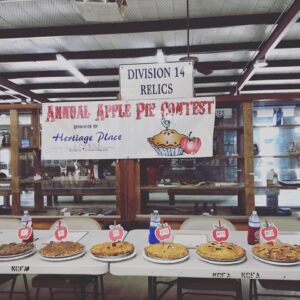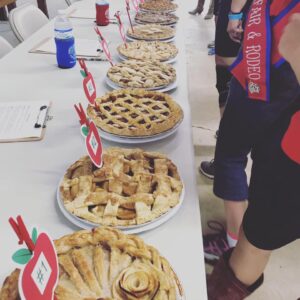 Which one do you like best?
Some of them have such cool details. They ALL tasted good. If you like #13, you picked mine! However, I did not even place. I love my pie. It is so luscious! But, the judges must have preferred a more traditional apple pie (with whole slices or chunks of apples). My pie is an applesauce pie because, honestly, I don't like apple pie that much. I don't like the chunks of apple. I like the sauce around the chunks of apple, if that makes any sense.
What pie do I like? When I was little, I loved cherry pie. Now that I'm older I love buttermilk pie, pecan pie, and chocolate meringue pie. All four tie. The truth is that I will try anything, and I love almost everything, when it comes to sweets. Apple pie is just not my most favorite.
Much as I love cinnamon, this pie uses none! It is just thick, saucy, apples in the most tender of crusts. There is a little butter, sugar, and vanilla in the filling, but it just tastes like soft, baked apples. This recipe is the reason I invested in a dutch oven, people. The recipe was originally out of a Southern Living cookbook, but I have since tweaked it.
The crust!
Funny story, I don't normally make pie crust from scratch. I used to make my grandma's pie crust. One year, I was baking pies for Thanksgiving, and flat outran out of time. So, I used the refrigerated store-bought pie crusts. My dad walked up after the meal, laid his hardworking hand on my shoulder and, with a tear in his eye said, "You make pie crust just like your grandmother." He said that about the store-bought crust. I stopped making pie crust from scratch. If people can't tell the difference, it's not worth it!
However, the rules for the contest specify that the crust be from scratch. So…. I remembered an acquaintance baked a pie for several coworkers a few years ago. Her crust was the flakiest, most tender pie crust I had ever tried. She gave me the recipe (from memory!). So, I used her recipe with a couple tweaks because it seemed too dry on my first attempt.
Back to the contest: If you picked pies #6, #12, or #16 as your favorites, you picked a winner! They were really yummy, and the bakers were so happy.
So, it turns out my decorations were a bit odd.
I didn't think so at the time, but the rest of the pies were very traditional, featuring lattice work, Texas shapes, and apples. My pie featured maple leaves. I overheard someone say, "Maybe that one has maple syrup?" Nope. No maple syrup in my pie.
Here is the reasoning behind the maple leaves:
The saw-tooth maple is indigenous to the Boerne area. Makes total sense to use them!
The fall season is upon us. Yes, Labor Day is hot, but it's the official last day of summer. School has begun. Pumpkin spice lattes are now available. Fall leaves are perfect.
My nephew Cadan has an inexplicable fascination with Canada. Who remembers Cadan? He worked at the shop over the summer.

Well, Cadan's birthday is later this month. He will be 15. He wants a Canadian themed birthday. Canada=maple leaves on my pie.
It's never a dull moment around here.
By the way, have you seen Sleepless in Seattle? Do you remember Tom Hanks's character talking about how his deceased wife could peal an apple in one long, thin strip? Then, there's a scene where Meg Ryan is pealing an apple (like they are hinting she is just as magical). Well, I can peal an apple better than Meg Ryan.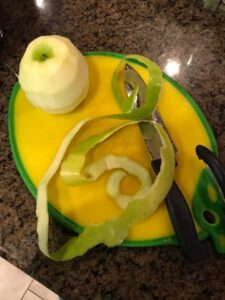 As a reminder, all of these recipes and more are available on our Pinterest page. So, you can click HERE to see more recipes that are perfect for every occasion.
Now, let's whip out that recipe I promised!
---
Applesauce Pie
Makes one 9-inch pie.
Prep time: 1 hour! Because chopping apples takes FOREVER!
Cook time: 1 hour (maybe 15 minutes more)
Ingredients:
9 Large Granny Smith apples (about 4 pounds) *
1 lemon, sliced and seeded
2 cups granulated sugar
3 Tablespoons butter
1 teaspoon Mexican vanilla
2 cups all-purpose flour (scoop in and level off)
1 teaspoon salt
1/2 cup, plus 1 Tablespoon oil
1/4 cup, minus 1 Tablespoon ice water
Directions:
Place the first three ingredients in a big, heavy pot (like a dutch oven) and cook covered over medium heat, stirring often for 30-35 minutes until thick like applesauce.


Remove from heat. Discard lemon slices. Add butter and vanilla. Set aside to cool.


Preheat the oven to 425 degrees.
Add flour and salt to a bowl and gently stir with a fork or whisk to incorporate.
Measure oil into a measuring cup. Then, add ice cold water until you reach 3/4 cup mark.
Pour oil mixture into flour mixture and stir to combine and form pie dough.
Dribble water on your counter and lay a piece of wax paper on top. Place a ball of half of the pie dough on the wax paper and cover with a second sheet of wax paper. Then, roll the dough out.
Place the rolled dough into your pie pan and cut off the edges.
Roll the second half the same way and cut out shapes or create lattice work or whatever you want to do to create a top with vents.
Pour the applesauce into the bottom pie crust. Top with second pie crust and crimp the edges. You can brush the top with milk and sprinkle on sugar for a little extra crunch, too.
Bake on lowest rack for 30-35 minutes. You may want to place the pie on a baking sheet to catch any filling that bubbles over. Shield the pie with foil, if necessary.
Notes:
* For a deep-dish pie, use 10 large granny smith apples (4 1/2 pounds)
---
Can you smell it? It's so good.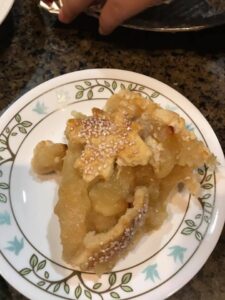 This glorious, all-American pie is perfect when piping hot from the oven with a scoop of vanilla or cinnamon ice cream, but it's equally yummy served cold with a dollop of whipped cream. Applesauce pie is a staple on my family's Thanksgiving table, but I love to serve it for Christmas or barbecues or family dinners, too.
For all of our recipes, just check out our Pinterest board or the Recipes on our website. Do you love pie so much you need a pie ornament?
Piece of Cherry Pie Ornament – The Christmas Shoppe (thechristmasshoppetx.com)
Thank you for reading. We hope this is just one more way to help you "Celebrate Always" (I Thessalonians 5:16)
Love,
Mrs. C.