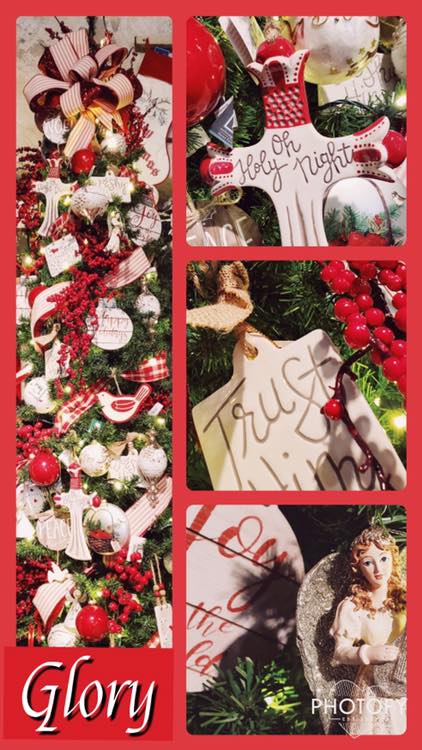 The Glory Nativity Tree
The Glory Nativity Tree is the next tree from our displays that we are sharing with you this holiday season. We have lapsed in sharing our trees because we have been so busy with decorating. Because Advent season begins this weekend, we felt this was the perfect tree to share with you.
Every year we design a tree inspired by the Nativity to celebrate the true meaning of the season. This year, we imitated the look of our ever popular Glory Haus ornaments. So, most of the tree is covered in large, ceramic ornaments in bold, country reds and soft, creamy white that match the ornaments created by the Glory Haus company.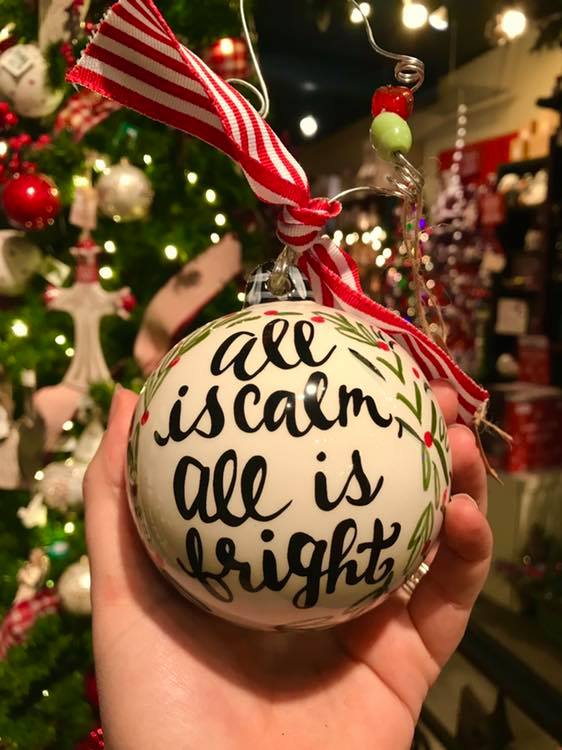 Peak among the branches to see every ornament designed to celebrate the glory of our savior, from angels to scripture and crosses to proclamations of peace and joy. While the message is majestic, the materials are simple and perfect on a country tree. We used red berries and bows of striped and plaid red and white.
Here are a couple tips you can take home from this tree to make your tree at home spectacular:
Use whole swags designed for a front door as floral in the tree to add a big punch of (in this case) berries!
Layer a dark, solid colored ribbon behind a pale colored ribbon to make the pale ribbon stand out a bit more.
Try using a large bow as a tree topper, instead of a star or angel. (We can custom make one for you)
Don't be afraid of big, heavy ornaments. Unless you have a live tree, the branches will hold a lot of weight. Just wrap the ornament string or hanger TIGHTLY to the sturdiest part of the branch!
For all these tips and more. Be sure to come by. We would be happy to help you find what you need for any tree design. You can, also, click HERE to see our themed trees and services.