The Candy Cane Tree!
With all our big after Thanksgiving doings, we forgot to upload the last two themed trees for 2017! So, without further ado, our second to the last tree is The Candy Cane Tree!
Time for peppermint dreams and candy cane wishes. This tree is dripping in candy canes and peppermints of all shapes and sizes. I don't know about you, but I think a flocked tree is best to highlight the simple red and white look.
Another cool feature of this tree is what we did along the bottom branches. We lifted this tree up on a table and hung bunches and bunches of candy canes from the bottom. Like sweet, sweet icicles, they create a different look.
For our topper, we used a lit candy cane yard stake! We, also, made a big bow of red and white striped ribbon.
This is a fairly simple tree to replicate at home. The main key is to use lots of the same looking ornaments. With the flocked backdrop and oversized ornaments, you won't have to pack on a ton of expensive ornaments to create the look.
Perfect for a baker or to add whimsy in your kitchen, these colors will match well with most year round decor. The fun signs, nutcrackers, and Santa figures in this area will tie the whole look together in your home. A lot of the items are great gifts, too!
Visit us again next Sunday to see the final theme unveiling of 2017!
View all our themed trees by visiting http://www.pinterest.com/thechristmasshoppe
Did you know we blog? The latest is available here for your enjoyment: https://thechristmasshoppetx.com/2017/12/04/smore-cocoa/
The Flamingo Tree ~
Happy Sunday, you beautiful people! Remember, ladies, thigh gaps are for flamingos. Be a mermaid and eat the cupcake. ?
Then, be flamingo pink fabulous when you decorate for the holidays! This tree marries the colors of a beach at sunset with feathers, cocktails, and flirty sea life. We wrapped this tree in fun, pink, feather boas. Then, we bedecked it with our favorite beachy ornaments. It's that simple!
The entire look is inspired by a single ornament, a glittery, blown glass concoction of a flamingo with an outrageous flooffy feather tail! However, the ornaments that truly make this a knockout of a tree are the disk shaped ones with pink poinsettias, gold mermaid silhouettes, and shell filled Christmas sentiments. Don't overlook the gold glittered star fish, pink-tailed mermaids, fancy glass fishes, and tiny glass cocktails that add that extra touch of fun.
Visit us again next Sunday! We still have three more trees to unveil.
View all our themed trees by visiting http://www.pinterest.com/thechristmasshoppe
Did you know we blog? The latest is available here for your enjoyment: https://thechristmasshoppetx.com/2017/11/04/countdown/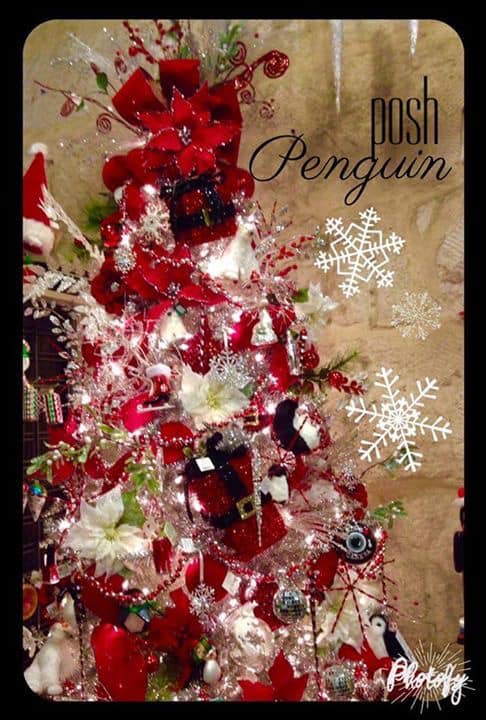 The Posh Penguin Tree!
It's Sunday, and you know what that means… a new featured tree just for you! The Posh Penguin Tree is now up and decorated in plenty of time for our Fall Diva Night on November 9th.
This glitzy tree is inspired by a tree we saw in the Select Artificials, Inc. showroom at Dallas Market. It's a show stopping combination of diva red velvet, charcoal black, snowy white florals, and icy silver rhinestones.
The key to taking this tree over the top is that we started with a silver tinsel tree. Anyone interested in replicating this style or creating a bright and different look should seriously consider investing in a tinsel tree. They are a bit more expensive than traditional pine trees but worth every penny. Unlike tinsel trees from the 60's, these come prelit and look much fuller. Right now, we have them in stock along with several varieties of traditional trees.
Baby, it's cold outside! So, we wrapped our tree with red velvet ribbon and poinsettias that have just a touch of glitzy silver glitter on their edging. Next, we added flocked and iridescent florals to give that polar feel. The ball ornaments are red velvet, snowy white, and red glass.
To make it Posh, we sprinkled the whole tree in items a diva desires: big, shiny packages, jeweled icicles and snowflakes, and red nail polish and lipstick ornaments.
At the North Pole, they sure know how to have a good time! A liberal dose of penguins and other polar inhabitants are frolicking, partying, and dancing all over this tree.
Our plush penguin migration has landed here, too! So, everyone can have their own little penguin to love and play with for Christmas.
Like what you see? Call or drop by to make a purchase and get the look for yourself.
Wanna watch us in action? Our how to video is coming soon!
View all our other themed trees by visiting http://www.pinterest.com/thechristmasshoppe
Did you know we blog? The latest is available here for your enjoyment: https://thechristmasshoppetx.com/2017/10/21/smore-unplugged/
The Sweetheart Tree!
Another beautiful day to share another beautiful tree. Last week's tree, the Starry Night Tree posted a little late on Monday morning. So, if you haven't seen it, be sure to look back through our posts for that beautifully inspiring tree. In the meantime, enjoy the details of the sweetest themed look of 2017, our Sweetheart Tree!
Romantics will love each detail! We festooned the tree with rich reds and cream pearl whites. Berries and poinsettias add floral notes. Cuddling cardinals perch on its branches and court on various style ornaments. Lastly, we sprinkled hearts throughout the tree like confetti!
Searching for a gift for your love, your bride, or a couple's gift? This is the nook to find the perfect gift! Many of these items will remain in stock through Valentine's Day. The Christmas Shoppe is the perfect place for gifts and decor for any holiday!
Check out all our other themed trees by visiting http://www.pinterest.com/thechristmasshoppe
Did you know we blog? The latest is available here: https://thechristmasshoppetx.com/2017/10/14/smores-key-to-happiness/
The Starry Night Tree!
The Christmas Shoppe is proud to present its latest themed tree: The Starry Night Tree!
This beautiful tree will take your breath away. It's designed to represent the starry night sky over Bethlehem at Jesus' birth.
We used royal blue and striking white with sprinkles of silver. Notice our topper. We have several toppers in stock every year. So, we picked silver stars and a pearl and silver cross to group at the top, backed by bows of royal blue.
The bright whites come from a beautiful ribbon, soft and clean poinsettias, and angel wing ornaments. Glass ornaments filled with silver glitter proclaim the reason for the season: "Silent Night, Star Above, Blessed Gift of Hope &I Love." Large wooden ornaments look dipped in blue water color and pronounce, "For unto us a Child is born!"
Lastly, we scattered the tree with pretty birds, acrylic stars, and glass icicles. We have hand chosen beautiful nativities to compliment such a look. These nativities are simple, elegant, and bright.
Come by soon to check it out and find treasures to make your own beautiful tree.
Check out all our other themed trees by visiting http://www.pinterest.com/thechristmasshoppe
Did you know we blog? The latest is available here: https://thechristmasshoppetx.com/2017/09/15/smore-friends/
The Well-Loved Truck Tree!
Our new tree remembers that old, beat up truck that you know and love. And, it's up and a total show stopper!
Picture yourself cruising down Route 66, jamming to oldies on the FM, maybe going on a hunting or fishing trip with your trusty dog. Yes, that grooviness is what inspired this tree!
For the topper, we have a lit velvet bow, bright as a roadside marquee. This bow is not technically a tree topper. It's designed to hang on your front door or truck grill and is battery operated. However, we believe anything can be used as a tree decoration. So, we hike up a ladder twice a day to turn it on and off for you.
The ribbon is a manly and retro plaid. The ornaments are basic reds and greens because we are keeping it simple. The bubble lights and multi-colored metal bullion are because we are keeping it awesome. If you want to know what we mean by bullion, just ask. And, of course, we have some awesome trucks, cars, and vans all over.
Check out all our other themed trees by visiting http://www.pinterest.com/thechristmasshoppe
Did you know we blog? The latest is available here: https://thechristmasshoppetx.com/2017/09/15/smore-friends/
The Cartoon Tree!
Time for another Sunday Special Unveiling!!! Let me introduce you to our very awesome Cartoon Tree!
This tree is one big YIPPEE screaming your kid's name… or your grandkid's… or your husband's. ? Actually, it might be calling YOUR NAME!!! ?
Ok! So, this tree is an explosion of your favorite cartoons and fun colors! We have Emojis, Minions, My Little Pony, Spongebob Squarepants, Sesame Street, Shopkins, Teenage Mutant Ninja Turtles, and Hello Kitty!
It may not be totally obvious in the pictures, but this look is all done on a table top wall tree. If you've never seen one, it's basically half of a tree that can be hung on your wall. We have a few available for purchase, but they do not come with lights. We added those.
For a tree topper, we used one of our fun emoji pillows and a few sequin sprays in blue and green. Honestly, the best part of this tree to replicate at home is the fabulous rainbow glitter ribbon! Zoom in on a few pictures to see it. The ribbon's color is perfect to match with all our fun cartoons. It would look good on a girly tree, too. How many of you know a young princess who wants or has their own Christmas tree?
Naturally, we have several gifts in store to match the tree. So, drop on by to find the perfect gift or ornaments for your funny little cartoon lover.
Check out all our other themed trees by visiting http://www.pinterest.com/thechristmasshoppe
Did you know we blog? The latest is available here: https://thechristmasshoppetx.com/2017/09/15/smore-friends/
The Country Kitchen Tree!
The Country Kitchen Tree is just the first of our Sunday Special unveilings. We have several amazing trees for Christmas 2017 that will be revealed over the next few months.
So, check out the first of many! This is the perfect tree for a ranch style home, warm and cozy, sweet and sassy with Southern charm. Check out all that red and white check! It's not just in the ribbon. It's in the rope edged poinsettias! Those little mason jar ornaments look perfect on this tree and won't last long. They have fun phrases, are easily personalized, and only cost $3.99 each!
There is a definite farm feel with this look. We have cows, pigs, horses, and chickens. Not only that, we have their feed bags and some well chosen puns and fun quotes to bring on the sass.
Craving cotton for your year round decor? This is your stop. We, also, have anything Texas themed, western themed, and farm themed right near this window. Looking for a Boerne souvenir or some bluebonnets to take home. They may not be on the tree, but they are close by.
All in all, this is a pretty spiffy tree. Hope you can come by and see it in person.
2016 North Pole Whirlwind Tree!
Last, but not least, we are happy to present our North Pole Whirlwind Upside Down Tree! Every Sunday, we have been showing off our favorite themed trees from last year. It's sad, but this is our last one. Good news is that we'll be showing off our new 2017 themed trees next Sunday! Woohoo!
More bad news: I have only two pictures of this tree, one submitted by a shopper. I bribed her child with a cookie to get the picture. Well, not really, but a child and a cookie were involved with this shot.
So, prepare for a really great description of this tree to go with very few pictures. This was one of our very first trees of the year and the result of throwing a whole bunch of leftover decorations on our fabulous upside down tree. Mr. C. said it looked like a Christmas tornado!
Notice the elf hanging off the side. That "ladder" is actually a garland which we hooked into the tree a few times going vertically down the tree. Then, we used green floral wire to tie the elf's hand and foot to the "rungs" near the side ropes. The neat thing about umbrella trees is that most of what you hang on them, hangs straight down, creating neat effects like this.
We used fun, felty, fabric-y items in red, lime, and snowy white. Everything went in every direction. We don't have a picture, but we had two really cool posable plush deer on the tree near the top. One was kneeling on the top branches. The other was hung just below with fishing line with legs spread in a giant flying leap. We placed a plush elf on its back (hanging with fishing line to keep it steady), while other ornaments, figures, garland, and ribbons hung down with random abandon.
Another interesting thing is that we used an ornament spray tree topper. It's basically a bundle of metal sticks of various lengths that splay out. Since the tip of this tree is at the bottom, we stuck them out of the sides of the tree, hanging balls from them at various lengths. One day we may use this topper correctly, but this was not the day!
This tree is still up, if you want to check it out in person, but it's not long for this world. A new tree is already planned to take its place!
The 2016 Vintage Tree!
This is our second to the last tree of 2016, but then we will start showing off our new themed trees! In the meantime, let's enjoy this beautiful look.
Cardinals are an ever popular decoration for an evergreen, and they are found everywhere on this sweet tree. Found mid-flight and perched, on ribbons and ornaments and paintings, their pop of cheery red is just what we need to make our season bright. Notice those cool white birch branches coming straight up out of the tree. Who says they have to run parallel to your pine branches?
To pull everything together, we focused on just reds and whites with very little green and brown to match the cardinals and birch. So, we have lots of red velvet poinsettias, roses, and berries and white poinsettias, birch balls, and some perfectly matched ornaments. A couple of my favorite aspects of this design is the special holly with birch look leaves and the big window framed mirror perched off center in the tree.
Don't forget, we are happy to create a bow for you like the one on the top of this tree. Just pick any one or more of our beautiful ribbons and let us know how big you need it to be. The labor only costs $5-$10.
Come by soon to see all the magic we have in store to give you the best holiday ever. Can't visit in person? Then, visit our website at www.thechristmasshoppetx.com for a small taste of our amazing everyday holiday experience!