Red, White, & Bluebonnet Tree
If you are like me, there are still a million and one things to do before Christmas. One thing on my Christmas bucket list is to create a post for every tree in our store. Next on my list is the Red, White, & Bluebonnet Tree!
My last post was before Thanksgiving and featured our Country Wedding Getaway Tree. As you walk through our front doors, the Getaway tree is on your right and the Red, White, and Bluebonnet tree is on your left. So, if you are paying attention, you will notice that both trees have an old truck at the top!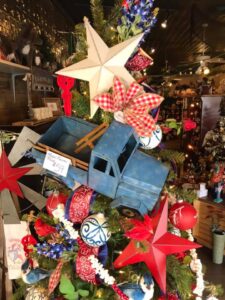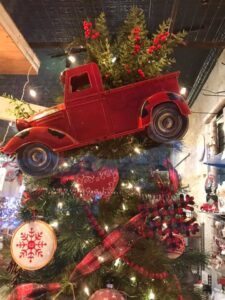 Everyone loves that red truck, but my mom loves blue trucks because her father used to drive an old blue pickup truck. And, that is all it took to inspire the Red, White, & Bluebonnet Tree, just one blue truck.
Of course it doesn't stop there because we have bedecked this tree with bright reds, whites, and blues just like our beautiful Texas flag. We found some lovely enamel ornaments to get that bright, eye catching color, and we paired it with cardinals and blue jays and some sweet bluebonnets.
Many people aren't aware that we carry bluebonnet florals to decorate your home year-round. It's, actually, something fairly new. For years, we couldn't find bluebonnets in any of our floral showrooms because the companies we deal with are international and many of our makers had never seen a bluebonnet before. They grow only in Texas and maybe a couple nearby states.

Here are a couple tips you can take home from this tree to make your tree at home spectacular:
There's plenty of room at the top of your tree for more than one decoration. You can tie a figure up there, stick a star out above it, and add some poinsettias or other floral pieces to fill it out.
Big ornaments are eye-catching! Go for it!
If you stick to just a few different styles of decorations and buy a lot of each style, the tree becomes more uniform and peaceful.
We get lots of questions about how to do bead and popcorn garland on trees. The traditional way to do it, is to loop it around the tree in a scalloped horizontal pattern. However, we saw a tree at Dallas Market that laid the popcorn garland in straight diagonal lines, and it looks truly charming.
For all these tips and more. Be sure to come by. We would be happy to help you find what you need for any tree design. You can, also, click HERE to see our themed trees and services.
Shop the look in our online store!

We are oh, so social!
Like and follow us on Instagram, Facebook, and Pinterest!
Keep up with all the in-store fun!
Save