Livin' La Vida Cocoa Tree
All this hard work decorating and helping customers puts me in the mood for something sweet! That's why I am super excited to share our Livin' La Vida Cocoa 2019 themed tree. It's choc-full of chocolate and marshmallows and everything yummy!


One of my (brilliant) ideas that I have been attempting to start doing since I took over from the Giddens in 2015 is to create a fun Christmas t-shirt every year. Well, this is our first year to do it. I do hope you love it because how well it sells will determine whether or not we try it again for next year.
This year's shirt is "Livin' La Vida Cocoa!"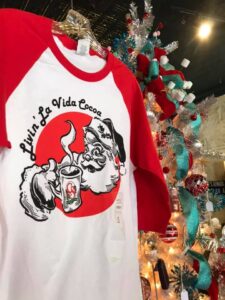 I didn't even realize it until it arrived, but it matches our front tree perfectly. (I was going to call this tree the Hot Chocolate & S'more Tree.) This tree is designed to be a retro style celebration of chocolate, hot cocoa, and marshmallows.
Food related ornaments are proving to be one of the most popular in our store. They capture specific memories, happy thoughts, and make for delicious looking trees… literally. What more could anyone ask for?
When it comes to the food ornaments we carry, you (our shoppers) find the more realistic, the better. Foam donuts and brownies are top sellers. So, this tree is designed to display these favored ornaments in a pretty and unique way.

In fact, some of you have asked for realistic food that doesn't hang on a tree. Wild idea! We found some cakes, cookies, hot chocolate, and even a margarita for you to take home and use to confuse your loved ones.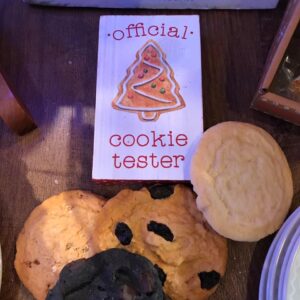 Okay, so I went a little crazy on this area of the store. It barely fits the table because we have mugs, cookie jars, real candy, comfy socks, and hot cocoa mixes crammed in around all the ornaments. You have to come in to see it all, and all of it is perfect for gifts and stocking-stuffers.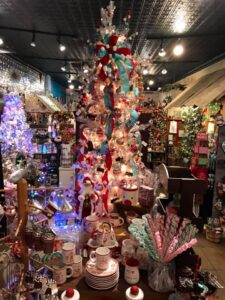 But, the tree! The tree is the best part! Here are a couple tips you can take home from this tree to make your tree at home spectacular:
Pick your color palette and stick to it! If you focus on just a few colors, the tree looks like a designer tree. We picked Red, White, Turquoise, and Brown.
Okay… You don't have to stick to the color palette perfectly. Our tree has a little pink, green, and blue, too, but it's limited.
Who says your tree has to be green? We don't! We picked a white tinsel tree. You can, too, because there are tons of trees out there, and we are happy to special order your dream tree, if you come in before the end of the summer to place the order. They start selling out when school starts.
For that matter, who says your "florals" have to be "floral"? We don't! "Florals" are things like holly and poinsettias and roses that can be stuck into your tree like added branches. This tree has silver tinsel, marshmallows, and multi colored puff balls on branches to give it that retro-modern look.
For all these tips and more. Be sure to come by. We would be happy to help you find what you need for any tree design. You can, also, click HERE to see our themed trees and services.
Shop the look in our online store!
https://thechristmasshoppetx.com/product/mixer-ornament/

We are oh, so social!
Like and follow us on Instagram, Facebook, and Pinterest!
Keep up with all the in-store fun!