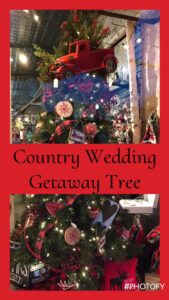 Country Wedding Getaway Tree
Can you believe that Thanksgiving is less than a week away? The holidays are upon us, and The Christmas Shoppe now has all of it's themed trees for the year fully decorated. Today, we want to present the first tree you will see as you head in our doors: The Country Wedding Getaway Tree!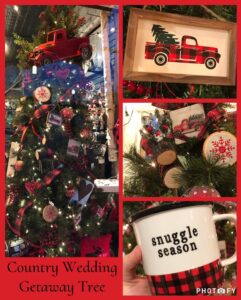 Every year, we create a tree to pair with our wedding and couple's first ornaments. This year we found a few ornaments that not only featured nuptial sentiments, but also depicted the now popular red truck.
So, we decided to pair the two, envisioning a country wedding where the newly weds depart in a beat up, old, red truck rather than the traditional (but way too fancy) limousine.


Naturally, we picked items for this area and tree that captured the rustic, cabin look and related to romance. So, we used a buffalo plaid ribbon and…. really anything we found with buffalo plaid. We got stockings, tree skirts, accent pillow, mugs, and ornaments in all shapes and sizes. There are, also, a lot of little hidden hearts and fun signs capturing the romance of the season. The Merry Kiss-Moose pillow is especially adorable.
Here are a couple tips you can take home from this tree to make your tree at home spectacular:
Choose an unusual topper, it can be something totally not designed to be a tree topper. We picked a big, red, tin truck figure and used floral wire to tie it to the top of the tree.
Pick mediums that match your look. For this we used a lot of wood and some cross-stitched fabric and a little tin because we associate it with country rustic.
Don't be afraid to put something really big (like our JINGLE ALL THE WAY sign) smack in the center of the tree. We, in the decorating industry, call that a "focal."
Most people only use either a garland or a ribbon, but we are using both and criss-crossing them.
Really, there are no rules.

For all these tips and more. Be sure to come by. We would be happy to help you find what you need for any tree design. You can, also, click HERE to see our themed trees and services.
Shop the look in our online store!

https://thechristmasshoppetx.com/product/small-trailer-shimmer/
https://thechristmasshoppetx.com/product/red-truck-snow-globe/
We are oh, so social!
Like and follow us on Instagram, Facebook, and Pinterest!
Keep up with all the in-store fun!