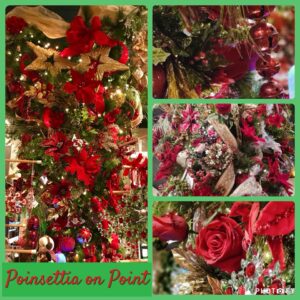 The Poinsettia on Point Tree!
It's that time of year again. We are starting to share our new themed trees for the year! The Christmas Shoppe is proud to present its first tree of the year. We call it Poinsettia on Point.
Not only is this tree perfectly on point with its delicate balance of velvet reds and delicate silver and gold accents, it is literally on point because it is our perfectly balanced upside down tree. Get it? "On point."

Our goal is take your breath away with this elegant tree, located at the very back of the store. This is a true designer tree, celebrating floral pieces and ribbons galore. Besides everyone's favorite red poinsettia, you will discover glittered berries, acanthus sprays, pine, hydrangeas, and roses. The variety of ribbons create a lush, opulent look. Peak between our nutcrackers and shimmering, lit snow globes to see the beautiful tree topper bows located at (you guessed it!) the tip of the tree located at the base.
Another special part of this tree is that it is designed to be viewed from every angle. As you walk around the tree, you will notice that the colors make a gradual shift from bold red and gold to elegant silver, cream, and gold to glitzy silver and red.

Notice the special ornaments we carry that are designed to drip off the tree, jingle bell swags, cascading gem teardrops, and beaded garlands. This gorgeous tree is a natural match for our Mark Roberts Christmas Fairies and our Kissing Krystals.


Come by soon to check it out and find treasures to make your own beautiful tree.
Check out all our other themed trees by visiting http://www.pinterest.com/thechristmasshoppe
Like the look, but can't make it to our location? You can always call us to place orders over the phone or check out our online store…
https://thechristmasshoppetx.com/product/holly-bell-beauty-treasure-ornament/