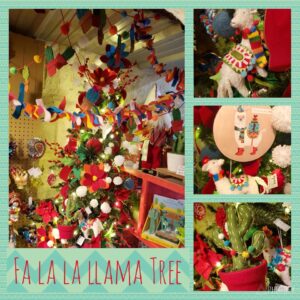 The Fa La La Llama Tree is up and ready to Fiesta. Our latest tree is outrageous with bold colors, felt accents, cactus, succulents, and LLAMAS!
Thank you for dropping by to check out our latest themed tree to be released. This tree was just as much fun to create as it looks. You can create a bold look, too!
How to do it:
Start with a small tree, and don't be afraid to put BIG ornaments on it because they catch the eye in a BIG way. Check out our felt potted cactus ornament and metal disc ornaments. They make the tree pop!

Naturally, every fiesta needs some bright garland to bring the party to your house! Consequently, we decided to hang it above the tree instead of in the tree.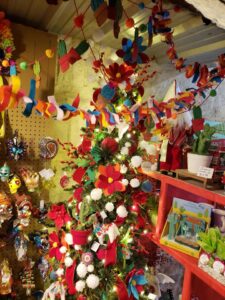 Other ways to use it:
Nothing quite captures the playfulness of felt. It makes me think of all the fun ornaments I made as a child. In fact, these ornaments, ribbon, and flower picks would be a great way to showcase your child's handmade Christmas ornaments.
Gift ideas:
As usual, we don't just stop with the tree. Because not everyone is decorating for Christmas in September, we want to help you bring this look into every gift, every room decor, and every awesome outfit. So, check out our matching plush Llamacorn, our fun and funky totes, succulent place card holders, potted cactus jars, and avocado themed gifts. They can all be found in this one location.

But, wait! There's MORE… pictures. Check them out!

Now, our Llama needs a siesta.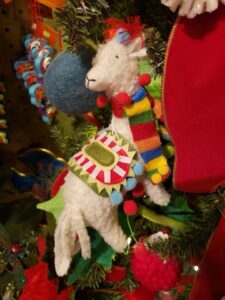 Come by soon to check out this fun tree in person and find the perfect gift to "Celebrate Always." (1 Thess. 5:16)
Check out all our other themed trees by visiting http://www.pinterest.com/thechristmasshoppe
Like the look, but can't make it to our location? You can always call us to place orders over the phone or check out our online store…
https://thechristmasshoppetx.com/product/avocado-ornament-old-world-christmas/