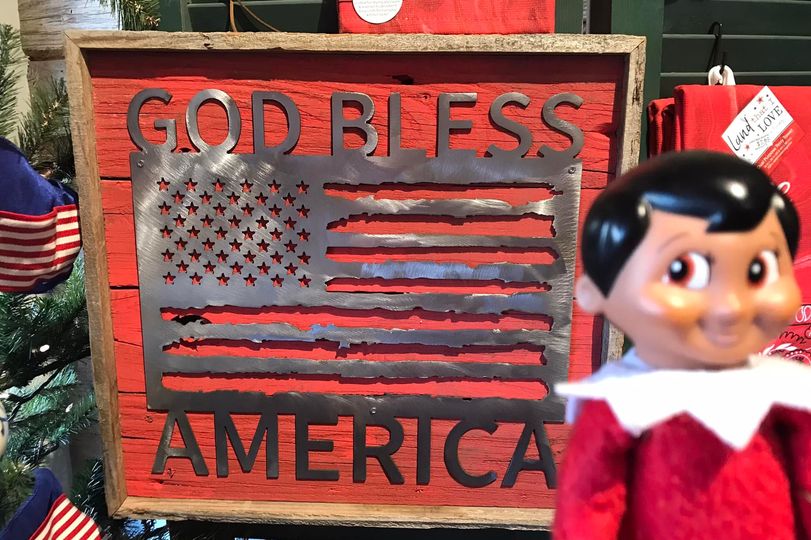 S'more Peace!
Hello, all my Christmas loving friends! Sadly, things are kinda sad this weekend with it being Memorial Day weekend and the recent school shooting in Uvalde. I would love to have something fun and silly to share, but after much thought, I realized that even elves need a time to mourn.
Not all is lost, though. So, I am going to be sharing some of my best tips for finding s'more peace in the chaos.
Memorial Day's history
Memorial Day is a pretty serious holiday, you know. A lot of people celebrate with parades and barbecues, but this special day was created to remember fallen soldiers in the U.S. It started out as a day to honor them by visiting gravesites and cleaning up and decorating cemeteries.
The holiday dates all the way back to shortly after the Civil War. The Civil War is the deadliest war in our nation's history, with 620,000 or more soldiers to fall in battle.
What makes this weekend even more sad, is the recent school shooting in Uvalde, Tx. Everyone is dealing with the shock and grief over the death of 19 elementary school children and 2 teachers, especially because school shootings are just too common here in the U.S. We have more school shootings than any other major industrial country in the world, by a long shot.
However, we can find s'more peace
All the chaos can seem overwhelming, but there are ways we can find s'more peace. I'm just a little elf. I can't do much to change the world, but I can focus on what I can do, which is sharing my tips for finding peace.
Seek out the God of Peace – The Bible says that God is our rock and fortress, our shield and our strength. We can run to Him with anything that troubles us, big and small. I hope that is the first place you run.
Look for the helpers – This is an old Fred Rogers quote, and it is completely true. God is always acting through everyday people to fight back the chaos, and we can see it most quickly when we look for the helpers.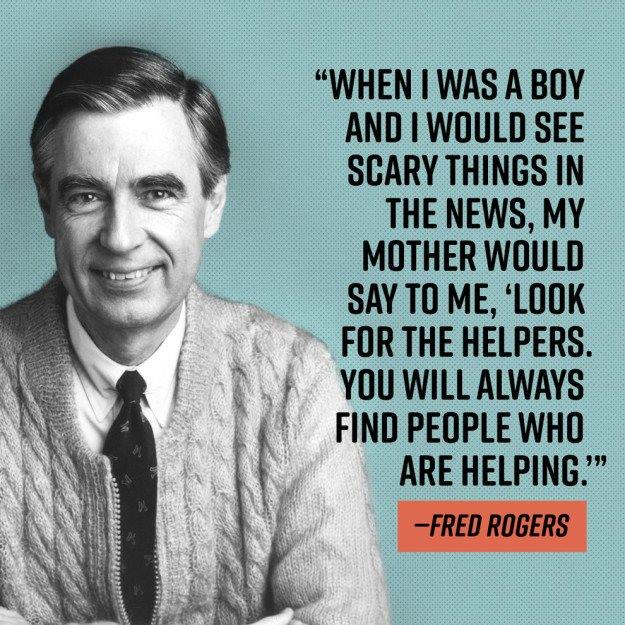 Do what you can do to make the world a better place in the future. This is why we were created! We were created by God to help care for the earth and help Him redeem the planet.

Donate blood – any time there is an emergency like this, the hospitals use lots of their blood supplies to help those who are injured. I HATE GIVING BLOOD! But, you know what? I'm gonna, and I'm gonna do it every chance I get from now on because it could save someone.
Pray – this brings the situation in front of the One who can fix the situation best, and He can guide you and comfort you while you pray.

Vote – there are lots of opinions about how our government should handle the situation. I am not here to share my political views, but if you have an opinion about how the government should act, you should vote to make sure your opinion is heard.
Love others – this means everyone. Try your best to always be loving, encouraging, and supportive of every person you meet. This can be a smile to a stranger or being a listening ear to someone or (and this is hard) choosing to not post things online or use bumper stickers that hurt rather than heal. We don't always agree with everyone, but we will not change their opinion by insulting someone who we don't know well. It doesn't even work with people we know well. It's not our job to fix others. That's God's job. We just love others.
In the words of Michael Jackson, take a look at yourself and make a change – God says we should consider our ways. Sometimes we carry old ideas around, but just because we think something doesn't mean it's right. When we realize that, we can change our mind for the better.

For some, this might mean volunteering more with a ministry involved with mental illness or cycles of abuse.
Others might decide to donate money toward a similar ministry.
For some, this might mean disposing of unnecessary weapons or storing them more securely because they could end up in the wrong hands. It's a hard thing, but you "can do all things through Christ who gives [you] strength."
Cross & Card Donation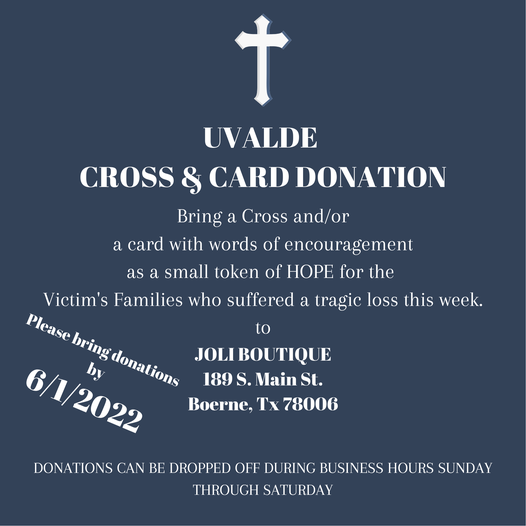 In light of the tragic events in Uvalde, Joli Boutique and the rest of the Boerne Retailers want to begin gathering crosses and cards with words of prayer and encouragement to be sent to our brothers and sisters in the Uvalde Community. We want these crosses and cards to act as a physical symbol for all of the outpouring love that our nation is showing them at this time through prayer.
Please bring your cross and card donations to JOLI BOUTIQUE 189 S. Main St. Boerne, Tx 78006 during regular business hours from now until June 1st. You can, also, opt to bring them to The Christmas Shoppe by the end of the day on May 31st, and we will bring them to Joli Boutique the following day.
Another small thing we are doing…
It's a hard week. We want to bring a smile and a little s'more peace. Anyone who makes a purchase or a cross or card donation this weekend (Saturday, Sunday, and Monday) will receive a free gift at the register.
We will, also, be serving cookies and Mulled Cider Punch.
If you would like to read s'more on this topic, check out one of my older blogs: S'more Coziness.
S'more Updates!
Here's what's been happening in store that you may have missed. Sorry, some got missed in my last blog. So, I am filling you in with a little extra awesomeness.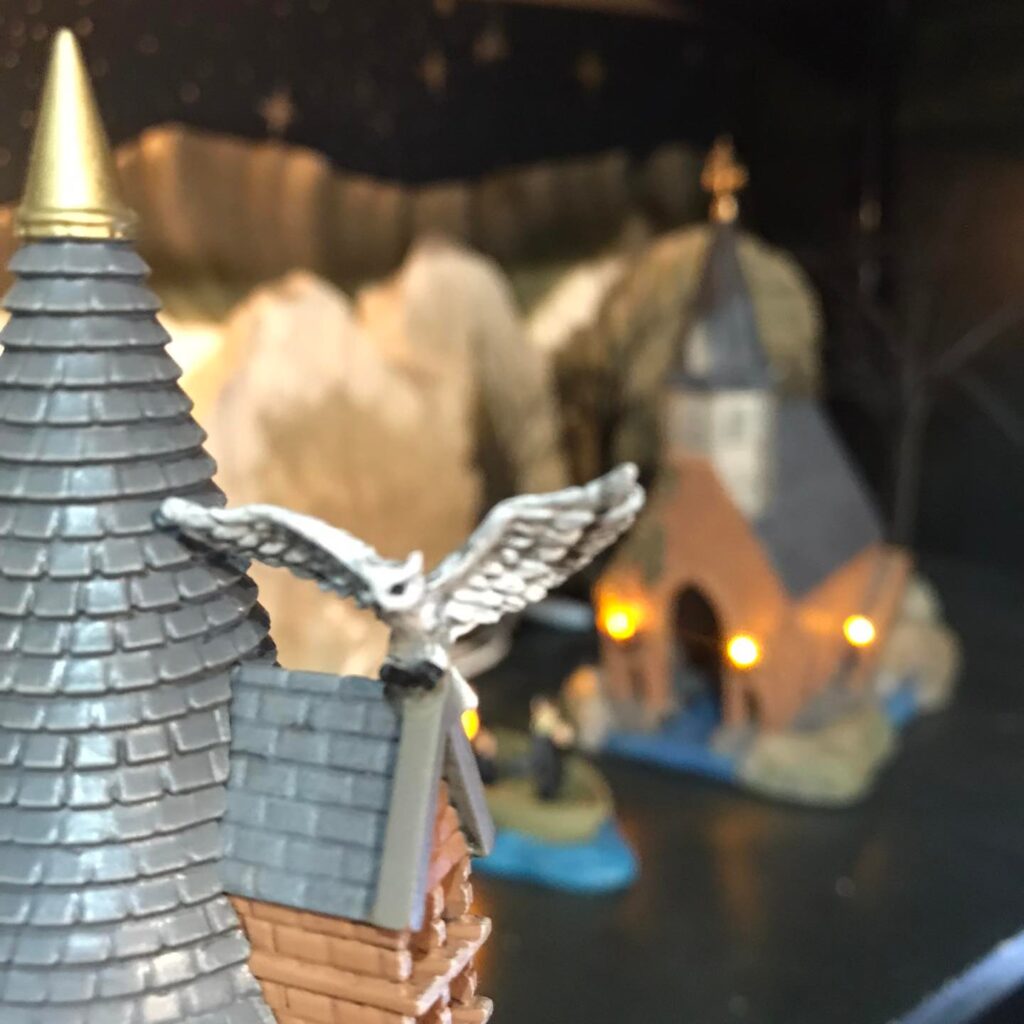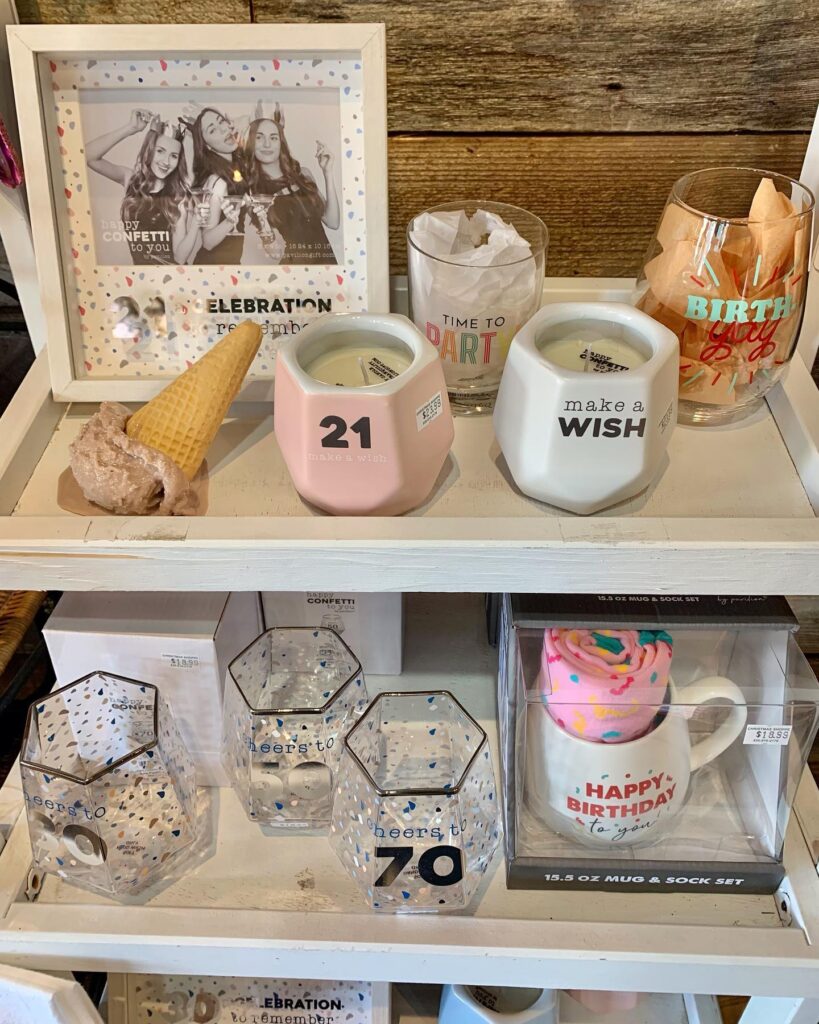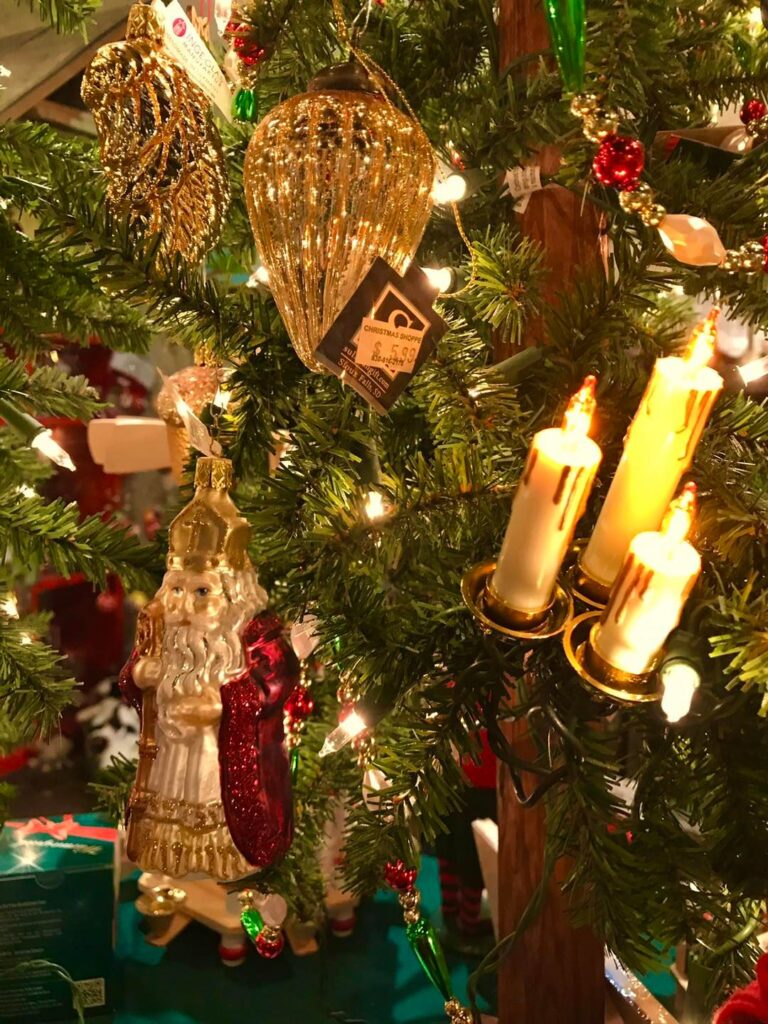 I hope I've helped prepare you to find s'more peace in the middle of all this tragedy. The fact that Memorial Day is a holiday is evidence that we can "Celebrate Always" (I Thessalonians 5:16).
LOVE FROM,
S'MORE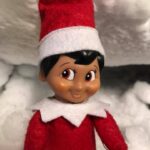 Want to see my past blogs?
CHECK OUT OUR BLOG ARCHIVE HERE
Want to be the first to see my future blogs?
Want to see what we are up to EVERY DAY?
FOLLOW US ON
TO BE SUPER UP TO DATE!