S'more Decorating Magic!
Hello, all my Christmas loving friends! We've been working our little elf-y tails off to get s'more decorating magic finished in time for you to start your decorating magic at home. So, while I do some restocking from last night's Diva Night, Mrs. C. is going to take over and give some simple tips for decorating a Christmas Tree.
Let's Begin:
Hello, dears! Welcome to The Christmas Shoppe. This is Mrs. C. taking over the blog. Today, I am going to share some easy tips on how to create a showstopper decorator tree. With every tree, the first step is to make sure that all your lights are working correctly. I'm not going to be talking about that today, but if you would like more information on that, be sure to check out this blog from last year:
S'more Delightful – The Christmas Shoppe (thechristmasshoppetx.com)
Much like that blog, we have created a video with highlights to show you how we do what we do.
Speaking of lights, for our new Santa's Workshop themed tree that is featured in our video, we added some specialty bubble lights. It's the first thing we added so that we could be sure the lights were evenly spaced and the electric cords were hidden.
Adding garland
Ribbon can be a tricky thing to work with for beginning decorators. An easier option is to use garland on the tree. We made the tree even more simple by hanging the bead garlands vertically instead of swagging them around the tree. We just attached the end of the garland to a top branch of the tree and let the garland hang straight down.
A quick tip for keeping garland from tangling while carrying around several is to drape them around your neck.
Then, we just made sure the garland was evenly spaced around all visible sides of the tree.
Making Bows
Ribbon and bows add so much beauty to a tree, and as I mentioned ribbon can be difficult to work with for beginners. However, bows are simple to attach to a tree with a little green wire. For the tree we are working on, we are going to put several bows at the top of our tree as a topper.
We are happy to make bows for you using the ribbon we sell. There is just a small cost for labor. However, if you would like to make the bows yourself, we will be posting tips to make bows soon.
They say a video is worth a thousand words. So, stay tuned. We will be uploading another video detailing how to create bows.
Start at the topper!
I find it easiest to start with the topper. So, I have four bows created from one spool of ribbon that I am clustering at the top of our Santa's Workshop tree. The wire behind each bow can be twisted easily onto the branches to hold them in the perfect spot.
Next, I added this really neat topper display. It's a bundle of metal picks that can be fanned out. Then, we take ornaments, especially finial shaped ornaments, remove the ornament hangers from their tops, and place them upside down on the metal picks. The effect is a spray of ornaments standing out from the top of the tree, like a starburst.
Sprays of glittery jingle bells are added around at the top for increased wow factor.
Eye-catching decorations
Now for s'more decorating magic! Here's where we add a bunch of the big fun things throughout the tree so that they are evenly spaced. For our Santa's Workshop tree, we added elf legs, giant metal ornaments, large balls, and poinsettias.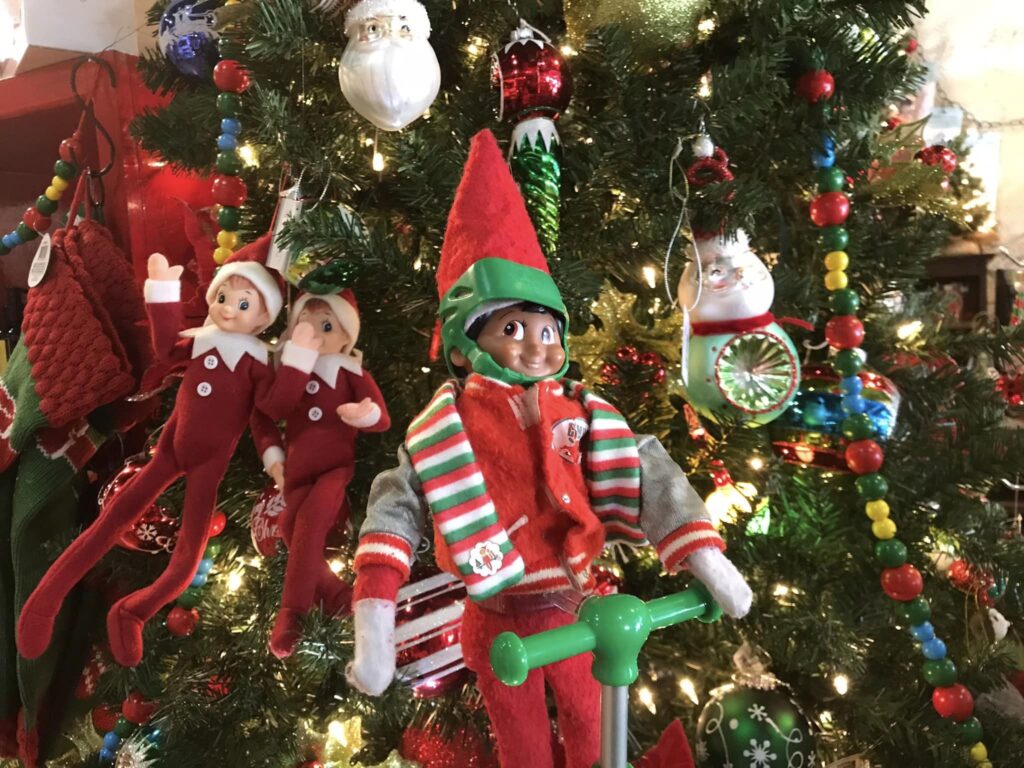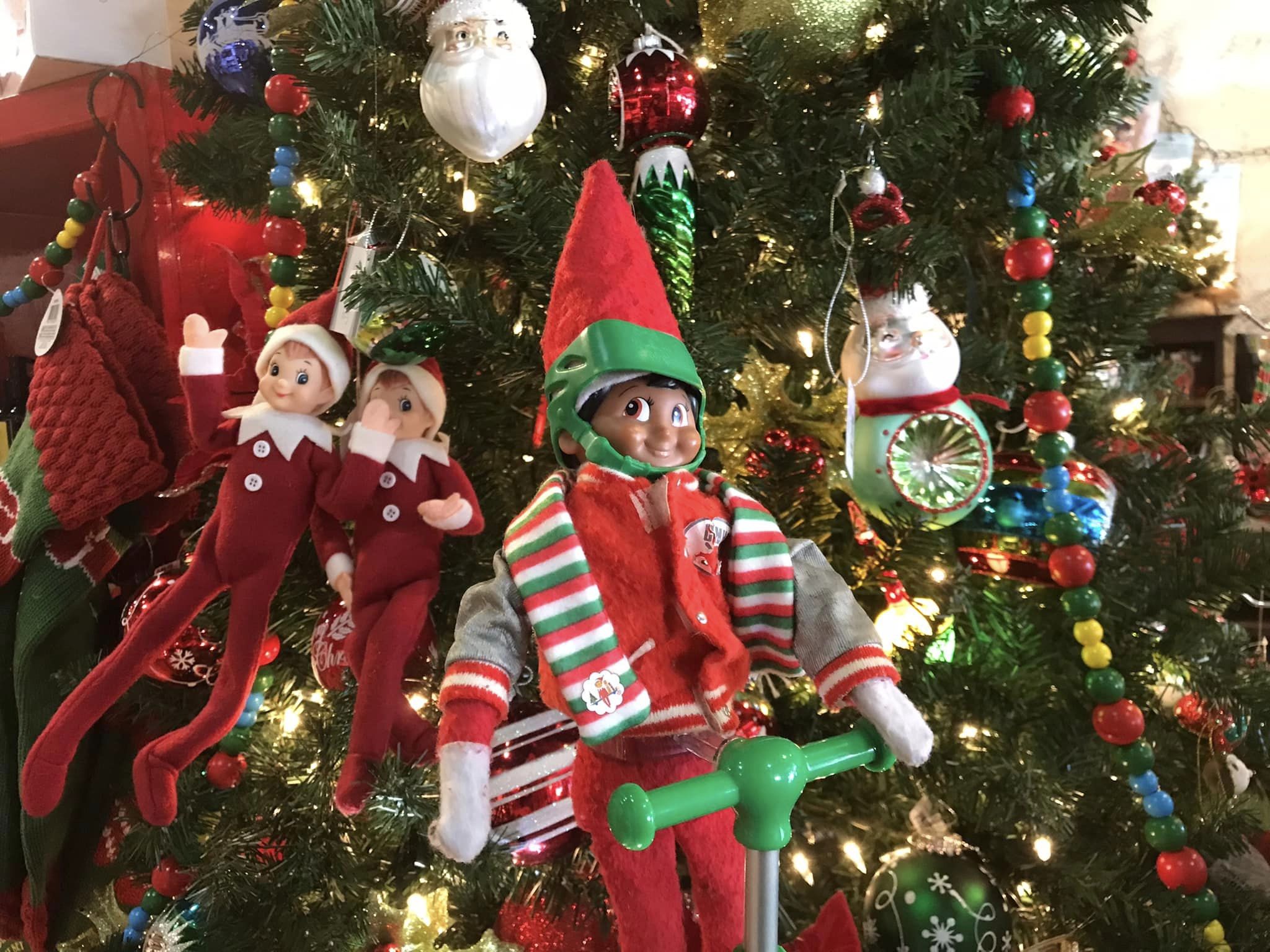 S'more thinks he looks pretty eye-catching on his new scooter.
Small details
The last step is to add in all the small details. In our case, we added our smaller Shiny Brite ornaments, figural ornaments (elves and Santa faces and reindeer and more expensive Old World ornaments), and little sprigs of glittered holly clips.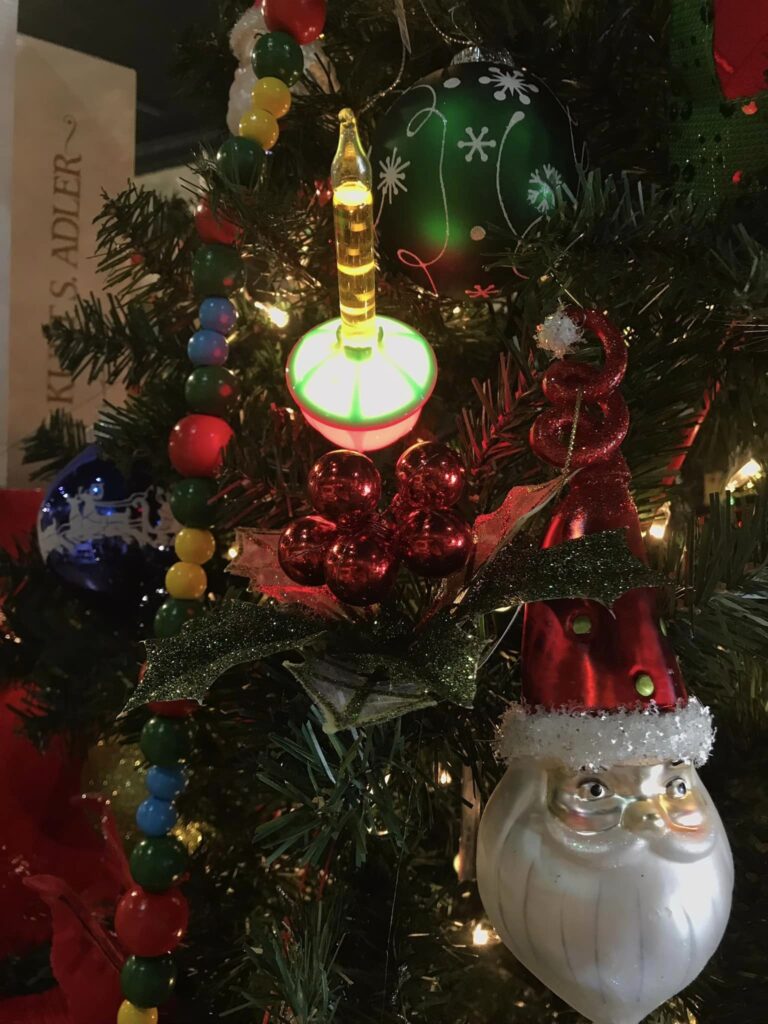 For your tree at home, this is when you would add those ornaments that have more sentimental value. The unique ornaments.
And, that is it! Our Santa's Workshop themed Christmas tree is finished.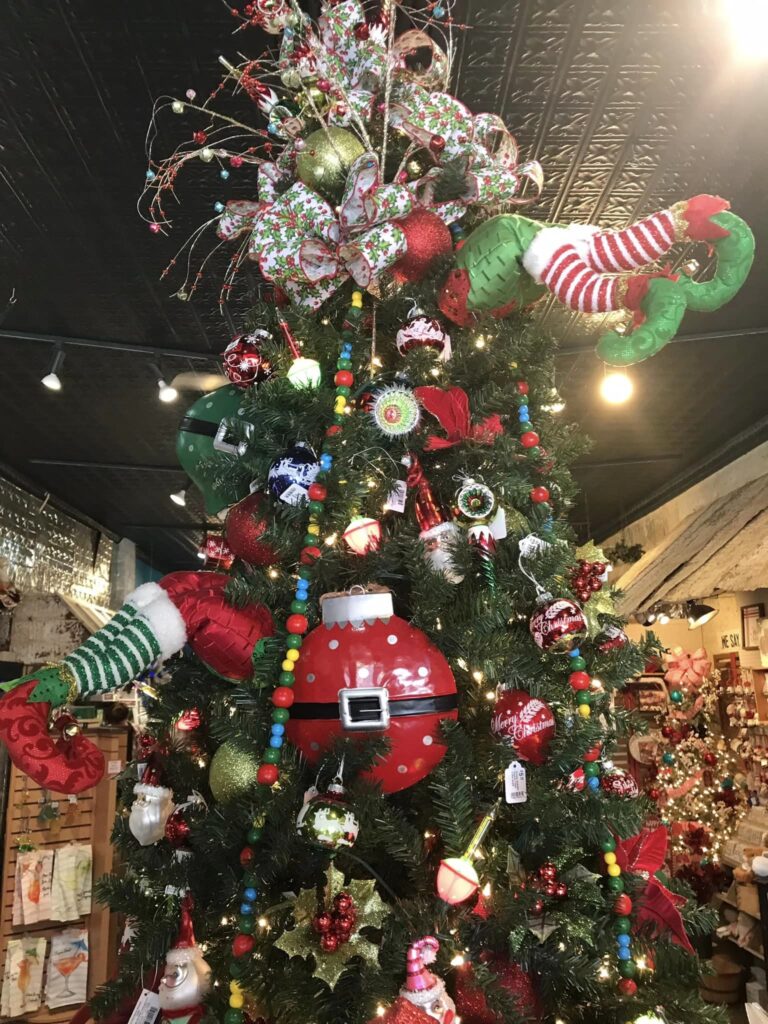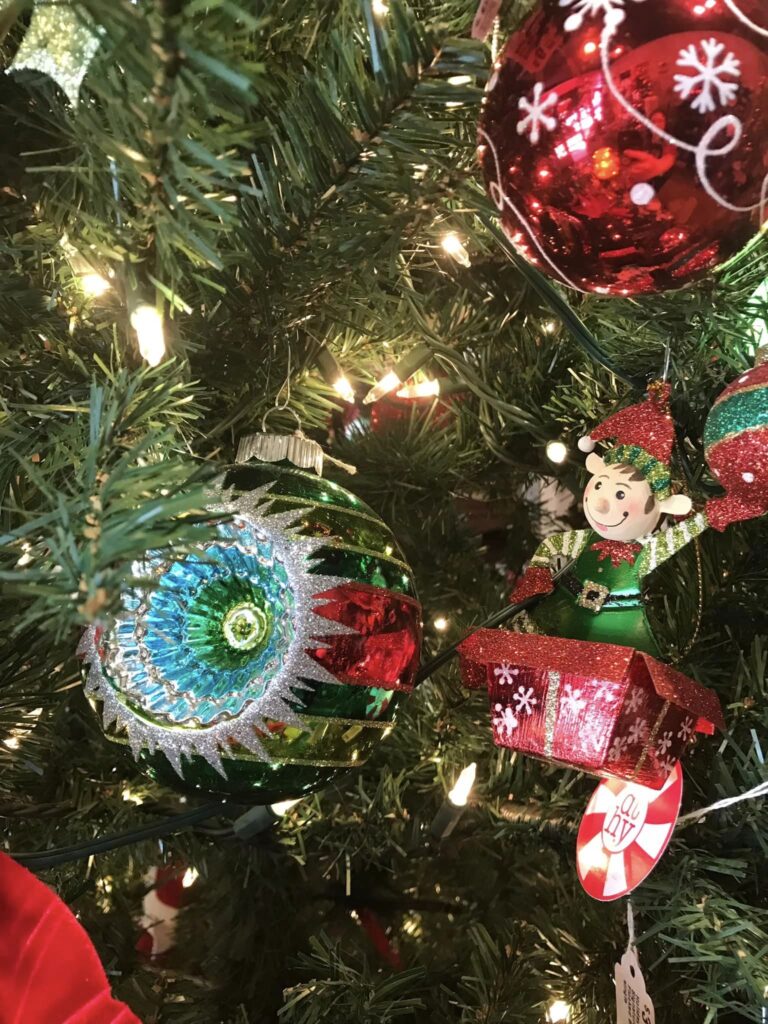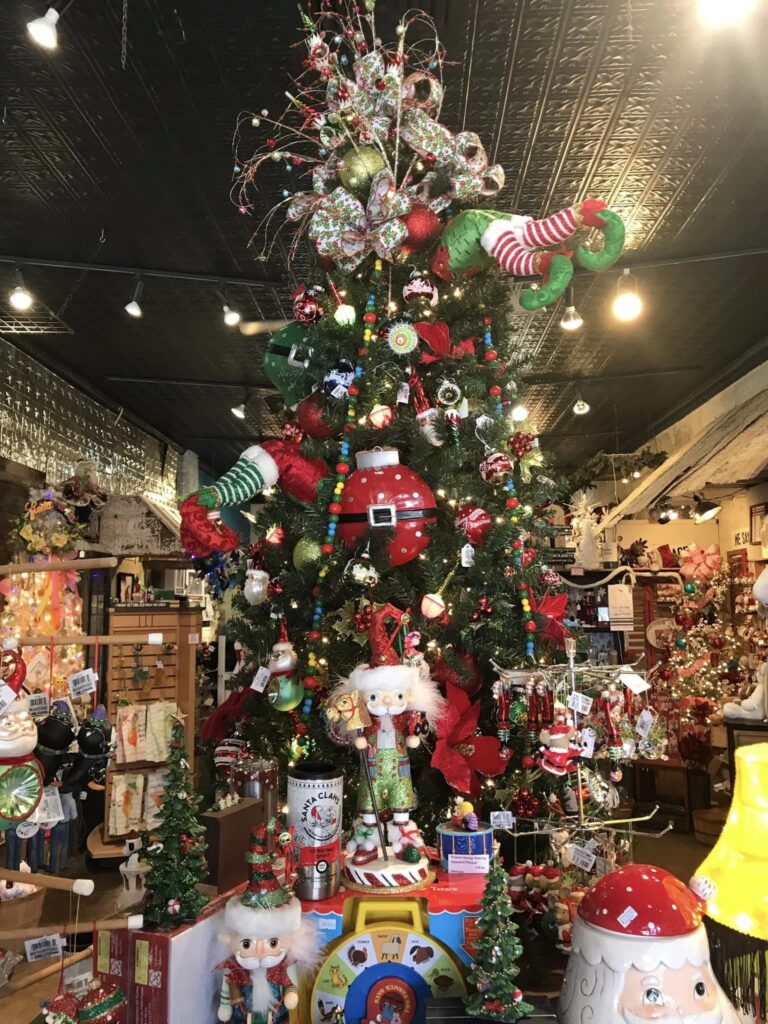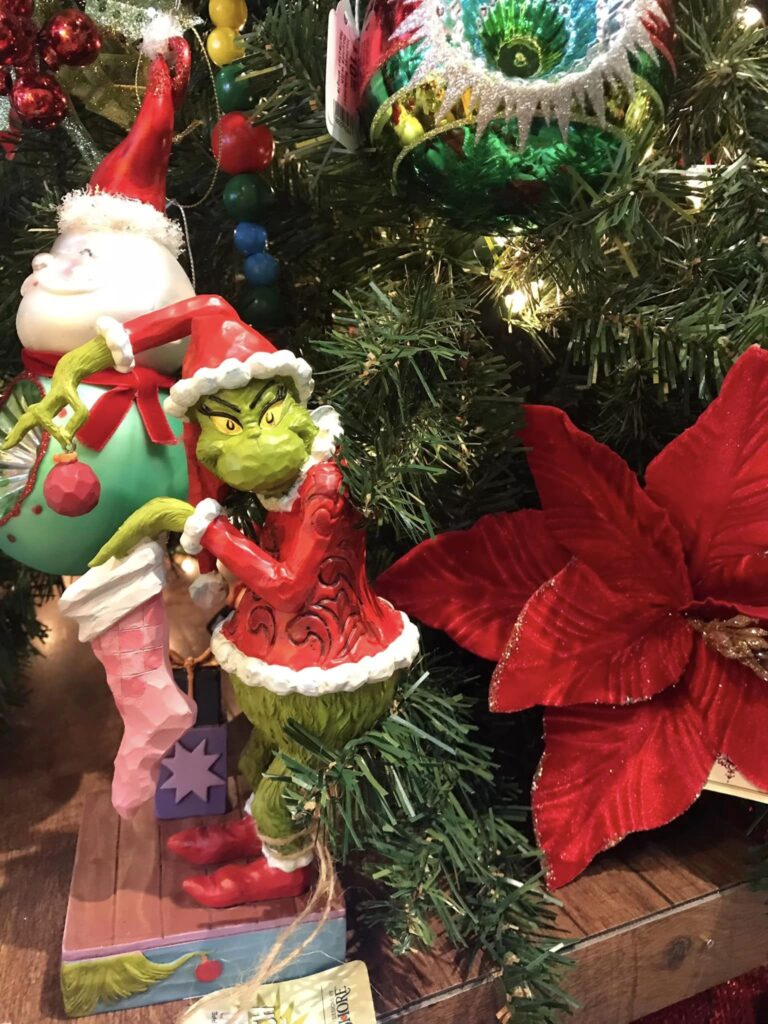 S'more Updates!
Here's what's been happening on social media that you may have missed.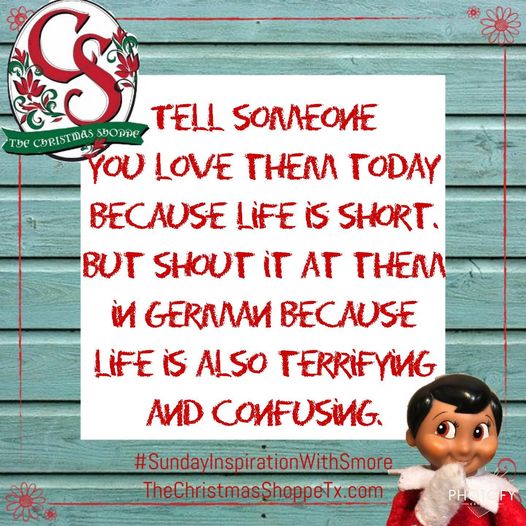 Everyone asks what they are smelling when they come in!
Did you know we have been selling The Smell of Christmas by Aromatique Inc for at least 18 years?
Did you know that smells can permeate walls?
Did you know that this fragrance is only available seasonally?
Did you know that my nose can no longer smell this fragrance except for the first week or two after the yearly shipment arrives?
It's true. Nine times out of ten, when a customer asks in the middle of July what our beautiful fragrance is, it's not whatever candle we are burning. It's not whatever I smell. It's The Smell of Christmas by Aromatique.
Be sure to come be soon to get yours before it's sold out for the year. The Smell of Christmas is available in potpourri, room spray, reed diffuser, wax melts, and NEW hand soap and pinecones.
All of our fragrances are located next to our beautiful Kneeling Santa inspired chandelier tree.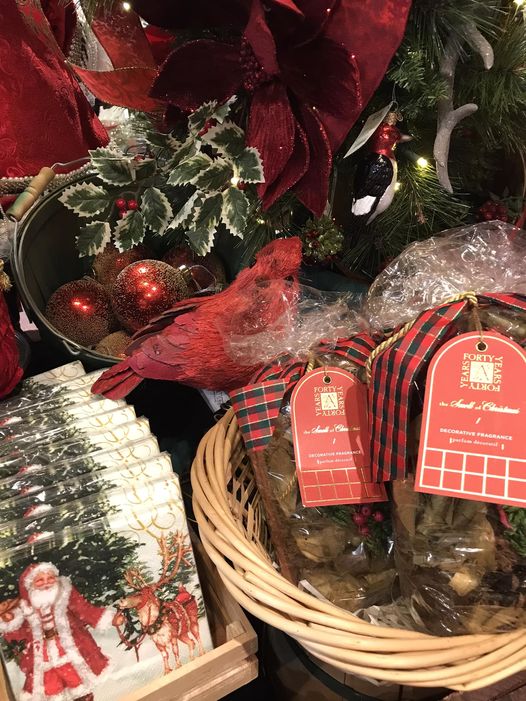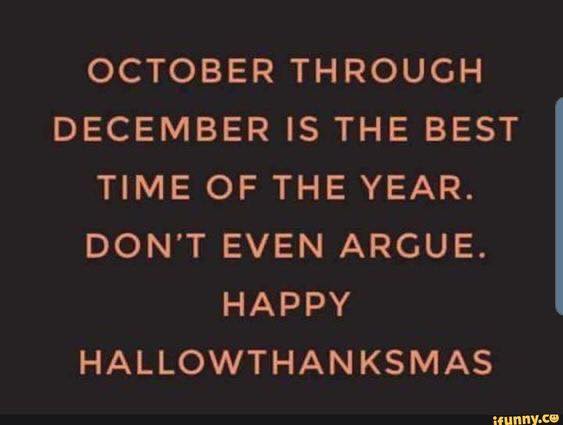 It's here! Come celebrate with us!
Happy November!
What are you doing today???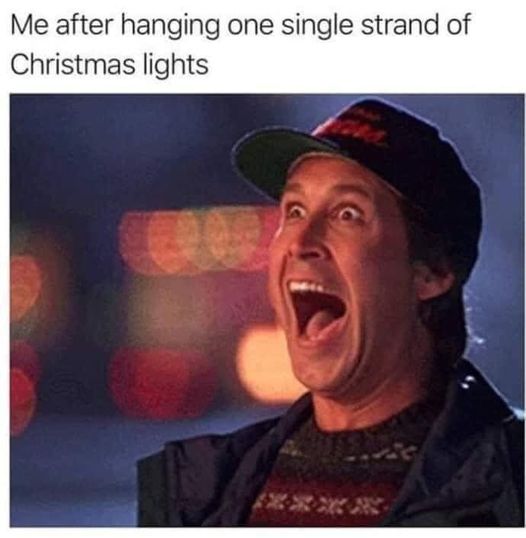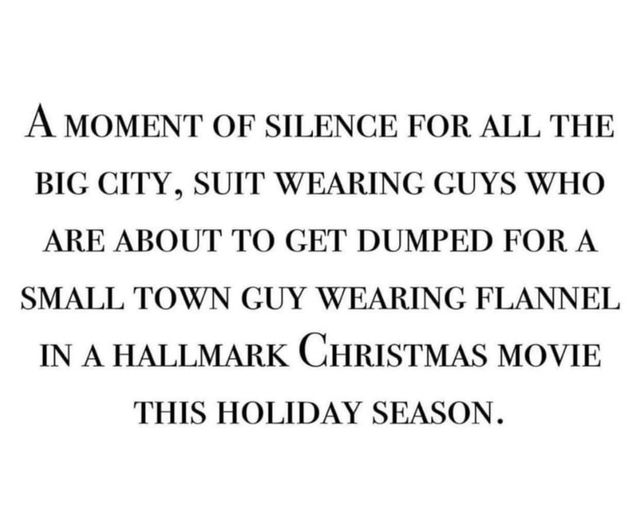 Remember: As of midnight Halloween… BAM! Christmas carols everywhere!
Art makes me feel fancy.
This beautiful print is from the artwork of a local girl by the name of Mykala Jones, and I absolutely love it.
We have Christmas cards, too!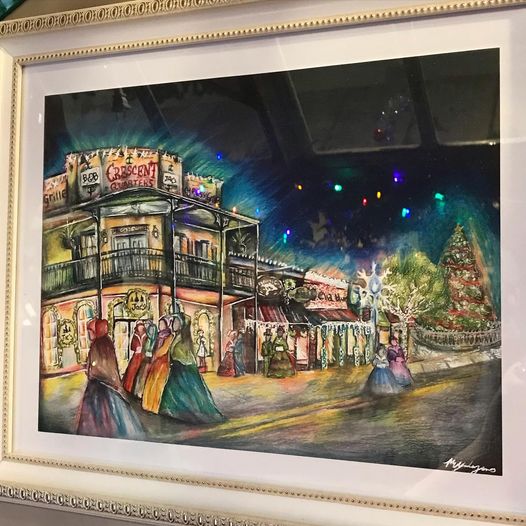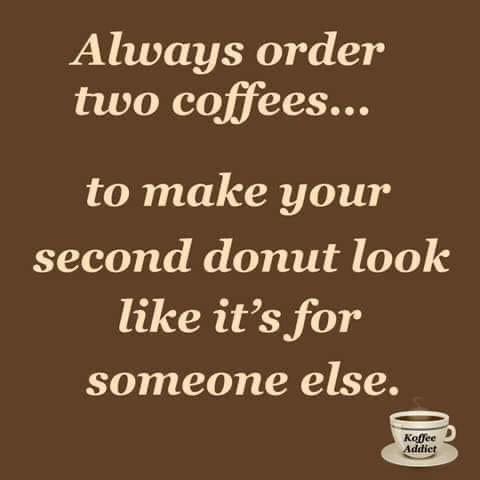 SALE! SALE! SALE!
We've got a little bit of old Christmas stuff at 75% off!!! And our Halloween and Day of the Dead stuff is ALL 40% off!!! (I decided we had too much leftover)
So, come get some great deals!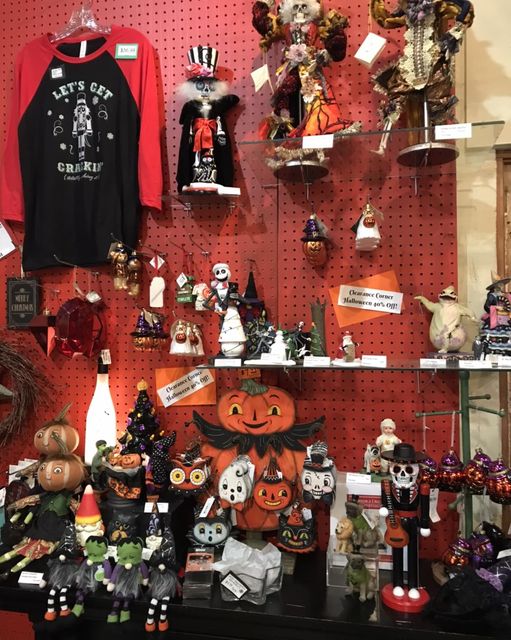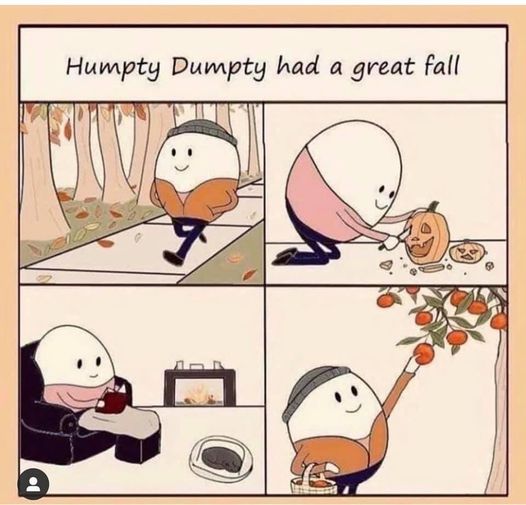 It's a beautiful day in Boerne to have a great fall!
Come visit us. We are going to try to stay open a little later on Saturday (
for all you early holiday shoppers).
Got any Stranger Things fans in your family?
We've got just the thing!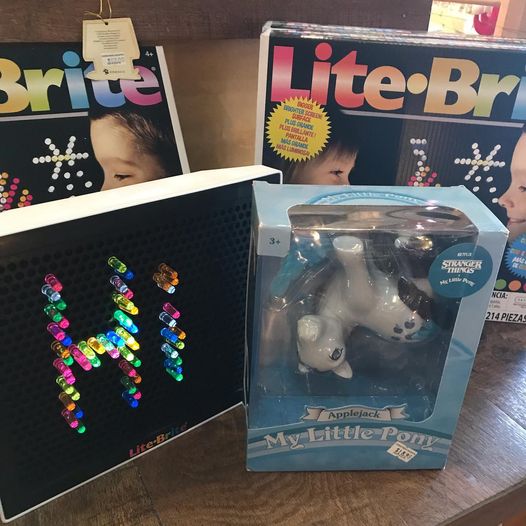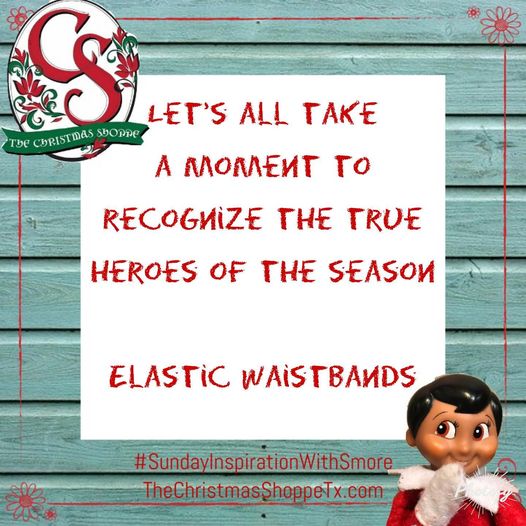 'Tis the season to be eating
Fa-La-La-La-La-La-
La-La-La-laaaaaaaaaaaa!
@smore_elf
BATTLE STATIONS!
Life at The Christmas Shoppe is never dull. Let's help you get holiday ready. Stop by and #celebratealways with us.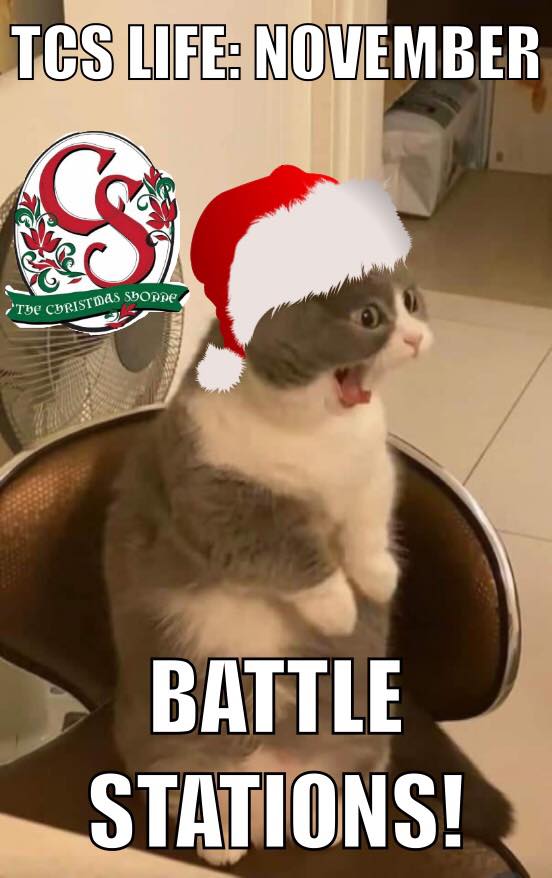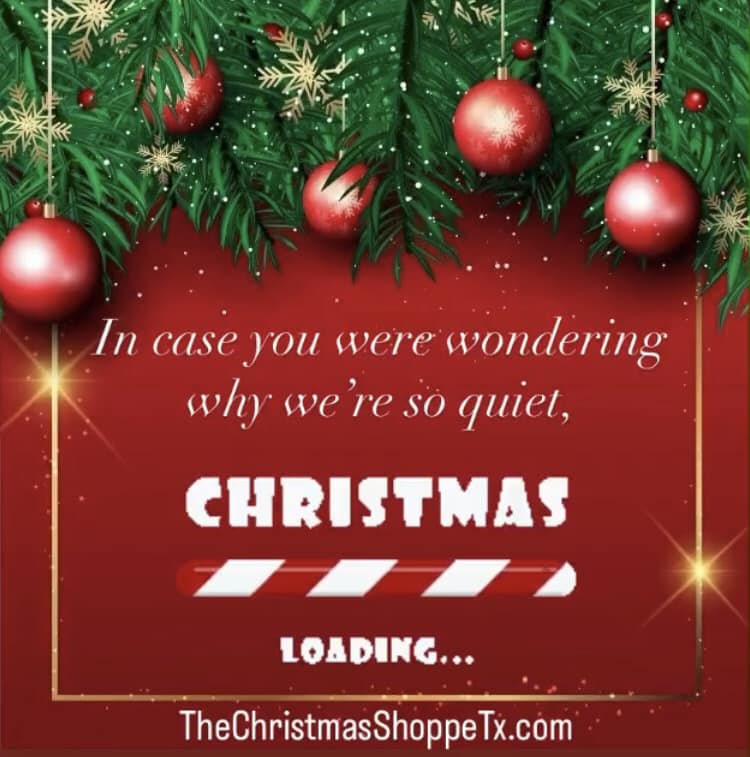 We have a busy week!
Between taking down Halloween, putting up the last of our Christmas displays, checking in mountains of new inventory, preparing for Diva Night, and all our everyday endeavors… we are forgetting to take photos to post on social media! Oh, no!
Well, you will just have to come see us in person.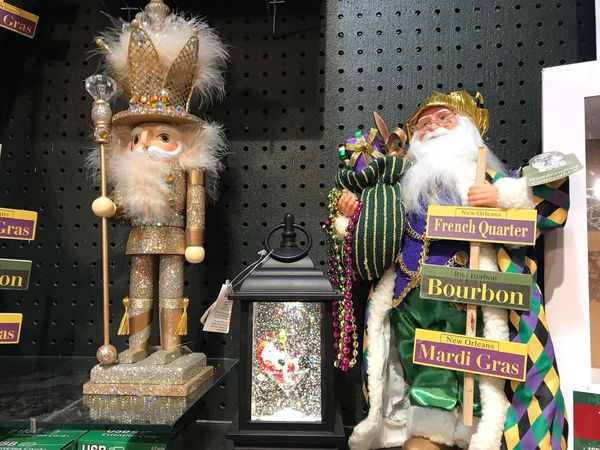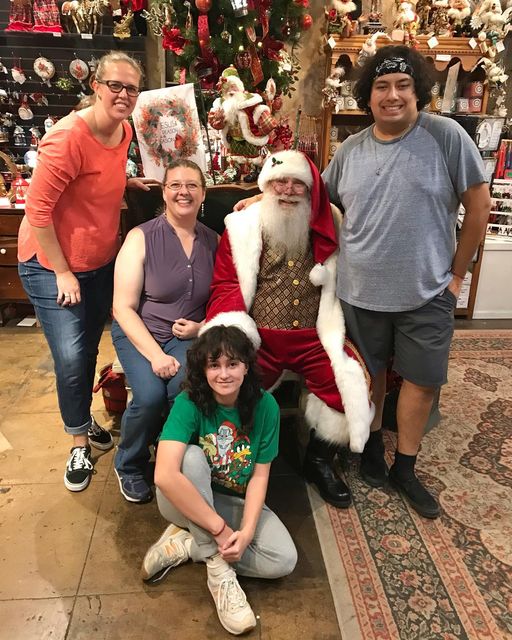 Oh, what a night!
It was a blast, and the elves are happily exhausted.
Thank you to everyone who visited for Diva Night!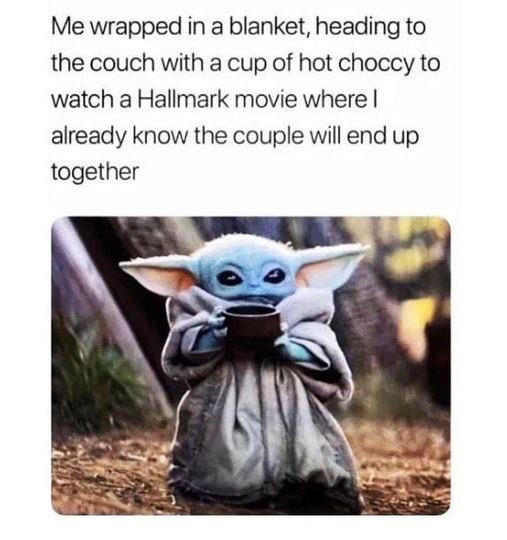 Of course, we hope our S'more Tube, like Facebook and Instragram and blogs, help you to "Celebrate Always" (I Thessalonians 5:16)!
LOVE FROM,
S'MORE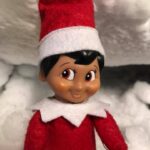 Want to see my past blogs?
CHECK OUT OUR BLOG ARCHIVE HERE
Want to be the first to see my future blogs?
Want to see what we are up to EVERY DAY?
FOLLOW US ON
TO BE SUPER UP TO DATE!