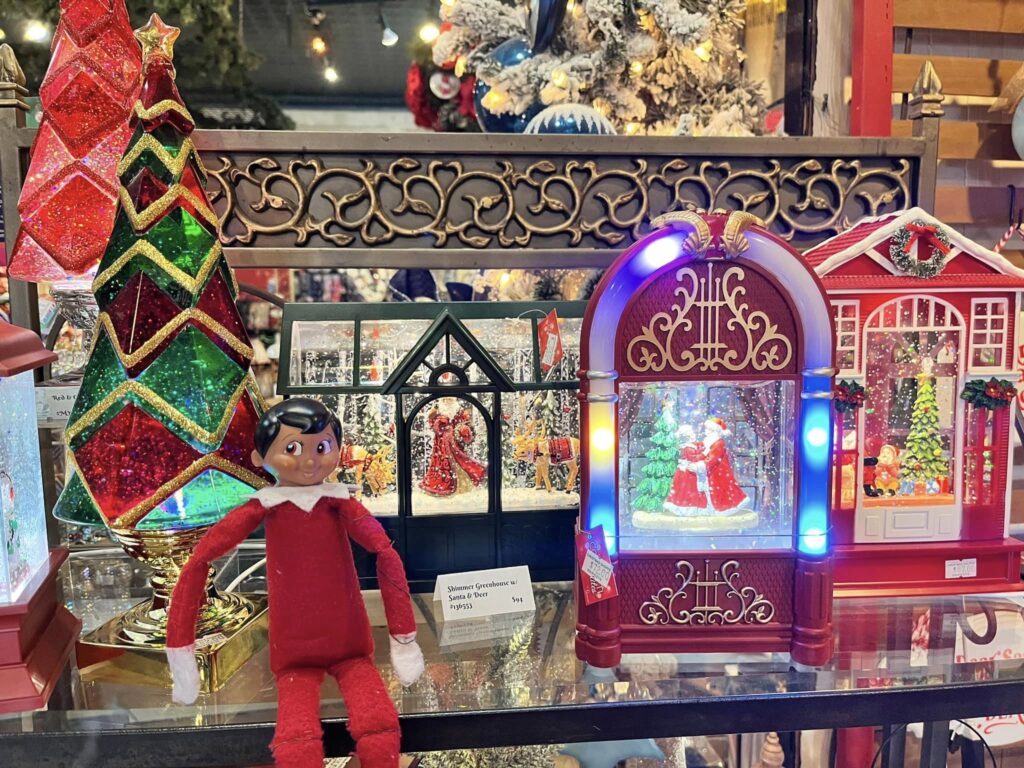 S'more Christmas in July!
Hello, all my Christmas loving friends! Yay! It's Christmas!!!
in July, that is. Who's ready to channel some winter vibes? And, boy do I have some surprises in store to share with you for s'more Christmas in July!
If you are reading this, you are probably one of our closest friends and you have an idea of what a year-round Christmas store is busy doing in July…. getting ready for Christmas! However, this year we have a few s'more surprises for Christmas in July.
The usual July happenings!
Because we celebrate Christmas every day, the companies who make our Christmas items know that they can start shipping to us before other stores. We tell them that they can start shipping as soon as March 1st, but most of the companies aren't ready to ship to us until summertime.
This means that when you come see us in July, the elves are probably really busy opening boxes and putting out new inventory. So, you get to see lots of new items right now before they are likely to sell out.
Now, that we are about halfway through July, we are, also, getting to that time of the year when we have enough new inventory to start decorating our trees for Christmas and Halloween! So far, we have our Groovy Day of the Dead tree, our Halloween Front Porch, and our Messy Halloween Kitchen finished. Hopefully, we will have our Pebble Beach Tree finished this weekend. This means that you may, also, drop by and see elves moving fixtures, relighting trees, and decorating!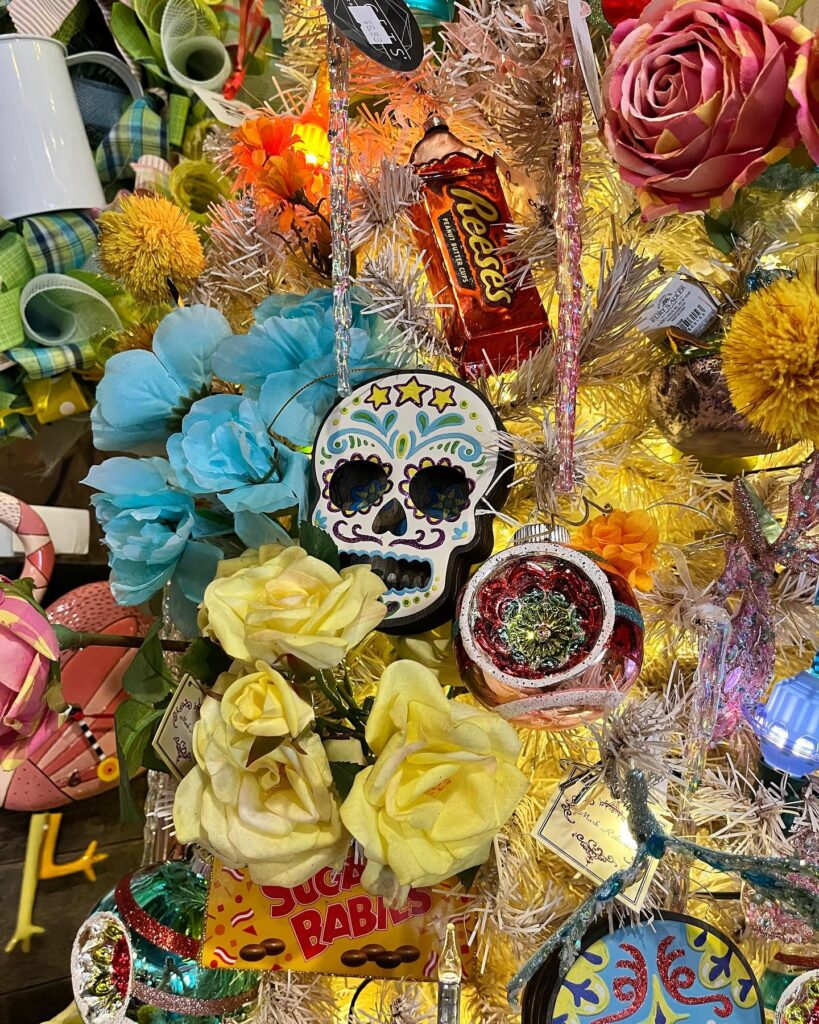 Special July happenings!
It's so hot right now that all the elves needed something to cheer them up. So, you may find an extra dose of Christmas cheer in our store for making spirits bright.
Be on the lookout for:
Christmas music on our stereo!
Fresh cookies on Saturdays
Ice cold melted snowman (brought in daily from the North Pole) or Mulled Cider Punch
Elves dressed in Christmas apparel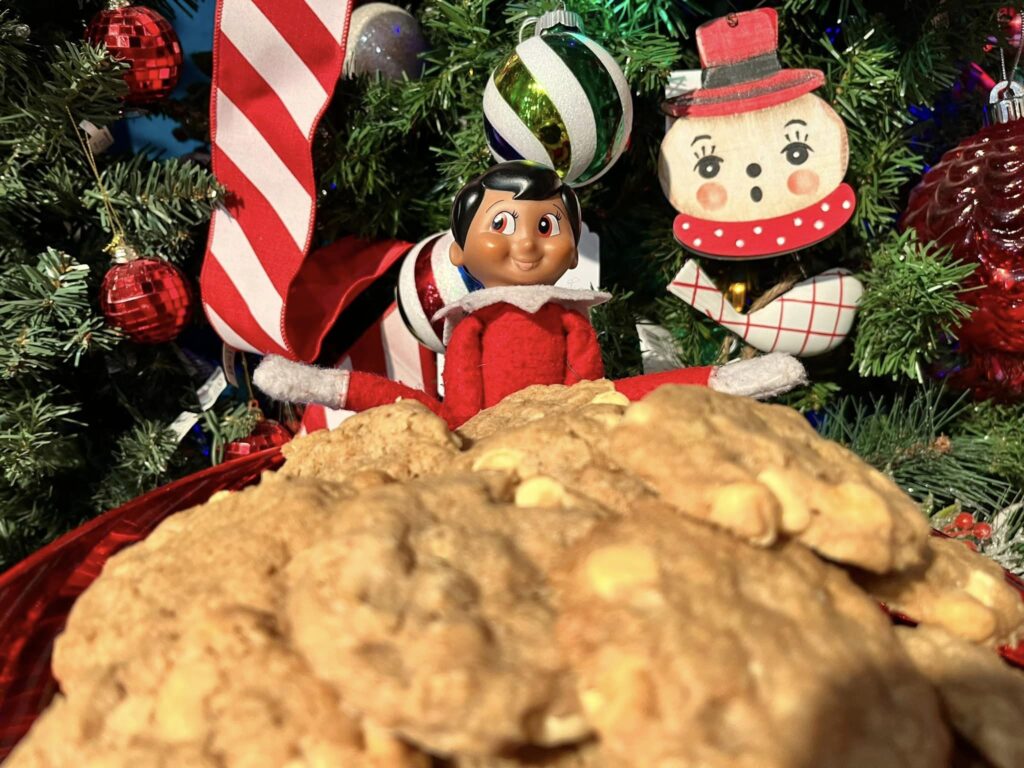 Things like this make us happy, and we hope they bring you joy, too.
Christmas in July Surprised!
Best yet! I am so excited to share! It's so cool! SA Live is doing a special Christmas in July episode, and Mrs. C. was invited to be interviewed for a small segment!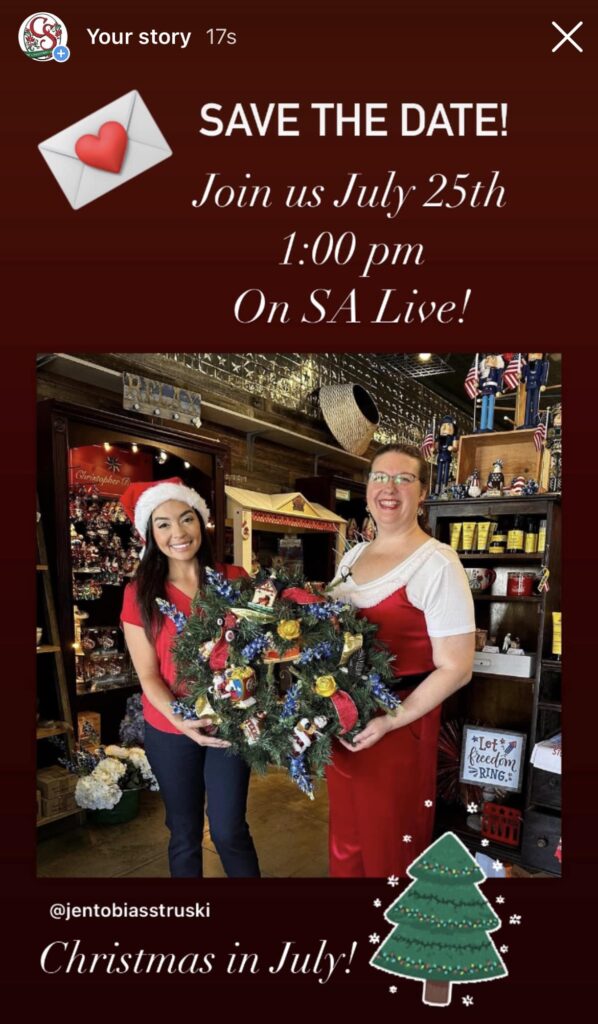 So, be sure to tune in to KSAT on July 25th at 1pm for this very special episode. We will try to share it on our social media pages, too.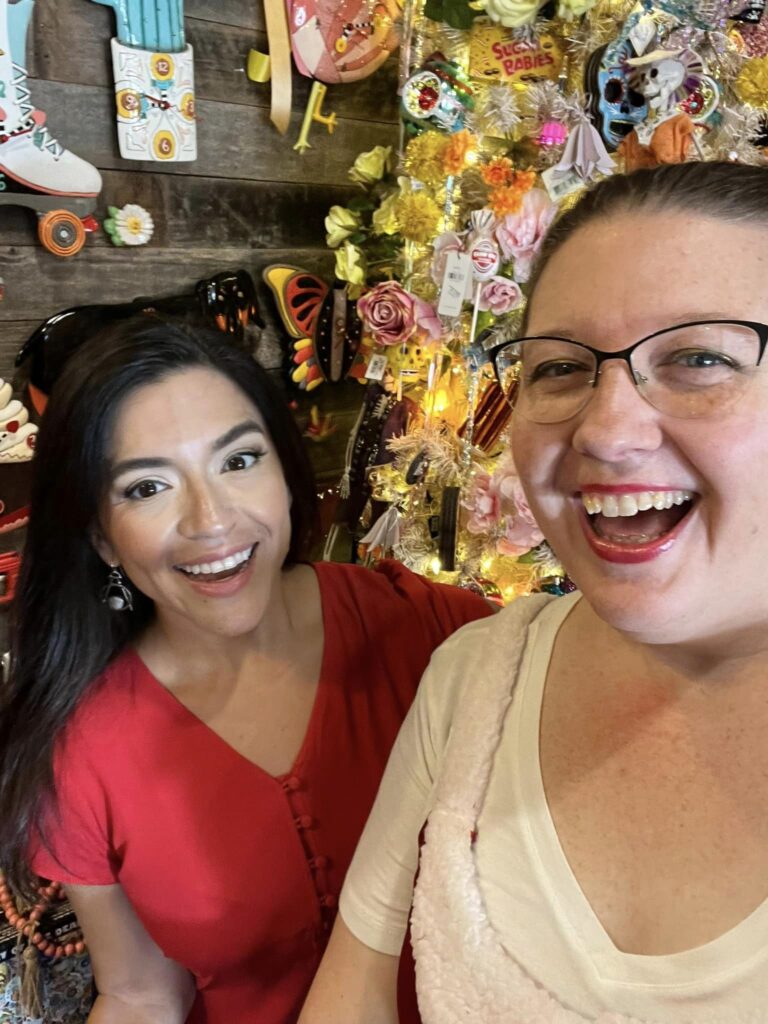 When we mentioned it the other day on Facebook, Hill Country Daily Bread contacted us. They want to do something for Christmas in July, too! We don't have all the details worked out yet, but I (S'more the elf on the shelf) may be able to follow in the footsteps of Barbie and volunteer. We will share all my adventures at Hill Country Daily Bread in the next couple of weeks.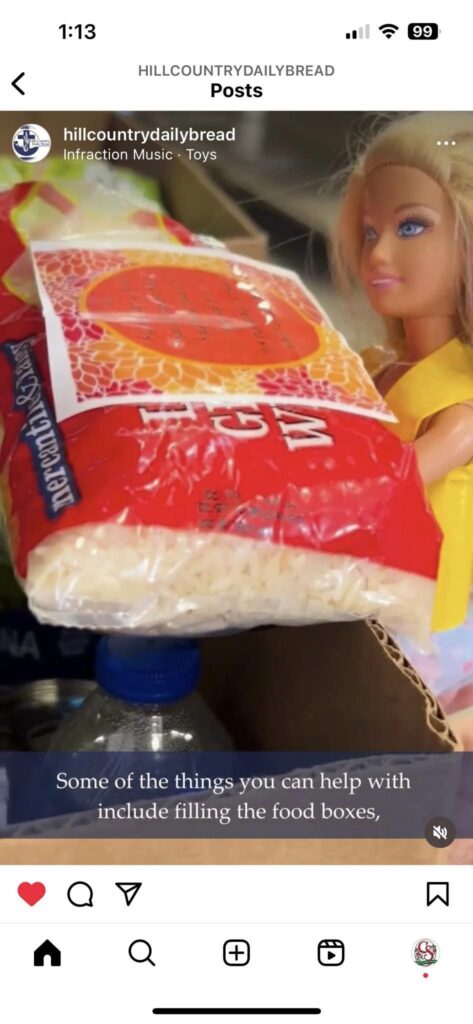 And then… The Jones Christmas Ranch family just told us about an amazing thing they have planned to celebrate Christmas in July! They are so excited to partner with Day 1 Bags & Shine Bright Ministries, Inc. again to Bless over 700 kids in care this year with a high-quality keepsake when they come to the Ranch this season.
Please help them hit their goal by the end of July so they can place the order!
Your $20 gift covers 1 child's gift!
Click here to donate and share on (5) Facebook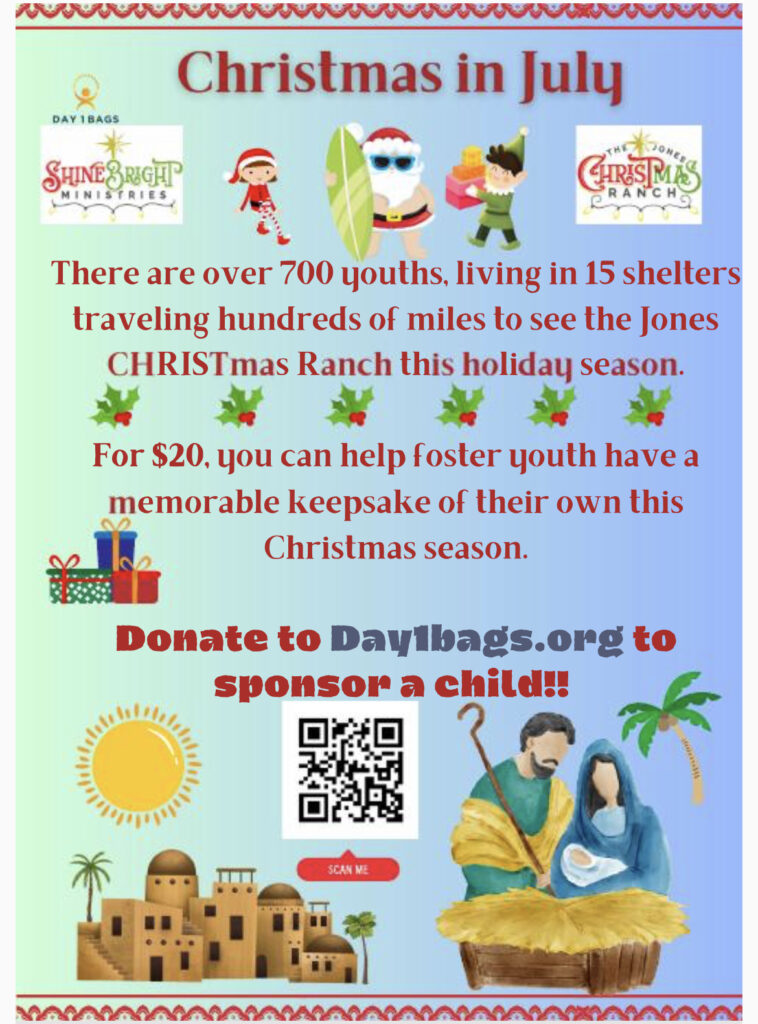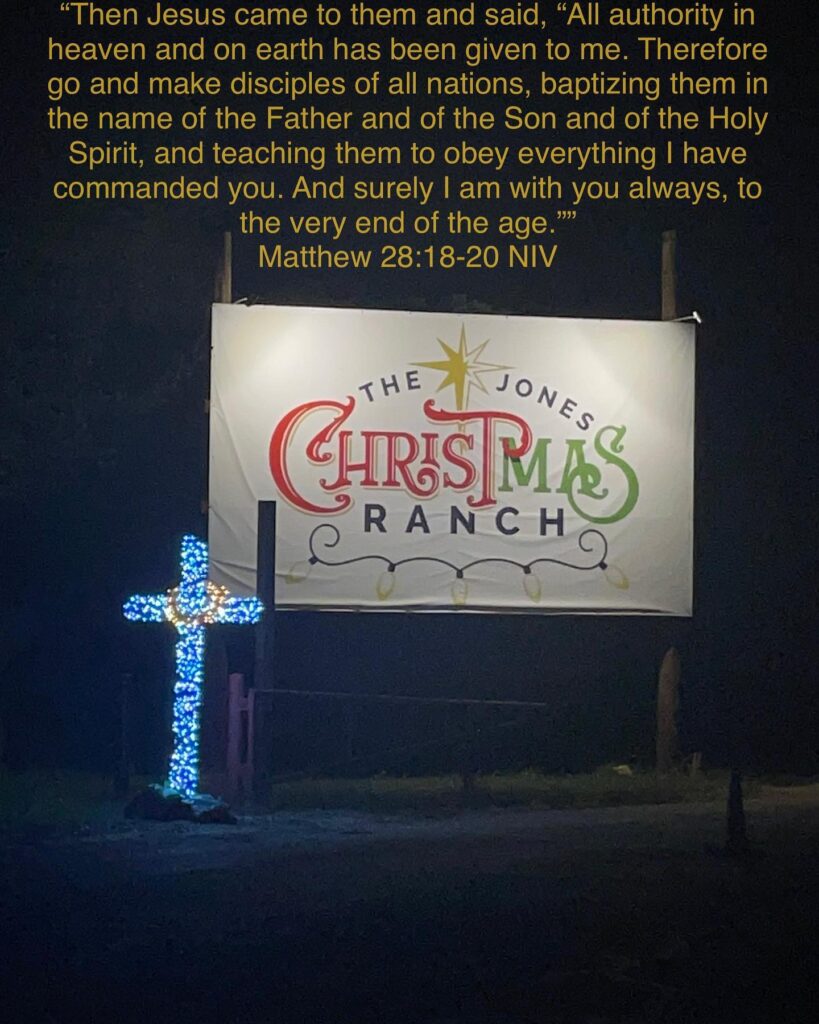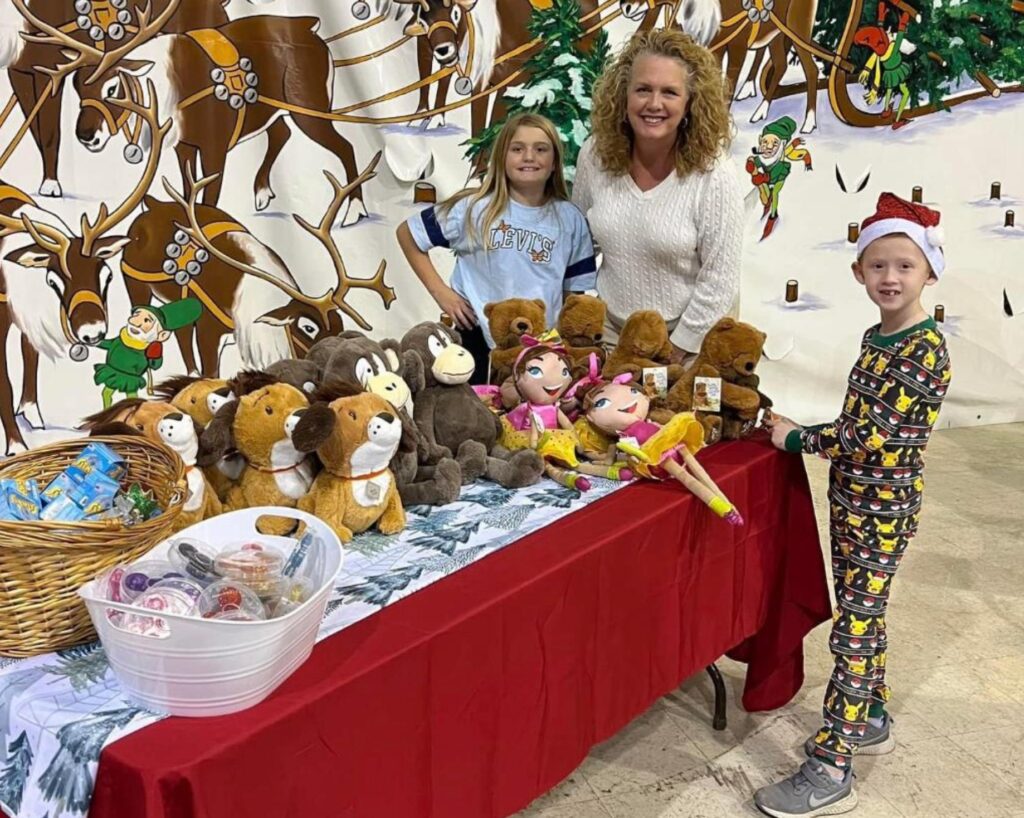 Speaking of Christmas in July, time for…
S'more Updates!
That part of the blog where we show off some cool things that we've been sharing on social media that you may have missed: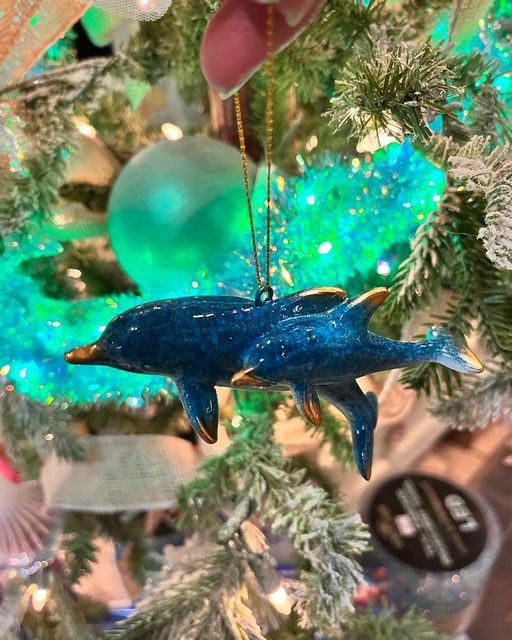 Make a splash this summer with a beach Christmas tree!
Guess what Mrs. C. got again this morning!
That's one BIG cinnamon roll from Richter Boerne and one happy shopkeeper, too!
…
Reposted from The Christmas Shoppe
It takes a lot of sugar to keep the elves smiling at The Christmas Shoppe!
Mrs C finally got to treat herself with a cinnamon roll from Richter Bakhaus in honor of her birthday. It was delicious!
It took two days to eat, too.
So, what are we missing? What is a signature treat from a Boerne eatery that we should try next?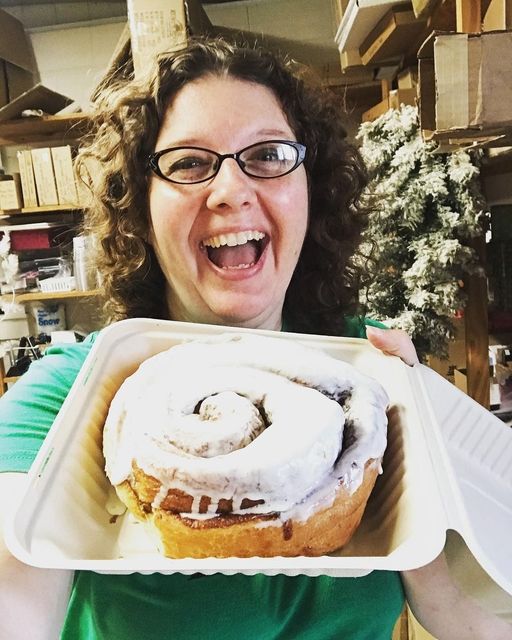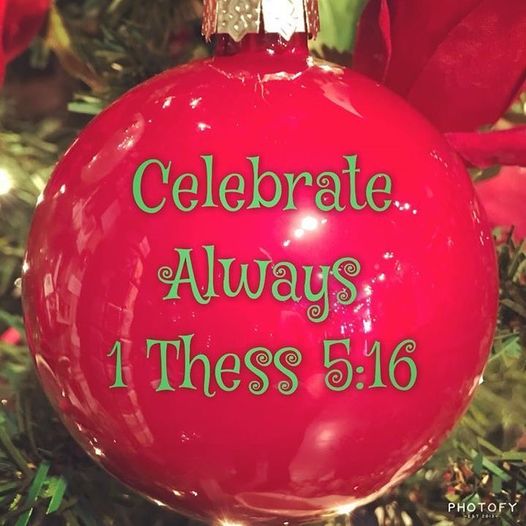 It's always a "celebrate always" kind of day!
We are celebrating the end to a busy week with a cinnamon roll from the Richter Bakhaus! What are you celebrating today?
Ach! I can't decide!
Which long sleeve Christmas shirt should I order this year? You tell me!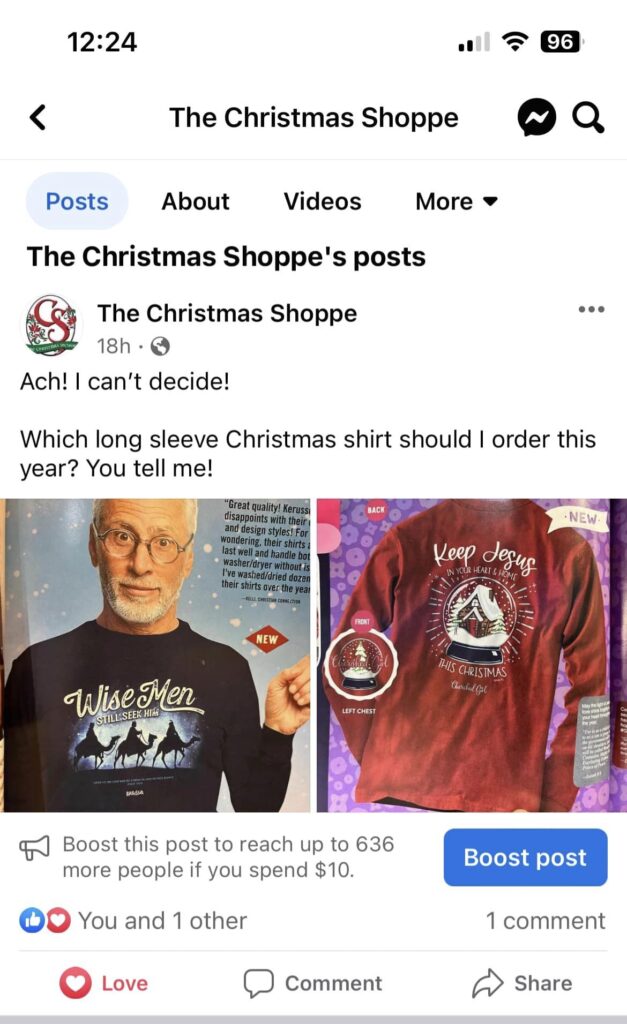 Retirement gifts?
Yeah. We got that.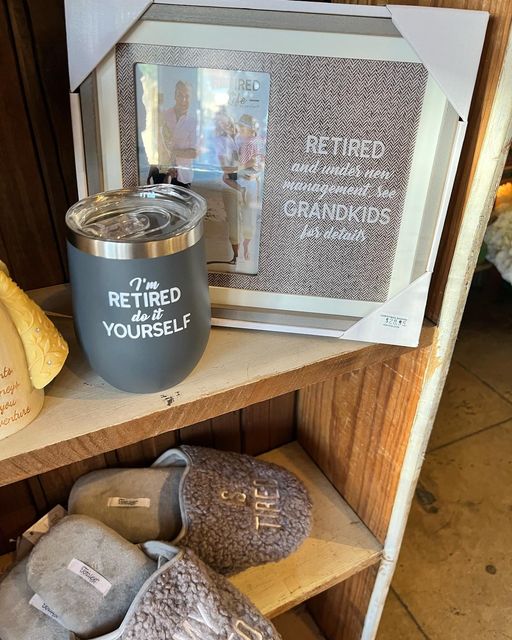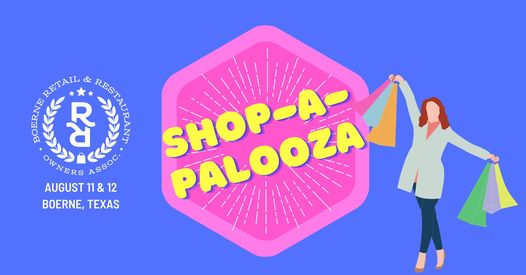 Woohoo! It's Shop-a-palooza time!
Grab your tickets early and make a day of it! This year, we lowered ticket prices and decided to donate half of ticket sales to Boys and Girls Club of Boerne! We, also, picked tax free weekend to make this event even more fun.
Buy tickets now: https://fb.me/e/4uHp7al4C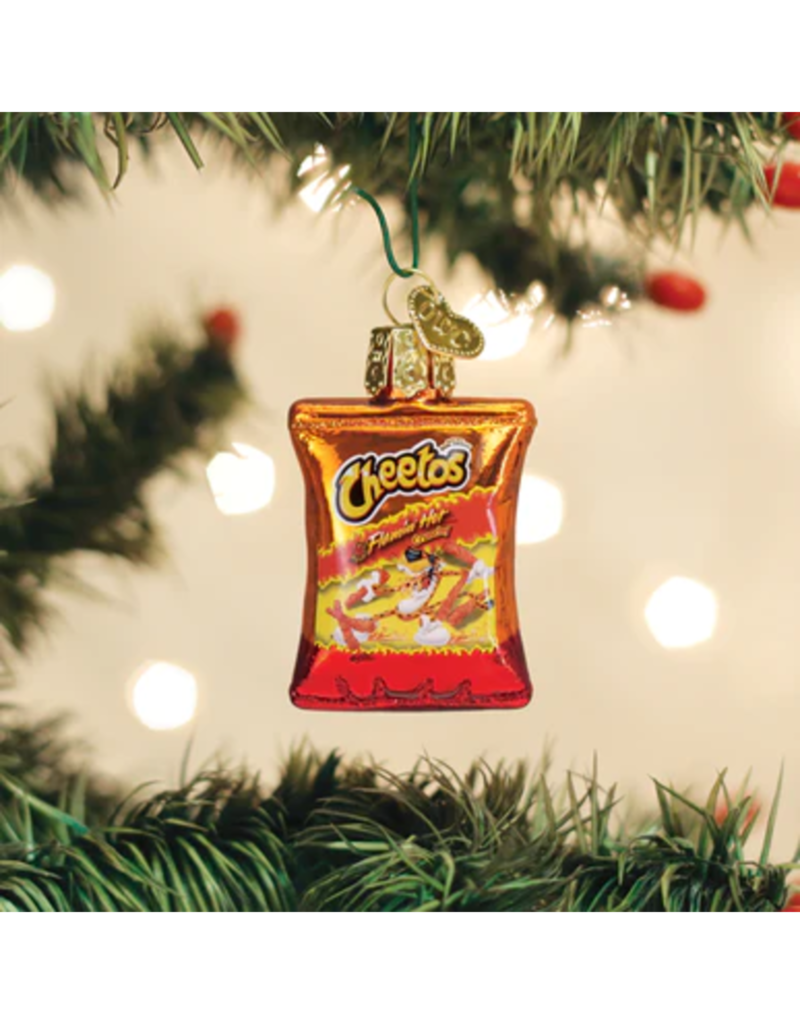 What does an elf on the shelf do for summer vacation?
A road trip, of course! Now, that S'more Elf is all packed up where should he go?
Be sure to like and follow us on YouTube for s'more fun videos!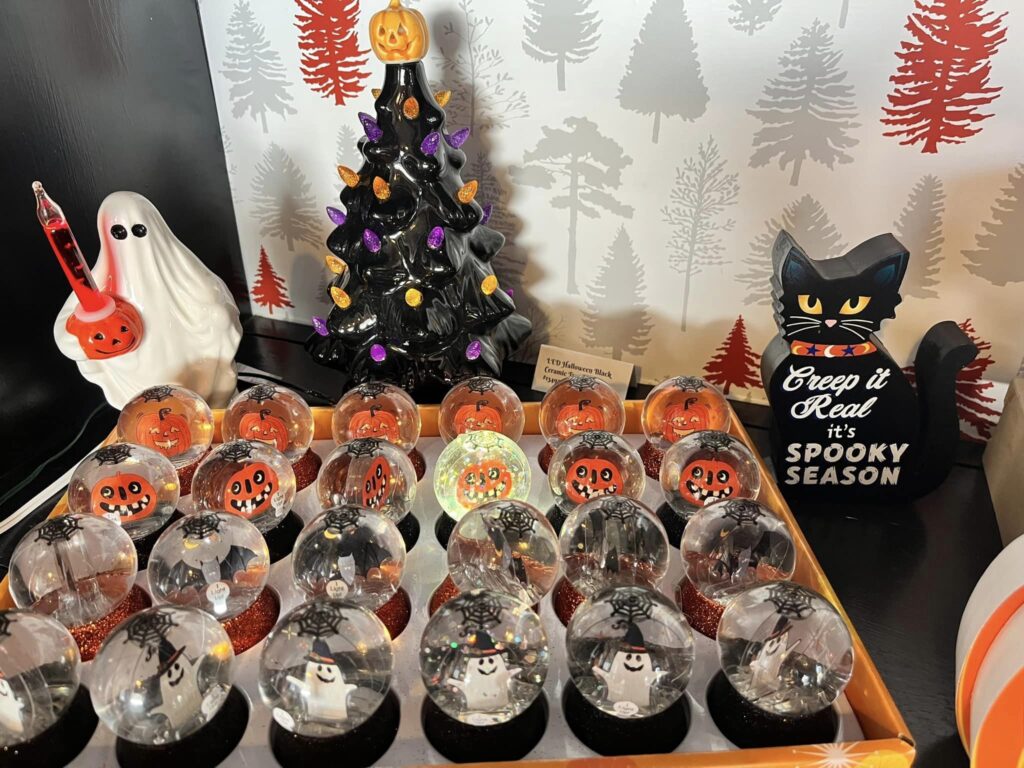 We hope you feel inspired "Celebrate Always" a job well done (I Thessalonians 5:16)!
Merry Christmas,
S'more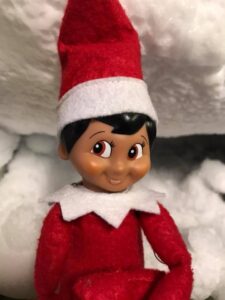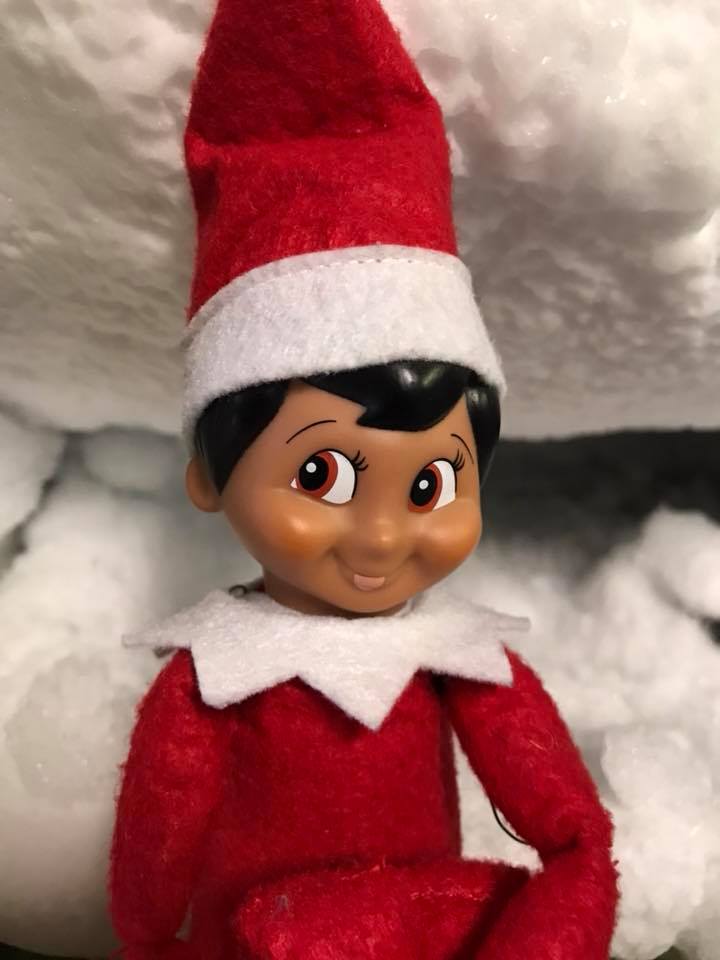 Want to be the first to see my future blogs?
Want to see what we are up to EVERY DAY?
FOLLOW US ON
TO BE SUPER UP TO DATE!