S'more Miracle!
Hi there! S'more the Elf here!
I have tried to imagine what a disciple would say to us today about the resurrection of Jesus.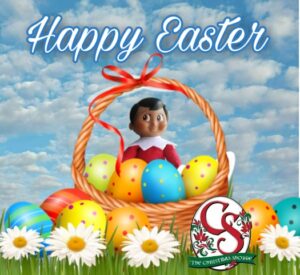 I wondered if he might have a long speech about the importance of loving one another. Or begin preaching about our sinful nature and why it was necessary for Jesus to die.
But then, it occurred to me. If one of the disciples was able to come and speak to us today, he would simply say, "I saw Jesus Christ with my very own eyes after He was risen from the dead!"
In fact, that is the message of Easter. Jesus Christ, the Son of God, was crucified, died and was buried, and then He was raised from the dead.
God loves us and wanted to save us from destruction. Jesus came to provide the way for us, even though it would mean His death. The Father's will was accomplished for us.
What a reason to celebrate! #celebratealways
The Death, Burial, and Resurrection of Jesus Christ is the pivotal point in the Christian calendar. If it hadn't happened, we wouldn't have Christianity at all, for as Paul puts it in 1 Corinthians 15:14:
…if Christ has not been raised, our preaching is useless and so is your faith.
But… The Resurrection did happen! Paul goes on to say in 1 Corinthians 15:20:
But Christ has indeed been raised from the dead…
So, let's celebrate it!
Easter items are ALREADY on sale!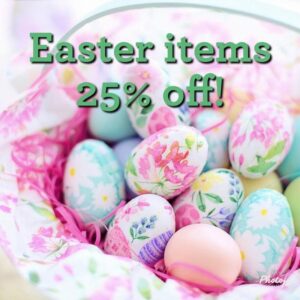 At an amazing 25% OFF, you should come in and see the lovely offerings we have for your celebration.
Looking for some tasty recipes to help you "Celebrate Always"? Check out what's happening in Mrs. C's kitchen by clicking
HERE
!
Holiday Hours:
Saturday, April 20th, will have a full day of Easter vibes starting at 10am and open late, until 8pm.
We will be closed on Easter Sunday to celebrate with our family and friends.
Monday hours are 10am – 5pm and we have a SUPER SPECIAL discount on the Easter pretties that remain – 40% off all Easter items!!!
Tee hee! 😉 See you at The Shoppe!
~S'more the Elf
Check out our Blog Archive HERE
Join S'more's Email Blog NOW!