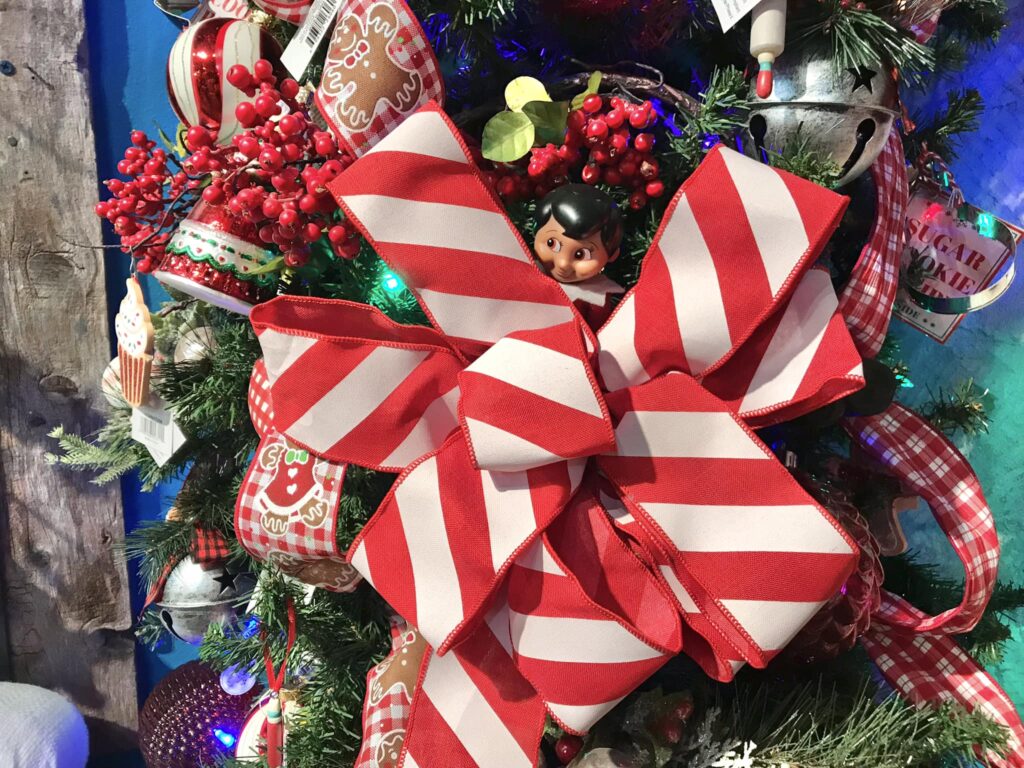 S'more Decorating Magic! Bow Making 101
Hello, all my Christmas loving friends! S'more the elf here with just the thing to make your Christmas magical… a BIG CHRISTMAS BOW! We have some how-to tips for s'more decorating magic with bow making!
As you can see, I am a bit tied up at the moment. So, I will just cut to the chase and hand the keyboard over to Mrs. C. for the remainder of the blog.
How to Make Bows: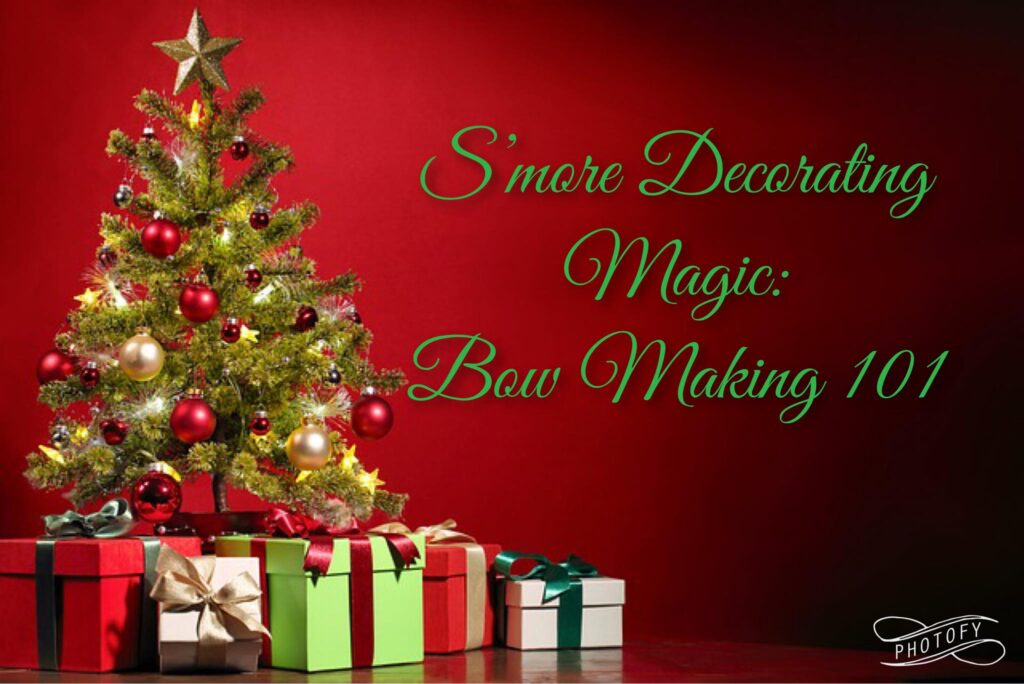 Ribbon and bows add so much beauty to a tree, but ribbon can be difficult to work with for beginners. However, bows are simple to attach to a tree with a little green floral wire.
We are happy to make bows for you using the ribbon we sell. There is just a small cost for labor. However, if you would like to make the bows yourself, here are some simple steps.
Cut a long piece of green floral wire with wire cutters.
Fold the wire in half.
Measure the ribbon you wish to work with, but don't cut it. An average bow uses about 3 yards of ribbon. However, you may need more or less depending on the size of the bow. Wider ribbon work best for making bigger bows, while narrow ribbon works best for smaller bows, but you don't have to follow that rule every time.
Find the approximate middle of the length of ribbon to be the middle of your bow. I measure about a yard and a half from the end. Another option is to find the exact middle of your ribbon to be the center of your bow, and any leftover ribbon will be two long tails.
Fold the ribbon in a small loop in right in the center of your length of ribbon and secure with the middle of your wire wrapped around tight and twisted a couple times.
Next, using the side of the ribbon that is the shortest, loop your first side loop of ribbon, make sure it looks bigger than your center loop and about half the width of what you want the bow to be.
After you fold over each loop of ribbon, twist more floral wire around the base of the loop to hold the ribbon snuggly together with the center of the bow.
Keep looping ribbon and twisting floral wire around, making a ring of loops around your center loop. You will probably end up with three loops from your shorter side of ribbon.
After you use most of the short side of ribbon, continue with the longer side of ribbon until you have five or six big loops around the one small, center loop.
Next, push some of the wire through some already secured wire and twist with the other end of your wire tightly to secure the entire bow together.
Lastly, you can trim the tails of the ribbon to the length you want and to make them look pretty. For this particular tree, I made several bows in a row, though.
They say a video is worth a thousand words. So, Mrs. C. has created a handy dandy YouTube to show you how it's done.
S'more Updates!
Here's what's been happening on social media that you may have missed.
S'more Elf brings new meaning to "ding dong merrily on high!"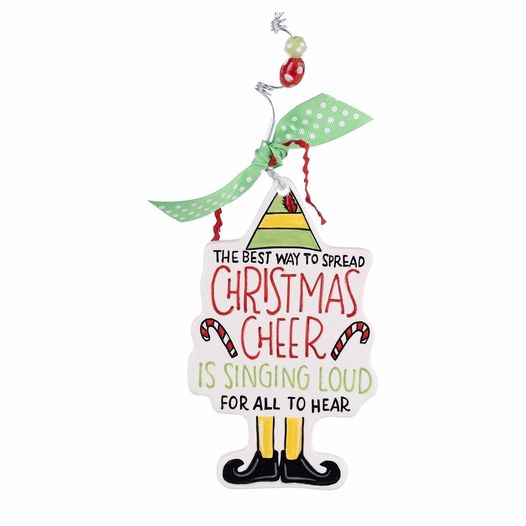 Buddy the elf! What's your favorite ornament?
Want to avoid the crowds this weekend? We have just the thing! Online shopping!
Elf Christmas Cheer Flat Orn – The Christmas Shoppe (thechristmasshoppetx.com)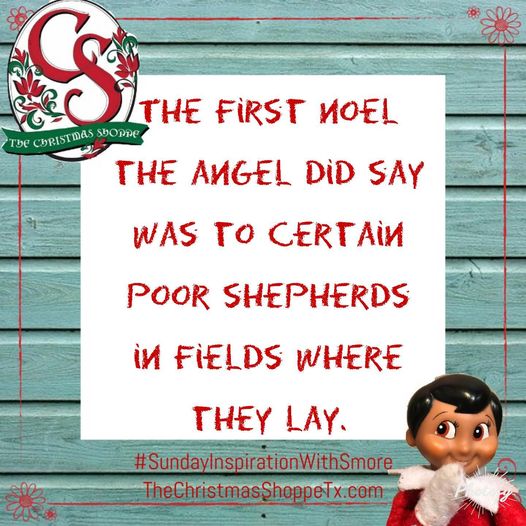 Happy first Sunday of advent from us to you!
My videographer, Cadan the elf, asked Mrs C the other day, "Who is Noel, and where is she in the Bible?" Well, Cadan… Noel isn't a person. It's a word!
Def. noel: a Christmas carol; if capitalized: Nativity and Christmas in reference to the birth of Jesus and ultimately come from the Latin verb nāscī, meaning "to be born."
As our favorite season is beginning, THE ADVENT SEASON, we decided to post an advent calendar message each day beginning December 1st at @thechristmasshoppeboerne and (17) The Christmas Shoppe | Boerne TX | Facebook
Want to see each post? Just follow #smoreadvent or keep checking each day.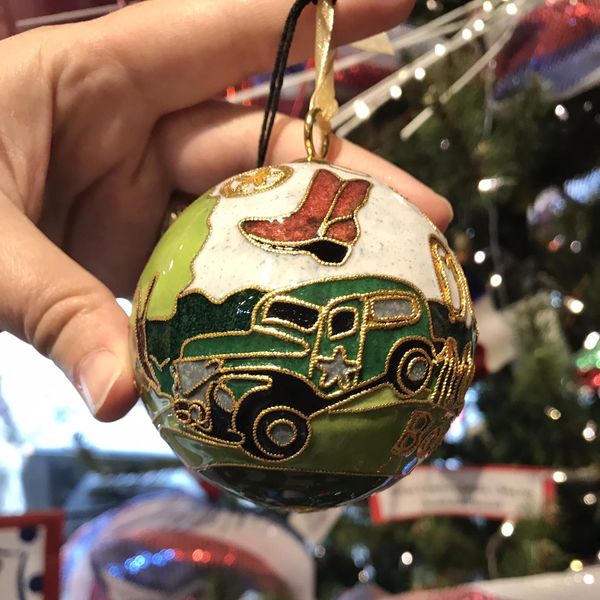 Elf tip No. 1257! When your gingerbread house fails, add a dinosaur!
Rawr!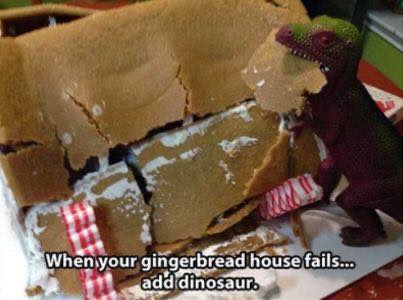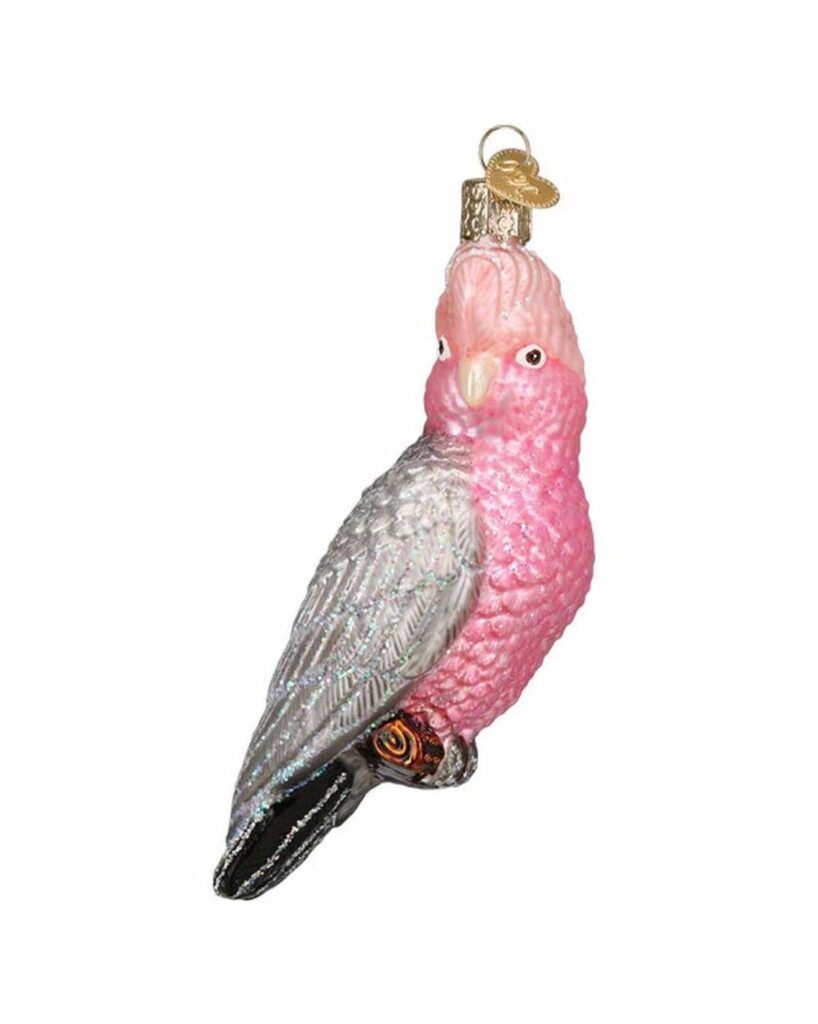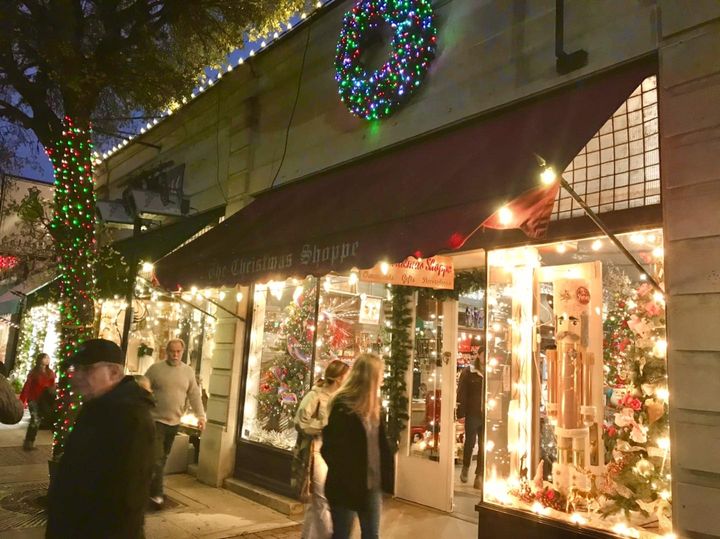 Weihnachts Parade was this last Saturday!
Come out for this weekend for Toast to Olde Town, a local favorite where you can stroll Hauptstrasse and taste samplings of hot, Christmas-y beverages by to the glow of Christmas lights and music.
Be sure to swing by to say hi to the elves! We will be open until 8.
Ho Ho Ho!!!
Come find Santa in our store! We definitely have the best Santas and they are alllll over the store. So, explore!
I just heard the sweetest thing yesterday. A couple were chatting, and the wife said, "This is such a happy store!"
We sure do try!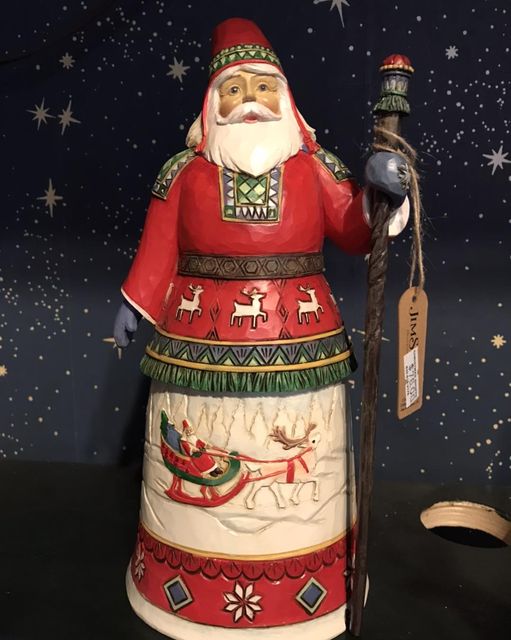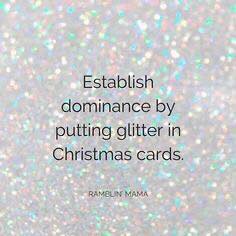 Elf tip No. 1262
Establish dominance by putting glitter in Christmas cards.
Don't wait too late to get those cards started. That glitter won't mail itself!
Here, here, Nephew Fred! And, "God bless us, every one."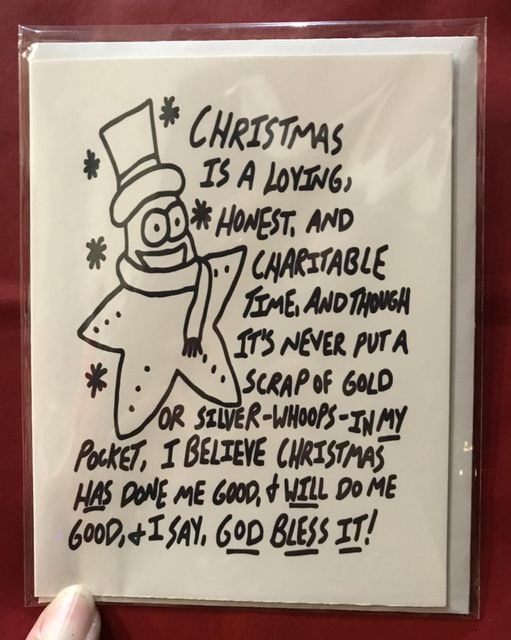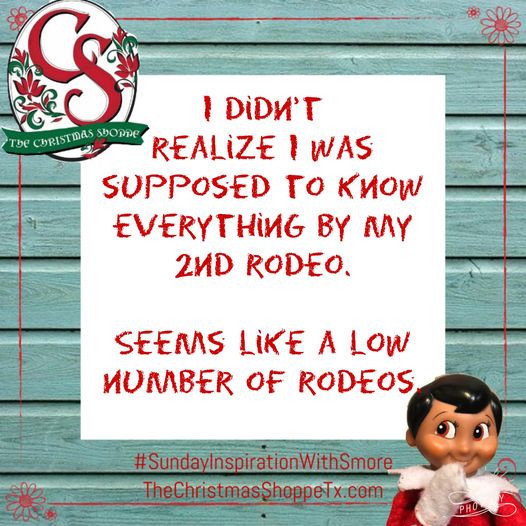 YEEHAWWW!!!
I've got over a hundred Christmases experience. So, this is far from my first rodeo, and geez Louis, I still don't know everything!
The peeps at The Christmas Shoppe are practically newbies with 26 years' experience.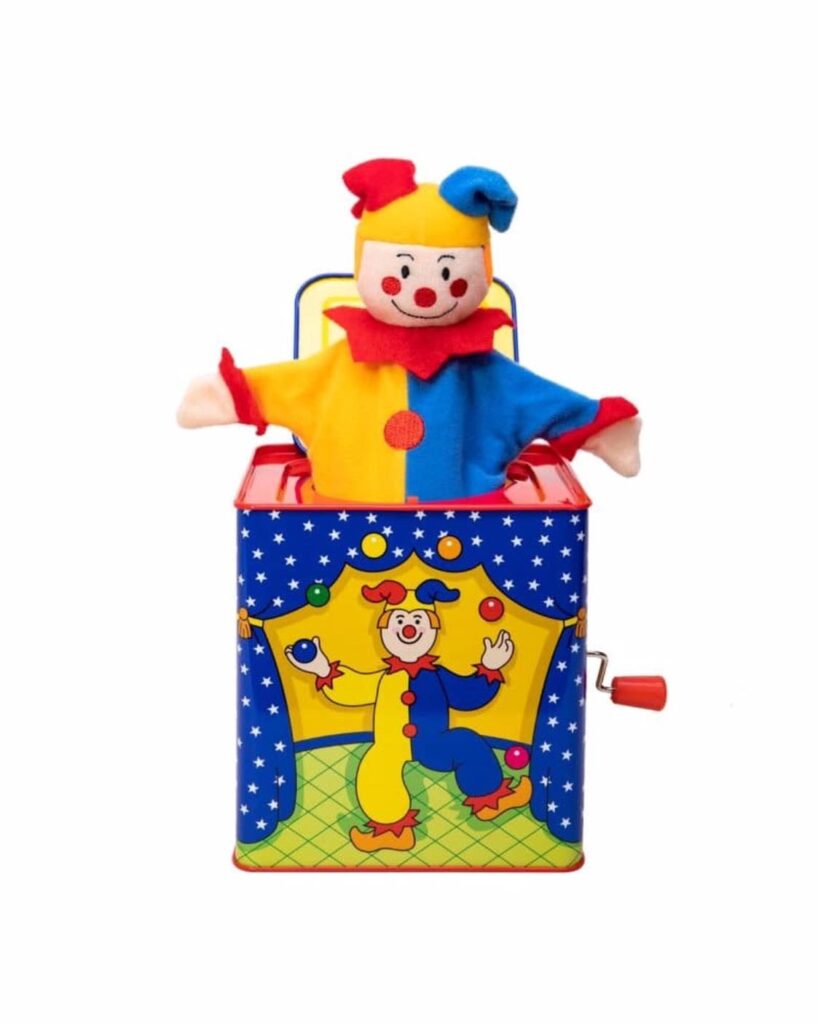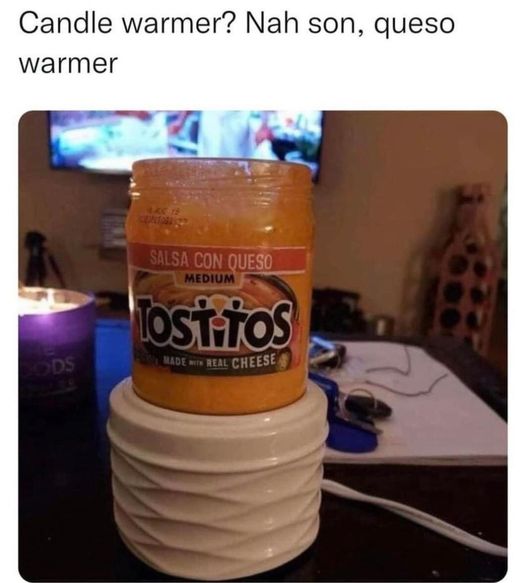 'Tis the season for me to put on my winter pounds… Oh, how I love cheeses! (Almost as much as Jesus).
Season's Eatings!
Enjoy our view at night as we close! Our lit items look even better when our overhead lights are turned off.
Now… SUPPERTIME!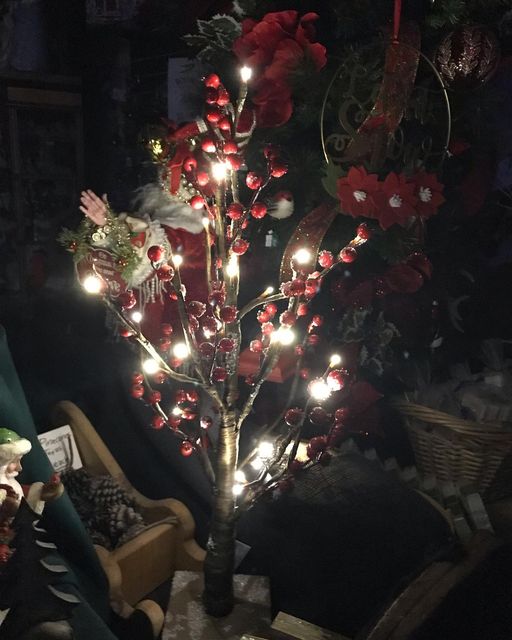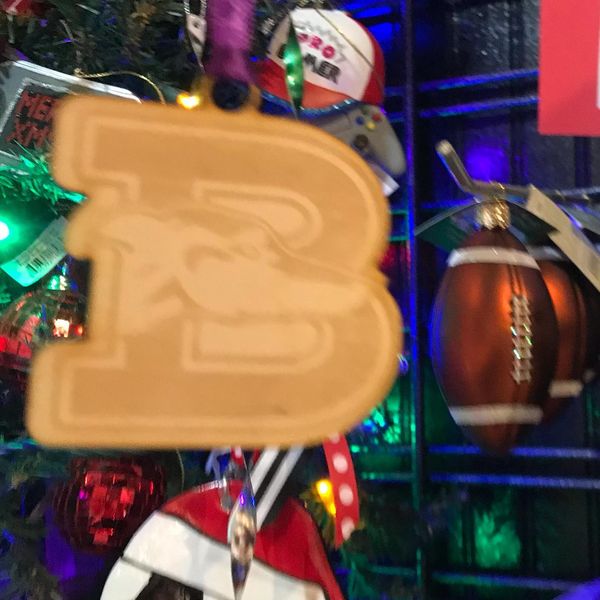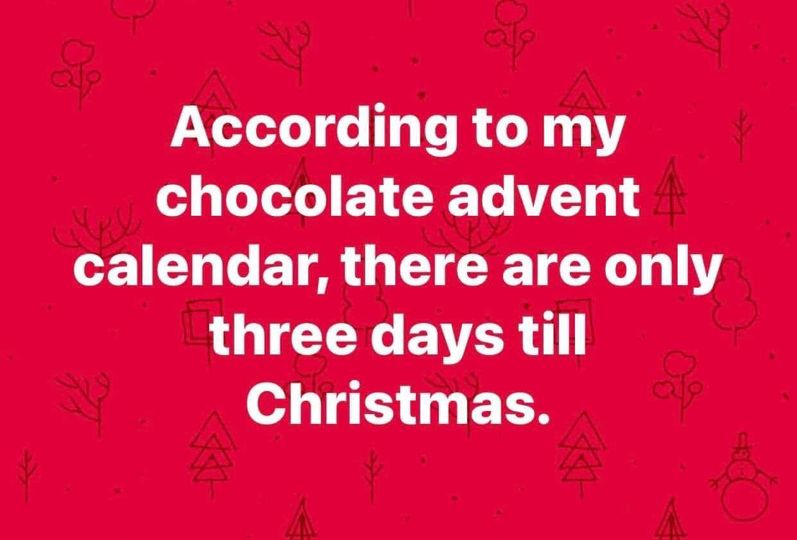 Guess what?!? All our advent calendars and advent candles and advent wreaths are now 40% off!!!
After all, there's only three days left…
Disclaimer:
all chocolate advent calendars are already sold out. However, we have ones that you can put chocolate in yourself.
Thank you for joining me (S'more) and Mrs. C. for s'more decorating magic – bow making! We hope this and every blog help you "Celebrate Always." I Thessalonians 5:16
Want to be the first to see my future blogs? 
Want to see what we are up to EVERY DAY?
FOLLOW US ON
TO BE SUPER UP TO DATE!