S'more to Care About
It's been quite the journey since the beginning of the pandemic! Now, there is s'more to care about because you care about our covid policies and just when we will start to phase them out. Well, I am the man with the plan! Or the elf with the plan… Or the S'MORE with the plan!
Yup, even as I started typing up this amazing blob, we got news that CDC recommendations were a'changing. So, turns out this is perfect timing.
First of all, know this: We care about you AND your health AND your family's health AND our fellow elves health AND our fellow elves' families' health. So, we have been sticklers about covid safety from the get-go.
The only times we haven't required masks is for visitors who can't wear masks, like very small children and people who have problems breathing.
We, also, care about s'more people who feel that masks aren't necessary or don't work. For those poor souls, the light is on the horizon.
Coming Soon!
Let's cut to the chase, shall we? We shall! Here's the plan:
Two weeks after 50% of Kendall County has been fully vaccinated, we will no longer request masks be worn in the store. Our signs will come down.
The elves will no longer wear masks once we (the elves) are all fully vaccinated or two weeks after 65% of Kendall County has been fully vaccinated, whichever comes first.
Some stuff that won't be going away are:

Private shopping outside of normal hours – just call to schedule
Online shopping on our website
Ordering by phone for curbside pick up
Shopping through FaceTime – just call to set it up at 830-816-2176 first
Limiting the number of shopper in our store to 75% of capacity because it's just plain easier to shop
Free masks and hand Santa-tizer for everyone!
So, we are watching for posts by the Kendall County Emergency Management on Facebook. They report once a week how much of the county is vaccinated. Take a look! We are getting close! Sounds like those signs are coming down in less than 6 weeks.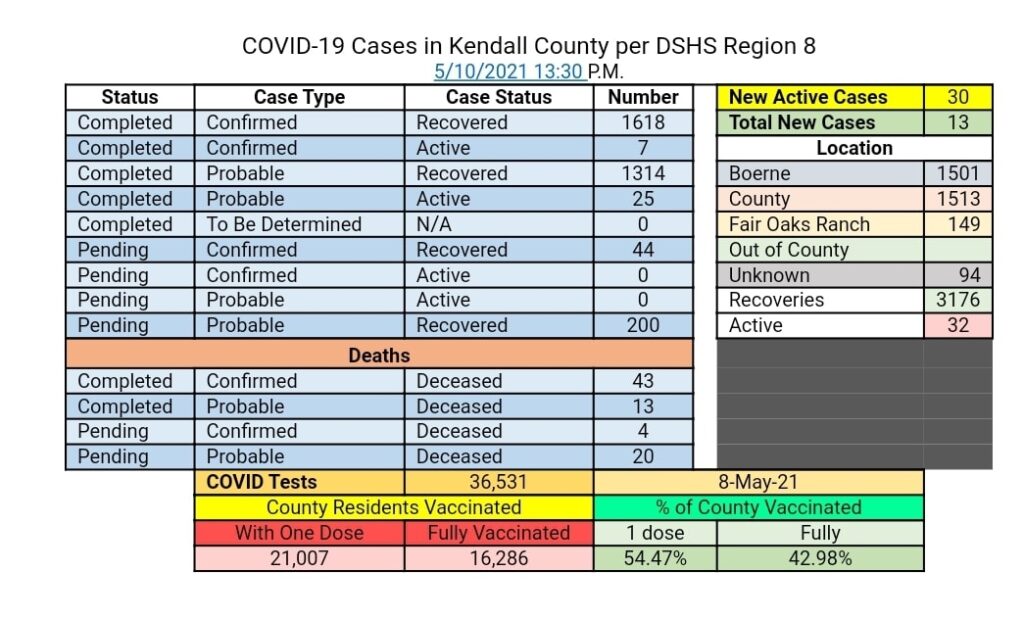 Why?
Mrs C has been carefully studying articles. Lots of articles. Of course, she has misplaced all of them, but here is what she learned. (Some of it may now be out of date)
Doctors believe we will have achieved "herd immunity" once 50-80% of the community has been fully vaccinated.
It's possible that as much as 30% of people already have antibodies from having had the 'Rona with or without symptoms.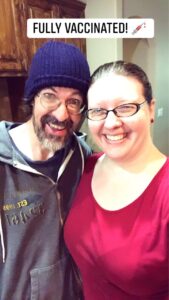 Besides that, we are basing our decisions on what will best take care of everyone. The majority of our shoppers are older and have health concerns. Almost all of our elves have people at home who could die if they caught the virus. All of our elves have only recently been able to get a vaccination. So, only Mr and Mrs C are fully vaccinated as of one week ago. One elf is half vaccinated, and one elf has some health concerns that she is investigating before being vaccinated.

Me? I am a-okay. I can't catch covid from humans, only other scout elves, and I can't spread it to humans. Plus, I got fully vaccinated a long time ago. I like masks, though. They make good hammocks.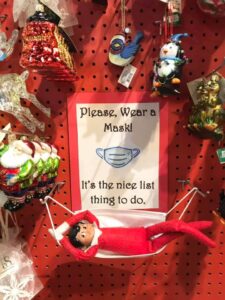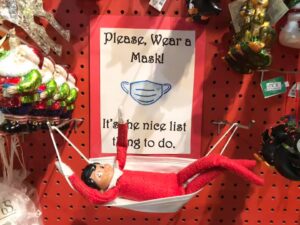 In the meantime…
For your safety, we are:
Wearing masks. Please, keep us safe by wearing a mask, too.

We do not expect anyone who is vaccinated to wear a mask! (This is new)
We do not expect small children or those with breathing difficulties to wear masks.
If you aren't wearing a mask, we are just going to assume you fit into the two categories above.

Limiting the number of customers in the store to less than 75% of capacity.
Offering hand Santa-tizer and free masks at the front door and register.
Washing or sanitizing our hands when we enter the building and after each customer transaction and our personal breaks. (Should have done this all along!)
We continue to offer online and phone shopping with shipping and curbside options, should your prefer.
Contact us by…
***Phone: 830-816-2176***
***Online: TheChristmasShoppeTX.com***
***Email: Christmas.Elves@gvtc.com***
Outside of shop hours you can message us on Facebook or Instagram…
***Facebook: @TheChristmasShoppeTX.com***
***Instagram: @TheChristmasShoppeBoerne***
How you can help!
"You better now shout, you better not cry, you better not pout, I'm telling you why… Santa Claus is coming to town!"
Be kind. Being kind is always helpful and always the nice list thing to do. Most people have legitimate reasons for either wearing or not wearing a mask. If you think masks are bunk, keep in mind that those wearing masks and businesses requesting masks are doing it out of kindness to YOU, whether you feel you need it or not. Paying back kindness with cruelty isn't cool.
If you haven't already been vaccinated and you don't have a history of bad reactions to vaccines, please go get a vaccine. The sooner the percentage of people that are fully vaccinated gets high enough, the sooner we can all see each other face to face again.
Let's all work together s'more to care about each other. I hope this helps everyone feel better. Now, we can get back to the business of "Celebrate Always" (I Thessalonians 5:16).
LOVE FROM,
S'MORE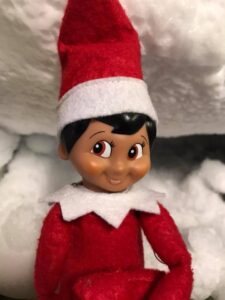 Want to see my past blogs?
CHECK OUT OUR BLOG ARCHIVE HERE
Want to be the first to see my future blogs?

GET IT IN YOUR EMAIL HERE