S'more New: An Inside Look At My Day!
Hi, all! S'more the elf here! We've been getting in lot's s'more new gifts and decorations at The Christmas Shoppe. 'Tis the season in our world. Did you know that Santa wrote a book that gives an inside look at what he does throughout the year. The thought occurred to me that you might like to take a look at what all I do this time of year.
So, time for a sneak peak behind the scenes at The Christmas Shoppe and inside a "typical day" in the life of an elf on the shelf.
Rise & Shine!
We elves are surprisingly late risers. Because the shoppe opens at 10am, we get to sleep in later than most elves. Even then, Mrs. C. starts her day off with a hot cup off coffee from our bright red coffee maker.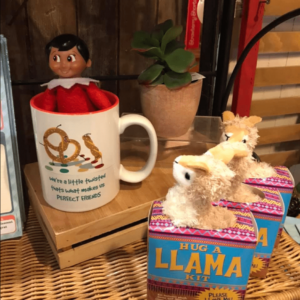 In fact, Mrs. C. recently heard on the radio that the average person got 10 hours of sleep before the invention of the light bulb. So, her new goal is to get 10 hours of sleep at night. That means going to bed early. So, we'll see…
Off to the Races!
As soon as we unlock the door, we start working. Right now, that means checking in the huge pile of boxes that just arrived and writing THIS BLOG, but these tasks vary from day to day, week to week, and month to month. Gotta stay on our toes.
Mondays:

Mrs. C. and I usually take Mondays off. So, I have no clue what happens that day. LOL. Just kidding! We are open 10-6. So, Yulie the Elf or Holly the Dancing Elf take point by dusting, cleaning, restocking, and checking in newly arrived inventory while helping shoppers.

Tuesdays:

Tuesdays are "office" days. Sooooo boring. Mrs. C. catches up on mail and bills all. day. long. I hang out at the front with Yulie or Holly.

Wednesdays:

Well, this Wednesday was the Boerne Retailers & Restaurants meeting where Mrs. C. is acting secretary. So, the day unfortunately began at 8:30am and the meeting was followed by typing up minutes. all. day. long… I hung out with Yulie, and our BIG shipment arrived! This happens regularly. Here's a photo of Holly with a big pile not that long ago. Remember: Don't stack those boxes higher than the elves can reach, Mrs. C.


Thursdays:

This Thursday, Mrs. C. sat in front of the computer again. all. day. long… She was entering in that big order so we could check it in. Yup, she's been meaning to do that since she ordered it in February, but let's just say… we are running behind schedule. And, yes. It took all. day. long.


Fridays:

Hey, that's today! Today we are getting to unwrap and check in the new inventory (which is just a small portion of the order). Meanwhile, we are taking a small break to type of this blog, update the "Upcoming Holidays" page, and receive three more boxes from other companies… (seriously, just now). No worries. I'm sure we'll get these done ASAP.

Saturdays:

Tomorrow is the Corvette Show! Woohoo! Chances are that we (Mrs. C., Holly, and I) will be hopping and helping all the car lovers find the perfect gift or decoration. Truth is that there is usually something going on every Saturday, but you can check out that Upcoming Holidays page for more info.

Sundays:

We go to church! So, the shoppe doesn't open until sometime around noon. Seriously. Some of us drive straight from church to the shoppe. So, we may open at 12:15 or 12:30. Since we rotate working Sundays, Sadie the Elf will be manning the deck this Sunday. I give Mrs. C. a day off and handle all the social media posting. If you follow us on Facebook or Instagram, expect AWESOME that day.
Notice a theme for the week?
Yup. This is the time of year when we are getting all the orders entered and beginning to check in all the awesome new stuff. As big as this shipment is, most of our big shipments actually arrive during the summer. So, on other weeks, we are updating our fixtures to prepare for that new inventory. We even painted a wall last week!
Wanna see some of the cool stuff we got???
Just a sneak peak, now. Mrs. C. thinks that the ballerina pictured is the prettiest one in the whole store. We are starting to get lots of awesome ribbons in (and we are planning to upgrade this shelf to be more Christmas-y… thinking wallpaper!). We had a customer ask for flying pigs, and being that this is our 25th Anniversary Year, we brought back the best flying pig ornament EVER.
So, that's just what arrived today. We have, also, recently restocked our Willow Tree assortment (and started adding them to the online store), added new Boerne, Texas souvenirs, restocked candy (including new flavors like cupcake, funnel cake, and champagne!), received Mother's Day cards, and added new Native American Pottery.
Just 'cuz the shop is closed, doesn't mean we stop…
Mrs. C. and I do some of our best social media work after we get home in the evening. So, yeah… that's when the posts start happening. We don't have time to be organized and "schedule" them. Plus, with the awesomeness of our online store, you can shop any time!
Like you, we start to wind down, eat some dinner, watch some TV, do the dishes, and try to go to bed early, especially now that Mrs. C. wants to get 10 hours of sleep. Do you think it will actually happen? Probably not, but you know what J.P. always says… "It could happen!"
I hope you learned something s'more new to you. Remember to "Celebrate Always" (I Thessalonians 5:16).
LOVE FROM,
S'MORE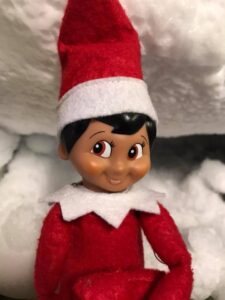 Want to see my past blogs?
CHECK OUT OUR BLOG ARCHIVE HERE
Want to be the first to see my future blogs? 

GET IT IN YOUR EMAIL HERE