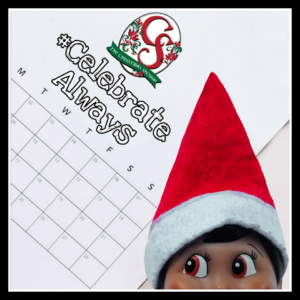 Let's Take a Peak at Upcoming Holidays!
We want to help you #CelebrateAlways so we've put together an awesome list of upcoming holidays with tips on local ways to celebrate!
September
All American Breakfast Month AND Better Breakfast Month – Where's your favorite breakfast in town?
National Hispanic Heritage Month – (9/15-10/15) Did you know that I, S'more the Elf on the Shelf of The Christmas Shoppe, am of Hispanic lineage?!?! It's true!
National Honey Month – Check out our bee-utiful window in person or on Facebook.
National Mulled Cider Month – No way! We've got mulling spice! It's made exclusively for our shop, and it's mighty tasty. $4.99 per package of spice mixed with a gallon of apple juice is pure heaven!

September 18th
National Cheeseburger Day – "I want my cheeseburger… my lovely cheeseburger… I'll wait for you-oo! Oh, I'll wait for you!" Where's your favorite burger in town? I really like…


Longhorn Cafe

Rice Krispie Treats Day – The following is the very best rice krispie treats recipe EVER. No, really. We tried it with cocoa krispies, and it tasted like hot chocolate! Then, we mixed in coconut flakes, coconut and almond extract, added melted chocolate chips on top, and sprinkled it with coconut, and it tasted like an almond joy!



Perfect Rice Krispie Treats
September 19th
Rosh Hashana – The Jewish New Year is upon us! It's a time for rejoicing and introspection. Learn more about it here from My Jewish Learning:


Rosh Hashanah 101

International Talk Like a Pirate Day – Mr. C.'s favorite holiday (other than Christmas)! Come visit us today and get a special discount for celebrating with us!

National Clean Up Day – I know it can be hard, but we've got lots of good tips for cleaning.



S'more Cleaning
September 20th
Boerne Lemonade Day – Yay! Today is the day when Boerne kids get to set up lemonade stands all over downtown. With the help of the Boerne Chamber of Commerce, they learn all about entrepreneurship. And, this is the FIRST YEAR we have ever had a kid partner with us and set up outside. So, we have a special thank you for every person who patronizes a lemonade stand! Just show us your cup.

National Fried Rice Day – We have several local favorite restaurants that serve fried rice, but it's incredibly easy to make homemade. Where's your favorite?
National Pepperoni Pizza Day – So, now you have to decide… pizza or Chinese for dinner tonight. Tough decision. Mrs. C.'s favorite pizza in town is definitely…


Broken Stone Pizza
September 21st
Batman Day – According to Wikipedia, Batman Day is an annual event organized by DC Entertainment to celebrate and promote Batman. The first Batman Day was July 23, 2014. This was the year of the 75th anniversary of the first appearance of Batman in Detective Comics in 1939. The day was chosen to coincide with San Diego Comic-Con.
National Chai Day – We LOVE chai at The Christmas Shoppe! This warm, creamy, spicy, cinnamon tea is what Mrs. C. thought coffee would taste when she was little. While there are several wonderful coffee and tea shops in Boerne, we've been regularly trekking across Main Street to the Boerne Grill to get our frozen blended chais or hot chai lattes for the last 15 years.


Boerne Grill
September 22nd
First Day of Fall – Happy Fall, y'all! It's finally here!
Hill Country Pregnancy Care Center e-Gala – So many noble charities and ministries have had to cancel their fundraising events this year. Be the good and save some babies at this fun virtual event. It starts at 7pm. For more information, click the link below.


e-Gala

Hobbit Day – How cool is that?!? Maybe I should plan a hobbit themed watch party for the e-gala above followed my a Lord of the Rings themed feast and movie marathon!
September 24th
Bluebird of Happiness Day – Bluebirds have been harbingers of happiness across many cultures for thousands of years. You can read more about it below or purchase our beautiful Willow Tree figurine.


Guidepost article

buy now

Cocoa with Mrs. C – Every other Thursday, you can join Mrs. C at about 9:30am on Facebook Live for a fun and fabulous sneak peek of what is in store. Play games, win prizes, ask questions, earn discounts, and shop virtually.

September 25th
Native American Day – Today is a day to honor the history and cultures of the many tribes of Native Americans. It's the perfect day to teach your kids about this important topic. Read more here:


Native American Day

National Lobster Day – Surf & turf, anyone? Today's the day to splurge big, and if you are a lobster lover, you should get our lobster ornament.
September 26th
September 27th
Ancestor Appreciation Day – This might just be the perfect day to start setting up for Dia de los Muertos!



read more

Daughter's Day – Of course, some may argue that it also falls on son-day. Get it? Son-day/Sunday! Seriously, though. If you have a daughter, she would probably love to hear that she is loved today.
National Crush A Can Day – Oh, yeah! We elves love crushing cans! It's the best part of recycling!
September 28th
Yom Kippur – It's a solemn High Holy Day and a day of repentance. Click the link below to learn more:


Yom Kippur 101

National Ghost Hunting Day – Halloween is just around the corner. Who wants to go on a ghost hunt? There are several haunted historic places in Boerne. A night time walking tour is probably the best way to check out the local haunts.


Boerne Walking Tours
September 29th
Michaelmas – Celebrate the fall and Michael the archangel in this unusual holiday that originates in Great Britain.


Historic UK

Boots & Bling, It's a Fundraising Thing  – Non profit organizations depend greatly on the money they raise during special events, but this year several have been cancelled. We hope you can be a part of this one taking place at the Dog & Pony to benefit Roy Maas' Youth Alternatives. Read more about it in our recent blog.


S'more Good
September 30th
National Hot Mulled Cider Day – Yay! It's got a whole month and a special day within the month. Plus, we have the best mulling spice IN THE WORLD
October 1st
Bring Your Bible to School Day – How cool is that?!?
Homemade Cookie Day – I love cookies! Have you tried our award winning sugar cookie recipe?


S'more Cookies

International Coffee Day – Mrs. C. loooooves coffee, but she loves coffee mugs more. We have a plethora to sell you at The Christmas Shoppe.
Virtual View & Shop – Join Mrs. C. on our Instagram or Facebook page anytime after 10am & 10:15 for our two part video. It's October! So, we'll be showing off our Halloween display! Play games, win prizes, learn fun decorating tips, and shop the video in the comments.
October 2nd
International Day of Non-violence – Well, Santa says if you want to be on the nice list, you should always choose non-violence. However, today is a great day to celebrate all the people that have fought for what they want without resorting to violence. Let's be like them.
National Hug a Kevin Day – Seriously! This is AWESOME! Go look for a Kevin and hug him!
World Smile Day – Then, smile at Kevin. That won't creep him out at all. Then, smile at everyone. 🙂
Featured Favorite:
September 20th is Boerne Lemonade Day, and you have to come out! Santa may be there, and you get a free gift for supporting Boerne kids!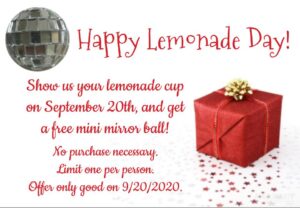 Save
Save
Save