Succulent Garden Tree
Let's keep moving through the store and see if I can get all of our 2019 themed Christmas trees blogged before Christmas Day! Maybe… Okay, probably not because we have six trees after this one and only 5 days to go. Oh, well! Today, I've got a beautiful tree, the Succulent Garden Tree, to share with you.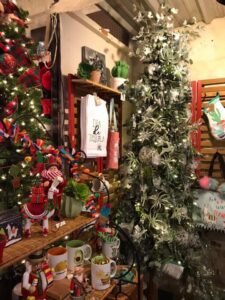 So, according to all my special shopkeeper magazines, a new trend in Christmas decorating is to do a whole tree in just shades of soft green, like a sage color. It's incredibly beautiful, but you, my lovely Boerne friends, tend to gravitate to traditional Christmas colors. Therefore, this tree, the succulent tree, was a gamble. Keep that in mind, or nothing that follows will seem wondrous! (That's a quote from Muppet's Christmas Carol.)
After reading the upcoming trends, I came across a Christmas tree on Pinterest made entirely of live succulents. Isn't it the coolest???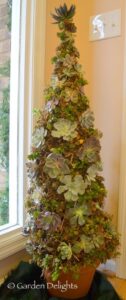 And that, my friends, is how the Succulent Garden Tree was born. The result is the look of a big terrarium covered in frost!

Naturally, succulents and cacti look exceptional with our Fiesta items. Succulents are green. Margaritas are green. Avocados are green. Perfect.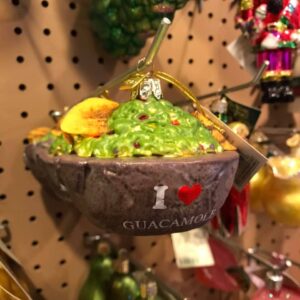 Guacamole is green.

Plus, cactus themed gifts are stinking hilarious.


The real question is, how to make your tree at home this spectacular:
I said this last time: Pick your color palette and stick to it! If you focus on just a few colors, the tree looks like a designer tree. We picked Green, White, and Silver.
Okay, last time I said you can add a sprinkling of other colors, but for this tree, we absolutely couldn't. In fact, we were super careful to make sure that the different shades of green all matched.
First, we put on the ribbon. The topper and ribbon are usually the first things I put onto a tree.
Next I added all the floral items, starting at the top and keeping them evenly spaced. This tree is all about floral items. For those of you who are new to reading, a floral item is something like a poinsettia or rose that has a stem you stick into the tree. Other than succulents, I have some snowy flowers at the top, but truly this tree is jam packed with succulents.
Then, I added a few ornaments, just to break up the look. I used frosty snowflakes and green deer and white balls, and green glass diamonds. Just a few were used.
Lastly, I opened up a box of silver tinsel. This is the new mylar kind because I cannot find the old aluminum kind. Totally threw it at the tree like a child in a snowball fight. We've been cleaning icicles off the ground for months.
For all these tips and more. Be sure to come by. We would be happy to help you find what you need for any tree design. You can, also, click HERE to see our themed trees and services.
Shop the look in our online store!

We are oh, so social!
Like and follow us on Instagram, Facebook, and Pinterest!
Keep up with all the in-store fun!