Hello Fellow Christmas Lovers!

Once upon a time…
there was a fairy. He was a friendly fairy, but he did not have any friends. 🙁
He lived in the land of Apple. The people and fairies that lived there only wanted things that were apple. They ate apple pies, not pumpkin ones (his favorite.) They ate caramel apples, and caramel apple taffy… They only had yummy apple cider to drink and never had delicious pumpkin spice flavored beverages…. He just did not fit in. After all, he was the Pumpkin Spice Fairy. So he set out to find a friend, and a place that he belonged. (Click images below for more info.)

And that's how I met my new friend! More on his story a bit later…
Hi friends! S'more the Elf on the Shelf here with a question for you. Pumpkin Spice? OR Apple Cider?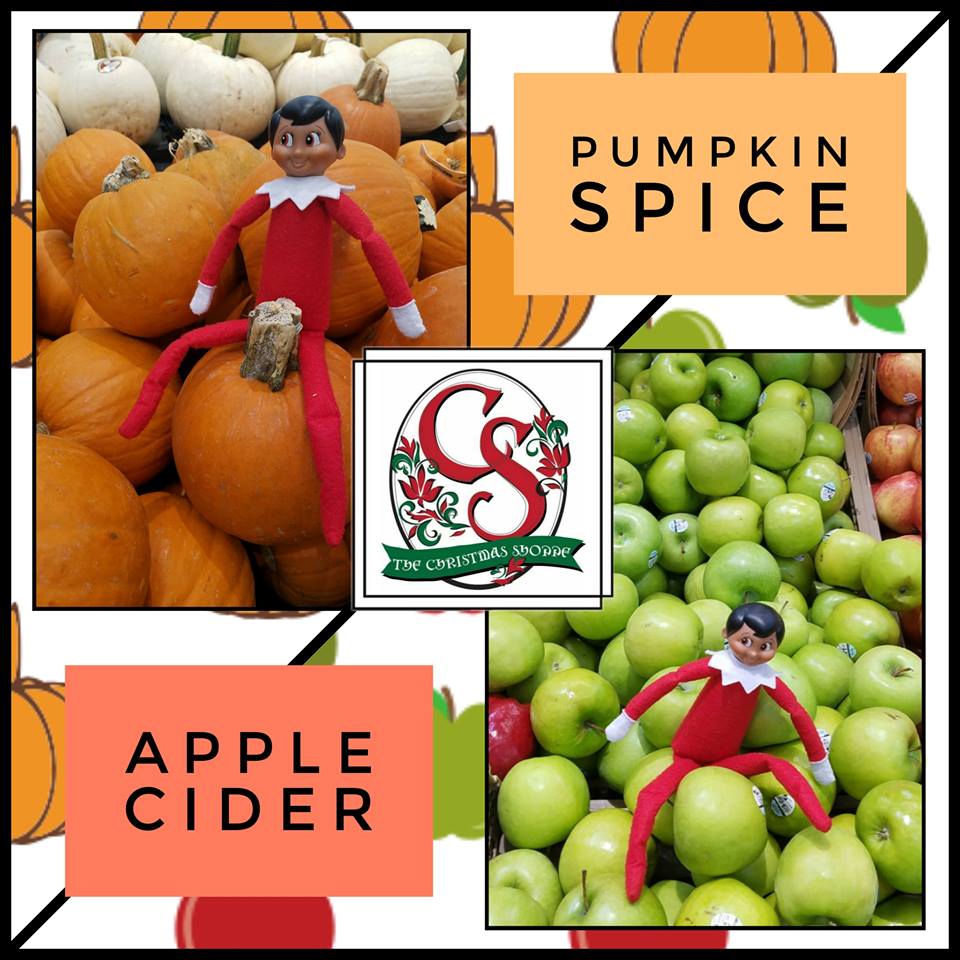 And now I pose another question? Do we have to choose a side!? Is there a place where both apple lovers AND pumpkin lovers can come together? YES! YES! That's where we pick up where we left off in the story of our friend The Pumpkin Spice Fairy…
One day, the Pumpkin Spice Fairy flew into TX. He was not used to the windy ways of The Hill Country and was blowing around like a tumbleweed! He was guided by the grace of God and a little Christmas magic because he ended up at The Christmas Shoppe! WOW! Let's see what happened next…
As this Pumpkin Spice Fairy looked around, he couldn't believe what he saw! LOTS of pumpkins! Pumpkins for decorating a home, and EVEN MORE pumpkins great to decorate a tree. Pumpkins lovely enough to adorn a Thanksgiving feast. He saw many mugs in a pumpkin theme too and one mug even said, "Real men drink Pumpkin Spice!" Pumpkin scents in candles, room spray, potpourii!
"This feels like home," he said to himself. Real men like pumpkin spice, yes! That's right! None of that app… oh wait, "I see apple pie ornaments, and caramel apple taffy…" he thought, "OH NO! Apple cider for tasting sits right there on the shelf!"
BUT that's right when I saw him and I said, "Hi new friend, I'm S'more, everyone's welcome here! We celebrate always and its Christmas all year! Welcome into our quaint little store, here try some warm cider, and share where you come from, I'd love to hear more!"
He told me all about how he was feeling alone, with no pumpkin loving friends. He thought that this might be a great place to call home.
"But what about all of the apple stuff, S'more?" The Pumpkin Spice Fairy asked with a frown on his face, "I fit in with pumpkins, you wont want ME here."
"My new fairy friend, you have found just the place! We love pumpkin things, put a smile on your face! I know you see apples, and we love those too, but I think this is going to be a place just for you!" I told him about how this magical shoppe fills with customers who love BOTH, not to fear!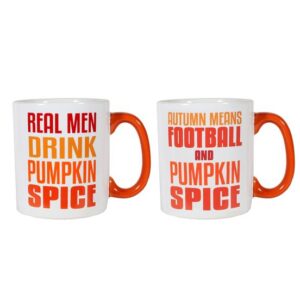 So now friends, I must know, do you have a preference? It's ok if you do, but we would love to know if you are like us and love BOTH Apple Cider and Pumpkin Spice flavors during the holidays. Head on over to our Facebook page and cast your vote!  (Or comment on the post that you love both too! <3)

We have a wide variety of PUMPKIN themed goodies, and APPLE ones too! EVERYONE comes out a winner in the place where "It's Christmas Everyday!"
Mark Roberts' Pumpkin Spice Fairy has made his home in our Shoppe, for now, but he is always looking for a home. Adopt a Mark Roberts Fairy today.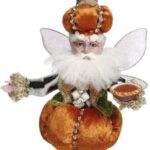 We are proud to offer lots of made in Texas goodies, including those of APPLE and PUMPKIN deliciousness! (in both tastes and smells haha!)
Made in TX Goodies
Spice up your life for the Holidays.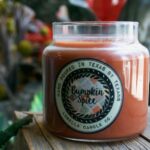 Bumpkin Spice candle.
This favorite will warn your home with the scent of fall pumpkin pie and holiday spices.
Lu Bella Candle Co proudly hand poured in Texas (Castroville) by Texans.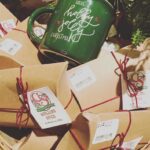 Mulling Spices – Mills Gourmet
We have NEW mulling spices made especially for us. Even more delicious than before because of the addition of a touch of orange zest.
Made [in Lindale] from scratch by a family owned company.
See you at The Shoppe!
~S'more the Elf on the Shelf