S'more Trees
Hi, all! S'more the elf here! We just finished another epic Diva Night! Phew! I'm tired this morning, but I'm ready to show off s'more trees to make your spirits bright.
We had over 600 divas visit us last night. Remember, divas, there is another fun Diva Night every spring (pandemic permitting).
Wanna know what elves do after event nights? We clean! We straighten! And, we restock!
As I was walking through the shop, I realized that all of our themed trees are finished!!! It's so exciting. We have s'more trees this year than we have had the past few years!
So, stroll with me, and I will tell you about all our themed trees. It will be fun, like Where's Waldo! Spot me in each tree!
Gnome Wedding Tree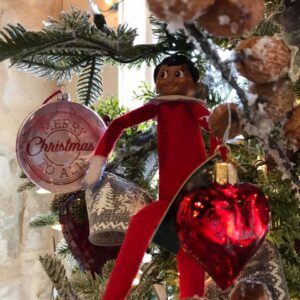 First stop, the Gnome Wedding tree! This frosty tree is covered in cozy grey and white with red hearts and gnomes. Mrs. C. says she was thinking it would be so cute if a couple gnomes got married in winter.
The Roaring 20's Tree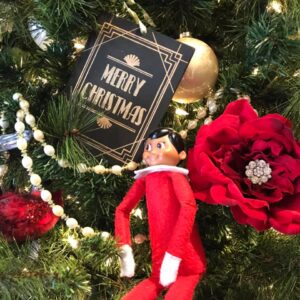 Next stop is the Roaring 20's tree! Last year, Mrs. C. dreamed up this tree because she realized it would be the 20's this year… We elves can remember the 1920's… flappers and speakeasies and jazz!
So, this tree is covered in bling! And, feathers. And, diamonds! I like the strands of pearl garland. They're so pretty.
The Shopping Diva Tree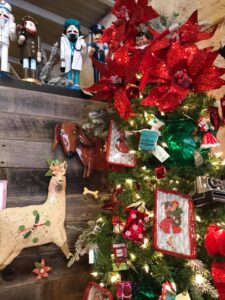 Can you spot me? I'm hiding in our Shopping Diva tree. It has lots of diamonds, like the roaring 20's tree, but it makes me think of the 50's.
Look at those cool colors, red, green, teal, and white. It's snazzy. I think the little shoppers with all their packages are so cute!
Chiquita Banana Tree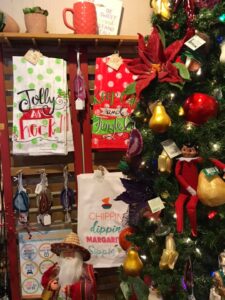 Do you love fruit? Are you particular to pears? Does watermelon make your mouth water? Well, we have a plethora of fruit ornaments in our fiesta corner to make your spirits bright!
Bananas are a-pealing. Am I right? So, what happens when you throw all the fruit on a tree…. You get a tree that looks like the hat on the chiquita banana girl!
Let's see S'MORE TREES!
The Sprinkles Tree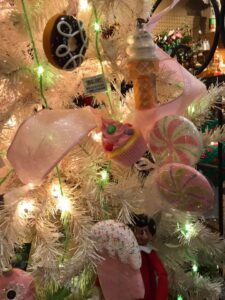 I think I can eat this whole Popsicle by myself! "It's TWICE the size of Tiny Tim!"
This tree is perfect for a sweet tooth. It's got everything with sprinkles… cupcakes! doughnuts! lollipops! ice cream! nutcrackers!
Wait. Nutcrackers? Yup, nutcrackers with sprinkles.
The Cola Fizz Tree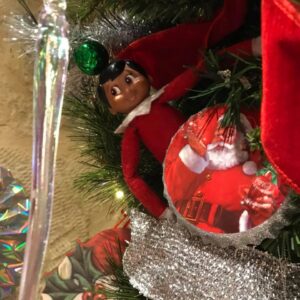 I really like decorations that look like they come from the 40's, 50's, and 60's.
This cool upside down tree is covered in Santa ornaments and iridescent fizzy ornaments. Is Santa blowing me a kiss? Ah… Refreshing!
The Floral Cardinal Tree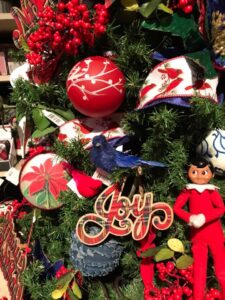 It's joyful and triumphant! Do you like plaid? We have plaid stuff on three themed trees this year. That's a lot of plaid.
This one is very pretty. It has lots of red flowers and cardinals and blue birds.
I NEED S'MORE TREES!
The Bumble Tree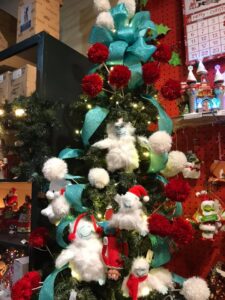 Peek-a-boo! I see you, Mr. Yeti! So, technically, this is a yeti tree, but we have a bunch of Rudolph the Red-nosed Reindeer items here, too.
At the North Pole, the abominable snowman is pretty famous. He puts the star on top of our giant tree every year. So, now he has his very own tree.
I like that we have stuffed animals stuffed into the tree. We have lots of cute Christmas toys in this corner, too. Every single one was made with love by the elves at the North Pole.
The Golf Tree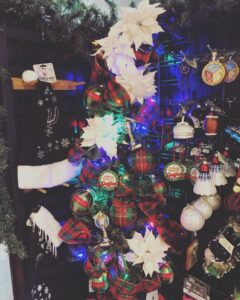 I told you, we are mad for plaid this year. This was our first tree to decorate this year.
If someone in your family (or you, yourself) loves to play the links in the Texas Hill Country, you will find some really good gift ornaments and maybe a Santa or a nutcracker here near our other sports and college stuff.
The Humble Nativity Tree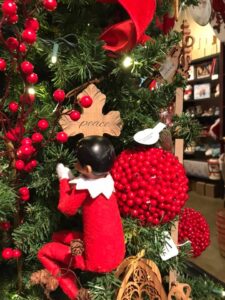 I just learned that the Bible doesn't actually say that Jesus was born in a stable. It only says that he was placed in a manger. Sometimes, animals would wander into homes. So, in the middle east during the time of Jesus, they would put mangers in the family room.
So, maybe Jesus was born in the house of Joseph's family in Bethlehem.
Well, God's Son showed a lot of humility to take on human form and live a regular life on earth. He worked as a carpenter before He started His work as a rabbi. So, in honor of that, this tree is covered in wooden ornaments, some are even hand made in the USA!
The Surf Tree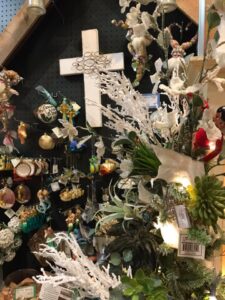 Sometimes you gotta stop and smell the fake flowers on the Christmas trees. This is our beach tree, and this year we decided to use all the colors of sand and surf.
It's a sparkly, pretty tree with lots of fish and sea shells. Do you like it?
Gimme Sugar Garland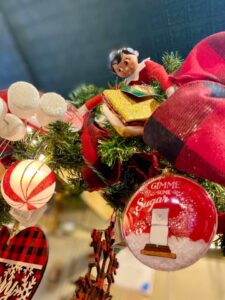 Ohhhhh…. this is my favorite decorating theme for the year! I love eating s'mores, but I'm not a cannibal because I am not actually a s'more. It's just my name.
So, our garland over the register is red and black and white. It's covered in sweet s'mores and buffalo plaid and peppermint and marshmallows!
The Crystal Tree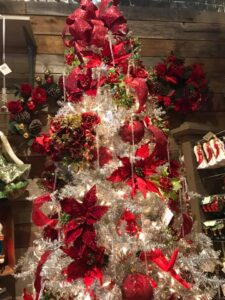 I just dove into the Crystal Tree! It's pretty, glitzy, and oh-so-fabulous!
Do you remember those silver tinsel trees from the 60's? I do! We have one to sell, too. Lots of red and glitter and crystal type ornaments are on this tree.
We are showing off our Kissing Krystals, glass icicles, real crystal drop ornaments, and acrylic snowflakes. Nice and ice-y.
The Bee Tree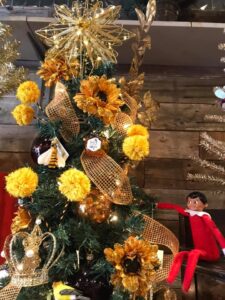 Save the bees! Save the bee tree! Tee-hee. Just kidding about the tree. It's safe.
Hear that buzz coming from the tree? We did that using our ornamotors! It's a handy gadget that plugs into the light bulb sockets on your tree. Then, you can hang special ornaments from them so that they rotate.
The Yellow Rose of Texas Tree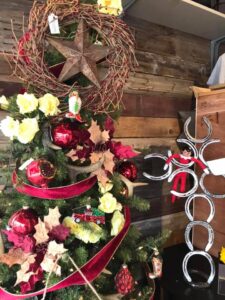 Last stop! We're back at the front of the store again, and this is our Yellow Rose of Texas Tree!
This tree is pretty with lots of burgandy, red trucks, yellow roses, and antler ornaments. I hope it makes you Texas proud!
Hey! What do you think of this horseshoe cross? It's handmade in Boerne from real horseshoes!
Well, it's been fun! Time for me to get back to my post-Diva cleaning!
Thanks for touring our themed trees for 2020, and remember to "Celebrate Always" (I Thessalonians 5:16).
Want to see my past blogs?
CHECK OUT OUR BLOG ARCHIVE HERE
Want to be the first to see my future blogs? 

GET IT IN YOUR EMAIL HERE
LOVE FROM,
S'MORE