S'more Pumpkin!
Hello, fellow Christmas lovers!
Do you loooovvvve Pumpkin Spice? Do you stare adoringly into it's golden brown eyes? Do you wanna marry it? I DO!

Well, if you love Pumpkin Spice, this is the blog for you! It is officially fall. Kids are back in school. Pumpkin Spice Lattes come out any day now. AND, for some strange reason, the Hill Country is getting a few fall crisp mornings. Mrs. C. herself will be sharing her oh, so delicious Perfect Pumpkin Bread recipe below, but I don't have time for that! I need some Pumpkin Spice NOW! Good thing we carry Aromatique's Pumpkin Spice Candles and Wax Melts. They are in store and divine.
This photo shoot was near impossible. I couldn't just pose hugging the Pumpkin Spice, I had to stick my nose in that votive candle and get a good whiff. Then… I fainted from pumpkin-spice-love-overload. While I lay here in ecstasy, let me turn the writing over to Mrs. C. for her to tell you all about her Perfect Pumpkin Bread recipe.
"Gather 'round, children, and I will tell you the story of my Pumpkin Bread recipe. A long time ago, when I was small like you, my brother and sister and I had a wonderful babysitter. Just like you, I am sure, we had someone watch over us while our parents were at work. She was grown up, with her own child about our age. She was smart and funny and very good with children. I am sure she still is. Her house was always neat as a pin, and her daughter became my very best friend. Our babysitter's name was Jill.
Every fall, or sometimes during the fall, or maybe it was anytime she felt like it, despite the time of year (I didn't really keep track because I was little), she would bake up the most delicious Pumpkin Muffins. They were perfect in every way. They were sweet and spicy and so moist that the top of the muffins didn't look quite done. My favorite part was that very moist top. So, I would pull the paper off my muffin and eat the bottom first, saving the top for last. Then, I think I would try to eat the paper because I wanted every little crumb. Then, I would ask for more until Mrs. Jill told me I should go play instead.
When I grew into a teenager, my love of food led me to try my hand at baking. Pretty soon I remembered Mrs. Jill's Pumpkin Muffins. So, I called her up and asked if I could, please, have her recipe. She told me that it was, quite simply, the recipe on the Libby's cans of pumpkin puree. Well, I tried…. and failed. Every time I made the recipe from the can, it tasted nothing like Mrs. Jill's muffins. I don't know what I was doing wrong.
So, I began trying random recipes for pumpkin bread and pumpkin muffins. For years, none worked. Then, one magic day, I found a recipe for Pumpkin Bread in a Southern Living cookbook. I gave it a try, and it was perfect! It was 'THE ONE!' Naturally, I hand wrote it to put in my recipe card box, just in case I ever loose the book. So, if you want to know which Southern Living Cookbook it came from, I will have to dig through piles of cookbooks to find it. That is another reason why everyone who loves to cook should have one location to save all their best recipes. You won't loose them.
A few notes about this recipe:
When making a quick bread, I always mix everything in one bowl, starting with the eggs, then wet ingredients, then dry ingredients. I know that isn't how I'm supposed to do it, but it's easier with fewer dirty dishes, and it turns out fine. So, I beat up the eggs first, then add sugar and the wet ingredients and mix, then add dry ingredients and mix. In order for this to work best, I gently stir the dry ingredients on top to sort of disperse the dry stuff evenly. Then, I stir deeper to mix the dry with the wet. Somehow, I still add the vanilla last.

Another random tip: I measure the salt over a used measuring cup or something. All of my salt containers pour. I can't scoop from them. So, if extra gets poured onto the measuring spoon, it can just fall into a used container to be thrown out later.
Last random tip: Take time to stop and smell the vanilla. I learned this little tip from Mr. C. We always smell our vanilla before we add it to our baking. Now, doesn't that make you feel good?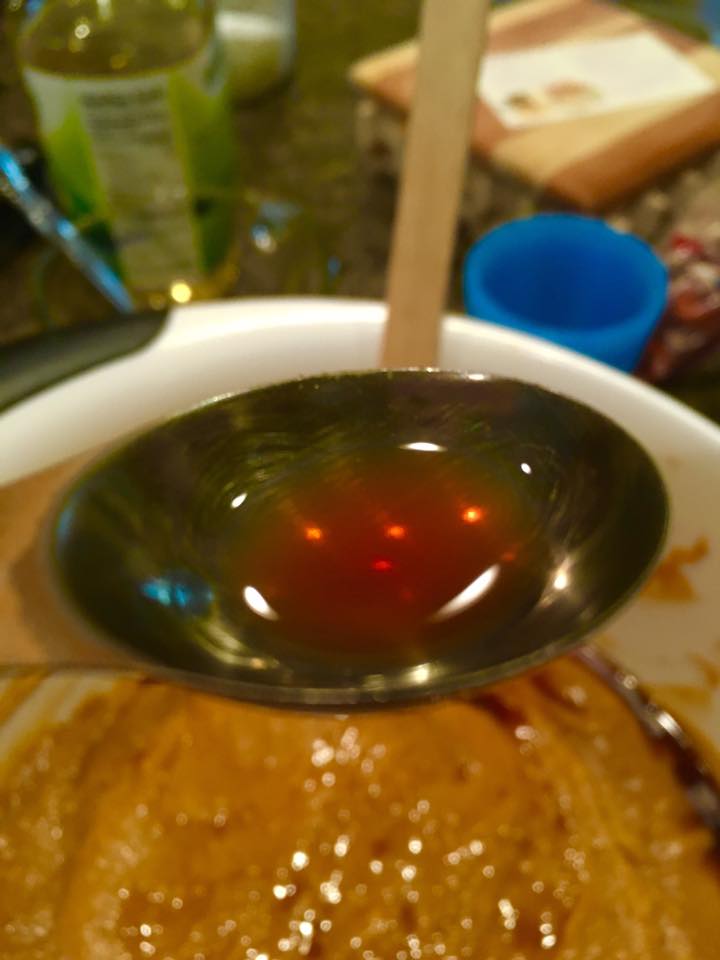 Now, after patiently listening to me ramble, here is the recipe!"
---
Perfect Pumpkin Bread
Prep time: 15 minutes
Bake time: 70-80 minutes
Serves: 24 slices
Weight Watchers Smart Points: 8 per slice
Ingredients
4 eggs
3/4 cup canola or vegetable oil
2/3 cup water
2 cups sugar
1 16oz can of pumpkin puree
3 1/3 cup flour
2 tsp baking soda
1/2 tsp baking powder
1 tsp salt
1 1/2 tsp cinnamon
3 tsp cloves
2 tsp vanilla extract
1 cup chopped pecans (optional)
Directions
Preheat oven to 325°, and lightly grease 2 loaf pans.
In a large mixing bowl, beat eggs and mix in vegetable oil, water, sugar, and pumpkin.
Add dry ingredients to the bowl in a nice big mound. Stir dry ingredients together a bit before stirring into the wet ingredients below.
Add vanilla and chopped pecans (if adding pecans). Mix thoroughly.
Pour batter into prepared pans and bake for 1 hour and 10-20 minutes or until an inserted toothpick comes out clean.
---
S'more again here! Ready to see the finished result?!?

Now, I know from experience that the only thing that smells as good as fresh baked pumpkin bread is our Pumpkin Spice candles and wax melts from Aromatique. You will have to compare for yourself, though.
~S'more the Elf
Previous S'more Blog ~~~~ Next blog is here!
Get the latest S'more Blog in your email by clicking HERE!
Save