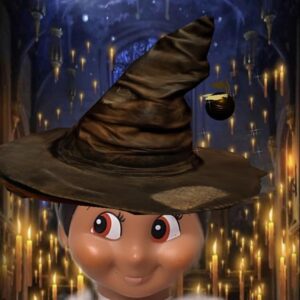 S'more Learnin'
I'm not new to times of s'more learnin'. With school starting, whether in person or online distance learning, I figured it was time for a back to school pep talk, inspired by… HARRY POTTER!
Recognize the theme? That's because it's not new. Check out our blog from this time last year to hear about my admission to Hogwarts:
[button type="btn_border" url="https://thechristmasshoppetx.com/2019/08/18/smore-school/" target="" button_color_fon="#00d200″ ]S'more School[/button]

Back to School Pep Talk
Whether you live in Boerne or the North Pole, it's about time to go back to school! Some of you have already started classes and some will be starting within the next couple weeks.
Get excited about the challenge! This year is full of different difficulties, like wearing masks and distance learning, but you can handle it! You don't need to worry about defeating Voldemort, like Harry Potter. You just need to conquer some learning. Your classes may be challenging, but they are doable.
It's like playing a video game. Keep at it, and conquer the hard parts. I believe in you! Pretty soon, you will have caught s'more learnin' like a golden snitch.
Get ready to study
Part of getting ready for school, is being in the right mindset to study. What helps you focus? How do you stay motivated? When are you excited to learn?
While some study tips work well for everyone, some of us have different styles of study. One of my young friends likes to sit on top of the refrigerator to do his distance learning!
I found some awesome ways to get your mind focused for study based on your Hogwarts house. It was on Pinterest, and it's got some great ideas. Now, that's s'more learnin'.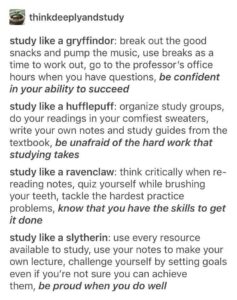 Don't know your house? There are tons of quizzes online that will help sort you into your house. You just have to Google it. Consider it research. I like this page, but you have to create a login.
[button type="btn_border" url="https://www.wizardingworld.com/news/discover-your-hogwarts-house-on-wizarding-world" target="" button_color_fon="#00d200″ ]Sorting Hat[/button]


Hermione, mistress of s'more learnin'
Now, that you are ready to start, let's get some awesome tips on learning from Hermione. She was the brightest wizard of her age, after all.
Another pin on Pinterest has a whole list of study tips based on how Hermione tackled her studies in the Harry Potter series. Not only are these great tips for school, they are great tips for LIFE! Think how they would apply to your family life, your adult life, your work life!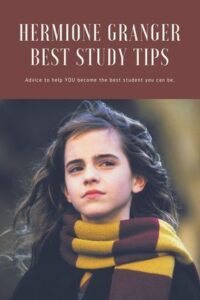 [button type="btn_border" url="https://marionnext.wordpress.com/2017/09/03/how-to-study-like-hermione-granger-her-best-study-tips/" target="" button_color_fon="#00d200″ ]Tips[/button]
I'll break it down for you, in case you don't want to follow the link:
Be Prepared & Start Early – Hermione would do all her summer work during summer holidays and never came to class unprepared. You can, too! Sooner started, sooner done. First finish your assignments. Then, find out what's coming next, and get started.
Feed your love of reading – Hermione always has a book under her nose and reads a whole variety of books, from History of Magic to children's tales. It's fun to read! Find what you love and gorge on it! Then, branch out to different types of books you haven't read before.
Get organized – This smart witch doesn't depend on her memory to keep her homework in order. She creates study plans, weeks in advance of her exams. A good calendar or a spiral notebook can help so much. Keep all your assignments and upcoming tests noted. Make a list of what you need to do each day, and check it off as you go.
Teach others – Ron and Harry always need Hermione to help them with their studies. Teaching others (without doing all the work for them) is a great way to make sure you understand everything about a subject.
Pay attention in class & participate – We know whose hand shoots up first in class, Hermione's. Don't worry about being made fun of, like she was. Usually, kids who tease about participation are too embarrassed to be as brave as you. They will be the ones asking for help later.
Make a sanctuary
Even if you aren't doing distance learning, you probably need a space to do homework. Whether it's in your room or at the kitchen table, it should be a place that feels safe, quiet, and free from distractions when you are studying.
Here are some ideas:
Have an empty flat space – You need a spot to write, read, create, and use a laptop or tablet. Whether it's a desk, kitchen table, space on the floor, on your bed, or the top of the refrigerator, you need a place to work. Pick a space that fits best for you and your family. Then, find ways to make it your perfect study space.
Keep it tidy – Messiness can be a sign of creativity, but it can also distract you from focusing. The weekends are a perfect time to clean and organize your space. Get started now!
Decorate! – Talk with your parents about how you can turn your area into a space that inspires you to learn, whether you:
Looking for that Harry Potter look? Be sure to check out our village pieces for sale in the store and online.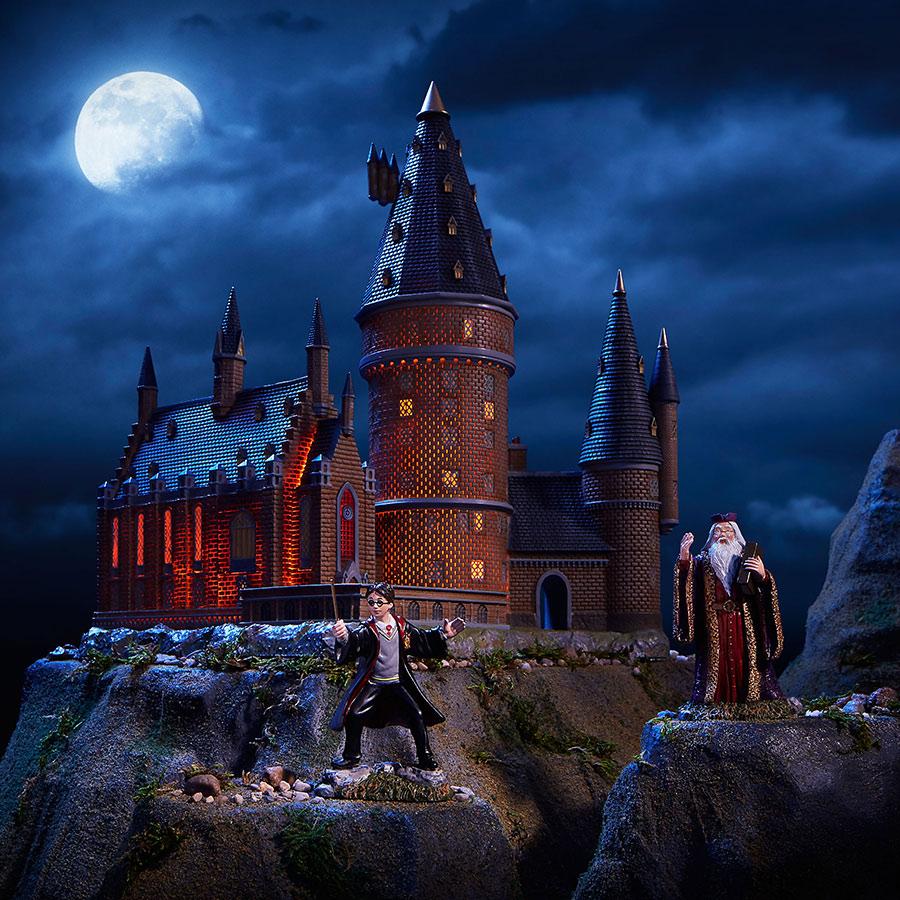 [button type="btn_border" url="https://shop.thechristmasshoppetx.com/department-56/harry-potter-village" target="" button_color_fon="#00d200″ ]Shop Now[/button]

Hope these ideas help you get excited for the school year, s'more learnin', and to "Celebrate Always" (I Thessalonians 5:16).
Want to see my past blogs?
CHECK OUT OUR BLOG ARCHIVE HERE
Want to be the first to see my future blogs? 

GET IT IN YOUR EMAIL HERE
LOVE FROM,
S'MORE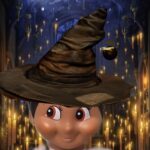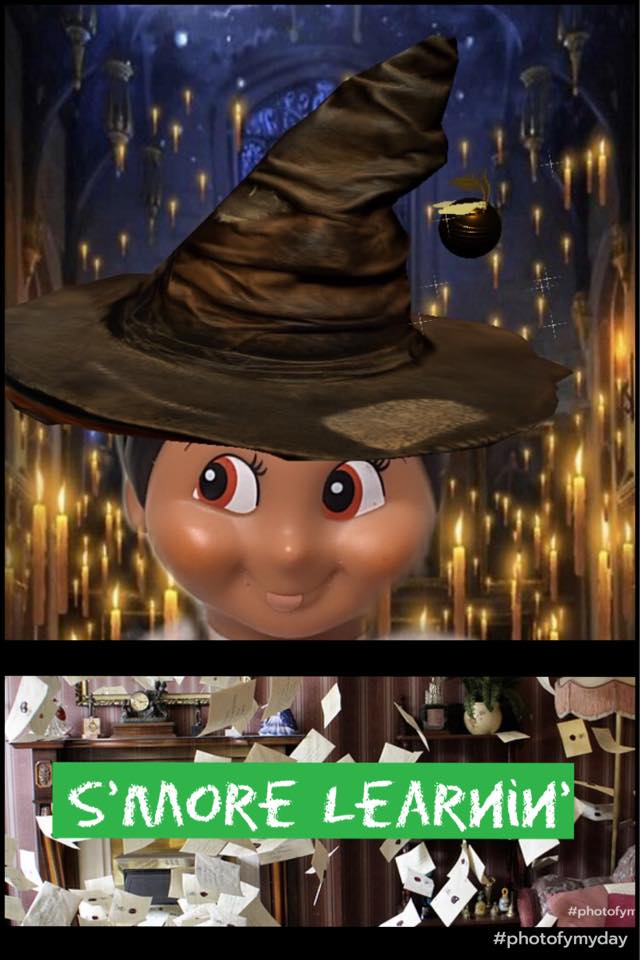 Save
Save