S'more Cookies!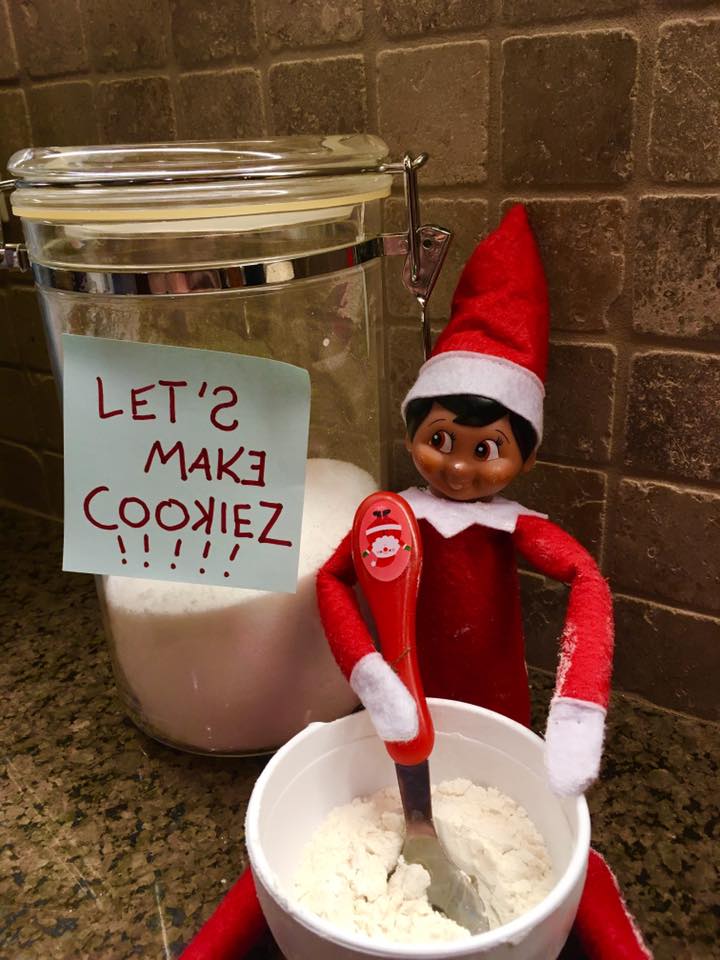 Hello, fellow Christmas-lovers!
Are you ready to bake some cookies?!?! That's right! We are baking cookies today! You know, back in May we did a quick poll on Facebook to find out what your favorite type of cookies are, and the top response was… SUGAR COOKIES!
A little known fact is that Santa's favorite cookies are sugar cookies, too! Some sources say it is chocolate chip, and he does like those, too. However, I have the inside scoop because I know him! Santa loves to see that plate of cookies sitting out waiting for him on Christmas Eve, and no other cookie shows quite so much love, creativity, and holiday cheer as a cutout sugar cookie.
So, we decided to go to work and show you the best recipe for sugar cookies in the whole North Pole. In fact, Mrs. C. won the Dickens on Main bake off one year with this very recipe. She has had it for years! We had to search online to figure out where it came from originally. Looks like All Recipes Busia's Cutout Cookies should get the credit. So, get ready for a treat!
Gosh, I love baking and eating these cookies! They are pretty easy to make, especially with adult supervision. I had Mrs. C. helping out with most of the heavy stuff (like the bag of flour) and manning the camera. She, also, does the oven stuff because nobody wants burnt S'more. I didn't need any help eating them, though. Oh, look a broken one!

Easy as these are to make, we have a few tips for baking and decorating that we have learned over the years that we wanna share before we write out the full recipe.
Baking Tip #1! This recipe calls for 2/3 cup of butter. Butter comes in 1/2 cup per stick. The way to prevent yourself from having two nubs of butter leftover is tricky math! Take two sticks (1 cup) and cut off 1/3 cup to put back in the fridge. This leaves two thirds on a little over one stick to use for the recipe. Ta da!!!
Baking Tip#2! If your butter ain't softened and you have impatient elves, just shred the butter. This was our first time attempting this tip, but we saw it on the internet. So, it must be true! Truth is it worked. AND, shredding cold butter is surprisingly easy.
Baking Tip #3! Add a little extra flavor! This recipe calls for a teaspoon of vanilla flavoring, but we threw in about a third of a teaspoon of lemon flavoring, too. Any little bit of extra flavoring will just make everybody's taste buds go, "mmm!"
Baking Tip #4! Standing mixers make everything easier!
Baking Tip #5! Maybe this is just a weird personal preference. We like to put all the cookie cutters into the rolled dough to make sure we get lots of cookie shapes. It's like a puzzle! And, there is less extra dough to re-roll.
Baking Tip #6! This is more of a decorating tip. Sometimes, it's nice to predecorate the cookies before baking. We rolled small balls of dough in the palm of our hands. Then, we mushed them kinda flat with the heels of our palms. Then, we mushed the little round cookies into a small bowl of sprinkles and baked sprinkle side up. This is easier than mushing sprinkles into a cut cookie.
Baking Tip #7! Take a break to let the cookies cool before frosting. This is exhausting work.
Baking Tip #8! Sprinkles don't stick to baked cookies without a little frosting! So, we frost, THEN sprinkle. Make it easy on yourself and use store bought frosting. By now, you are getting tired and hungry and just eating the cookies. We used gel food coloring to dye some of the frosting other colors. We, also, used glitter gel to add some details, but unlike regular frosting, it doesn't harden. Sprinkle over a bowl or baking tray so the sprinkles don't end up on the floor for the dog to eat.

Now, I am sure you are drooling over these perfect cut-out sugar cookies. As you can see, they don't spread much. The cookies are still soft, though, and sweet-but-not-too-sweet. They are mighty tasty without any any decoration, but I never say no to more SUGAR on top. Give them a try! Tell us what you think!
---
Mrs. C.'s Favorite Cutout Cookies
Ingredients
2/3 cup butter, softened
1 cup sugar
1/4 cup milk
2 eggs
1 tsp. vanilla extract
1/4 tsp. salt
1 tsp. baking soda
4 cups all-purpose flour
Get Baking!
Cream butter and sugar. Beat in eggs.
Dissolve the baking soda in the milk, then add to batter. Add vanilla (and a little extra something) and beat some more.
Add flour on top. Put salt on top. Stir in slowly. Mix thoroughly. The batter will pull away from the sides of the bowl.
Pull out a big sheet of cling wrap. Form a log of dough on the wrap and roll it up. Refrigerate for about 1 hour.
Preheat the oven to 350°.
Break off 1/4-1/3 of dough at time. Roll out the dough on a counter sprinkled with flour. Cut out cookies and place on a baking sheet.
Bake for 8-10 minutes. Decorate and enjoy!
---
Thanks for reading! Hopefully, we can make some more cookies together soon!
~S'more the Elf
Previous S'more Blog ~~~~ Next S'more Blog
Get the latest S'more Blog in your email by clicking HERE!
Save