S'more Adores Moms!
Hi, all! S'more the elf here! Mother's Day is just around the corner, and this S'more certainly adores Moms. So, how about we talk about top Mother's Day gift picks! There's more than one way to skin this cat because there are my favorites online, my favorites in store only, your favorites already this year, and the usually suspected favorites…. So, I'm gonna talk about all of it!
Online Shopping Madness
We've been slowly and steadily continuing to add to our online store for all our fans around the country who can't make it into the store. When people (strangers) visit our online store, their first thought is that we are only Christmas. Well, honestly, when a new shopper visits our store in person, they have that thought, too, but with a little looking about, you can't help but notice our fun everyday gifts and Mother's Day gifts.
Here are some of my favorite Mother's Day Gifts available online: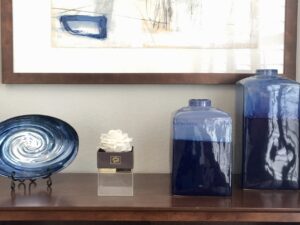 Last year, we introduced these beautiful real roses. They look and smell amazing, and yet they do not need watering. They are guaranteed to last a year. The clear part of the box pulls off and can be placed underneath as a stand. You can even add photos of Mom's favorite child in the clear part as a four sided photo frame. They are the perfect price of $37.99. Your mom is worth it! If you want to shop online, instead of in person, here is the link.
https://shop.thechristmasshoppetx.com/white-rose-box.html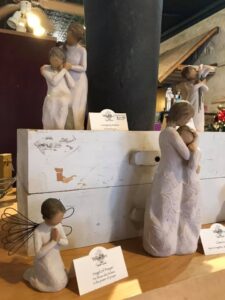 Another fabulous favorite is the Willow Tree figures. Several are the perfect sentiment for Mom or Grandma (or Mimi or Gigi or Nana). My favorite is Close to Me, pictured bottom right. Yeah, that one. "Willow Tree isn't so much about the tangible piece. It represents an emotion, or it marks a memory." –Susan Lordi. Shop all of our online Willow Tree figures and ornaments by clicking the link below!
https://shop.thechristmasshoppetx.com/shop-by-brand/shop-willow-tree/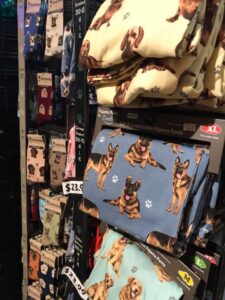 Don't forget the moms of fur babies! We've got some cute socks and pajama pants on our website! The best part about the pajamas (beside the fact that I pronounce them paYamas!) is that they have POCKETS!!! They are super soft with a drawstring waist, too. Here's the link to all of our pet-lover apparel:
https://shop.thechristmasshoppetx.com/apparel/pajama-bottoms/
And, when in doubt, just use the search bar on the top right of our online store to help you find exactly what you want. I put "mom" or "mother" there to get more options for Mother's Day.
In-Store Only Favorites

We got some new stuff this year for Mom that we think you will love.
Soft throw blankets for Mom or Grandmother. Is your mom or grandma far away or still social distancing. The blanket pictured above is the perfect way to mail a hug.
Crosses. The bedside crosses are so easy to mail in a card. They just need some extra postage. They have a little easel on the back so they can stand, too. The prayer cross pictured above is ceramic and has a hole in the back to place hand written prayers.
Mom trinket tray because Mom needs a tray to place her rings and pocket stuff.
Top Sellers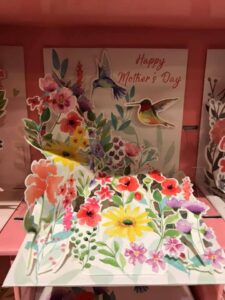 Okay, y'all. This is the year's top selling Mother's Day card. There are only two left. If you want specifically this card, you better call or come in quick. I like pop up cards because they look so old fashioned, just like ME. Plus, they have kick stands. So, you can leave them out on a table or counter top for awhile to enjoy. Mr. C. keeps his pop up cards for years…. O_O That's too long. They get dusty.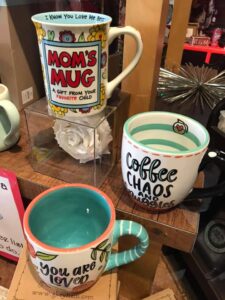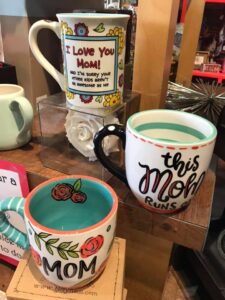 Mugs! See that top left mug. It's one of our best sellers for Mother's Day this year. It's my favorite, and there is only one left. Keep in mind, it got here before the other two pictured. It could be that is why it is selling faster. All of our mugs sell well every year. For your convenience, I am showing both the front and back of the mugs because both sides are awesome.
The best part about buying a mug for mom is that you can combine it with other gifts, like tea or coffee or mug cake mix or a little plant or some mini gifts, like jewelry and lotion.
What We Know Goes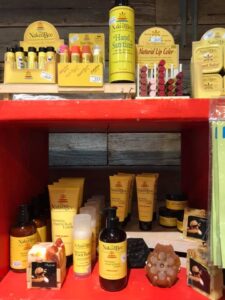 Certain types of items sell well every year for Mother's Day gifts. They make great additions to an already great gift or stand alone. Might I recommend:
Pamper yo' mama with a lotion, lip care, and bath set from Naked Bee and Blankenship Soap Co. Never heard of Blankenship Soap? They are hand crafted soaps from a sweet little girl in town. She will literally do a happy dance if you buy her soaps.
Candles. Need we say more. We've got the best candles from Lu Bella Candle Co.
Cards. The one pictured above is just our top selling card at the moment, but we have plenty more pop up or traditional cards that are sweet or sassy.
Jewelry. Okay, we aren't like a jewelry or clothing boutique with all the fancy stuff. Ours is mostly cheap and made in China, but not entirely. However, it's good gift-y jewelry, especially from your kid who can't afford much.
Other apparel. So, all of our pet related apparel is online, but we have some cute Boerne and Christian t-shirts and silly socks that Mom will totally like.
Top off the gift!
Your gift isn't complete without that little extra something. I'm talking wrapping. We have some beautiful gift bags available that are perfect for Mother's Day gifts. Plus, Mrs. C. is ready and willing to make a custom bow just for you (big or small). Ooooorrrr…. you could add a clip on bird or butterfly or a small flower to give your gift that little extra something. Yeah, think of butterflies like nutmeg in a dish. It makes people say, "WOW!" And, as you know… "WOW" upside down is "MOM."
Now, before I sign off, I gotta mention that just because can't come in doesn't mean you can't shop with us. If you liked what you saw above or what you read about above, give us a call. We can take more photos to text or email to you. We can Face Time with you. And, we can ship items ordered by phone. With that being said, the best way to shop our store is in person. It's just more magical, you know. You know. 😉
I hope I've helped prepare you to "Celebrate [your mom] Always" (I Thessalonians 5:16).
LOVE FROM,
S'MORE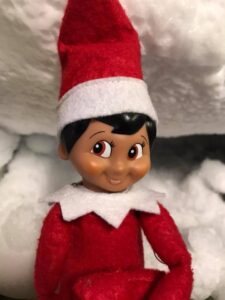 Want to see my past blogs?
CHECK OUT OUR BLOG ARCHIVE HERE
Want to be the first to see my future blogs? 

GET IT IN YOUR EMAIL HERE
FOLLOW US HERE
TO STAY UP TO DATE!