Rafael's Blog: Graduation!
Memorial Day is just passed, summer is here, and young graduates are entering adulthood…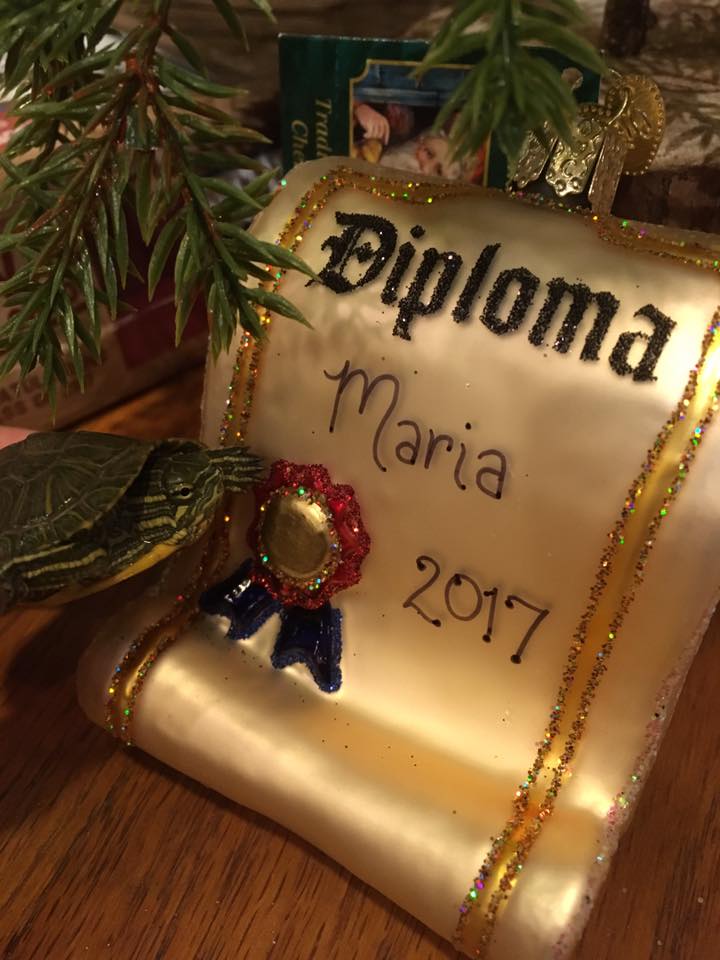 Hello, Christmas-loving friends:

This week's big news is GRADUATION! We just wrapped up Memorial Day, the school year is coming to a close, and graduates are celebrating! It's quite a big time in a young person's life, exciting and nerve-wracking all at the same time. I remember the day I struck out from my wee corner of Cibolo Creek and headed into adulthood. Well, it was only about a couple months ago. Looking that far back, I realize I didn't know what I was getting into. I'm glad I didn't have to go far to find a new home, surrounded by fun and loving people.

You may be wondering about the personalized ornament above and just who is Maria. The Christmas Shoppe is proud to know two High School graduates this year. Maria is the older sister to our youngest elf, Carmen the Great. Shoppe Elf Liz, the younger sister to former Shoppe Elf Sarah, is also graduating. They both have worked really hard to finish the year strong and be ready for their next adventures. Maria is headed off to Florida, while Liz will be joining her older sister at Texas Tech.

Sometimes it's hard to know what to give a graduate. Something to encourage, something to inspire,… something they'll like. The Christmas Shoppe has a few graduate gifts and cards to choose from (not just the ornament pictured above), but ask us for help. Sometimes the best gifts are the ones that communicate a sentiment or a memory. These graduates are truly entering adulthood. So, a Bible would be great to prepare them for the future, but a framed family picture would be great to help them hold onto the past. For a young lady who needs an encouraging reminder, a cute block sign that says "YOU GOT THIS," might be the ray of sunshine she needs. For a young man who needs to know just what it means to be a man, "The Mansfield's Book of Manly Men" and a bar of Duke Cannon soap may give him some humor filled clarity. No matter where your graduate is headed, we are happy to help you celebrate.
…
We hope you have enjoyed Rafael's latest blog. You can check our Facebook page,   Pinterest, or Instagram for links to his weekly blog on our website, or just join our blog email list below to get his musings direct to your inbox. Rafael loves to share stories, tips, recipes, and odd bits of information he's picked up around town. He may, also, throw in an occasional coupon for his closest followers.