Hello fellow Christmas lovers!
With November already upon us, December is fast approaching. The scents and sounds of the holidays fill the air! The official Christmas countdown is:
[powr-holiday-countdown id=91d841f2_1509822406]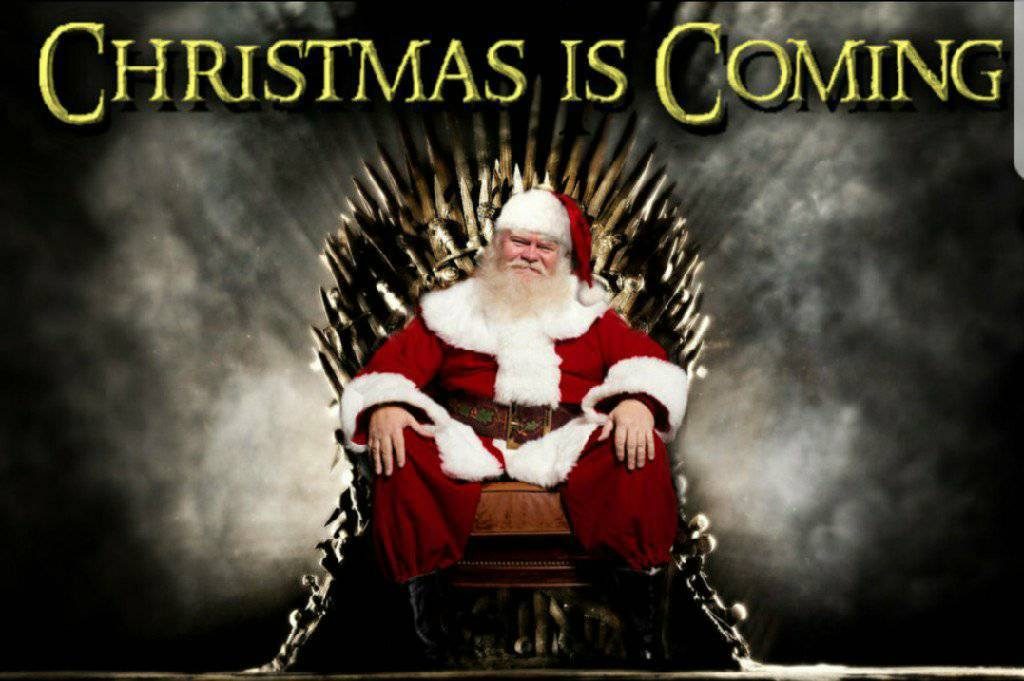 Because I am good friends with Santa, I could not resist this funny pop culture reference. But today I would like to share with you ways to celebrate the true reason for the season. "Holiday season?" you ask. "Advent season," I say!
The word Advent comes from the Latin word adventus, which means "coming" or "arrival". The season of Advent is roughly a four-week period we can use to examine our spiritual lives. We prepare not only for Christmas Day, but more importantly for the second coming of Jesus. We are invited by this spiritual season to self reflect in the hope of deepening our relationship with our Heavenly Father.
Here are a few ways to bring the spirit of Advent into your own home and family traditions:
*Make a family blessing jar. Place an empty jar on your dining table. Each day during Advent, state one blessing for which you are thankful. Write the blessing on a slip of paper and put it in the jar. On Christmas Day, pour out the blessings. Read together and give thanks to God for the blessings you have enjoyed during Advent.
*Use Christmas cards as prayer reminders. As Christmas cards arrive during December, place them in a basket in a noticeable area. Once a day, pull out one card and pray for that person or family together. Keep the Christmas card basket out all year and pray regularly for other families. You may want to write the person a note signed by your family that says, "We prayed for you today."
*Light candles in an Advent wreath. The wreath, because it is a circle, symbolizes God's never-ending love. The wreath, because it is green, symbolizes life. An Advent wreath contains four candles representing the four Sundays leading to Christmas. Many people place a white candle in the center of the wreath to symbolize Jesus.


*Use an Advent calendar. An Advent calendar is a special calendar used to count the days of Advent in anticipation of Christmas. Since the date of the First Sunday of Advent varies, many Advent calendars, especially those that are reusable, often begin on December 1. They come in a multitude of forms. Some have fabric pockets to personalize gifts or treats. Some are painted wooden boxes with cubby holes for small items. Many Advent calendars take the form of a large rectangular card with "windows", the calendar windows open to reveal a Bible verse, prayer, a poem, a portion of a story (such as the story of the Nativity of Jesus). Sometimes when opened they will reveal a chocolate candy.
At The Christmas Shoppe we want to help your family celebrate the holiday season however you see fit. We have a festive selection of Advent calenders. The Perfect Advent Calendar (and Another Perfect Advent Calendar) is loaded with ideas for your family to choose! They are a great way to share the love of Christ during the Christmas season. And don't forget to pick up your chocolate Advent calendar! They make great gifts for small children, but as with all Christmas things, even adults love chocolate Advent calendars. Also we have Advent wreaths and candles and encourage you to bring the ceremony into your home.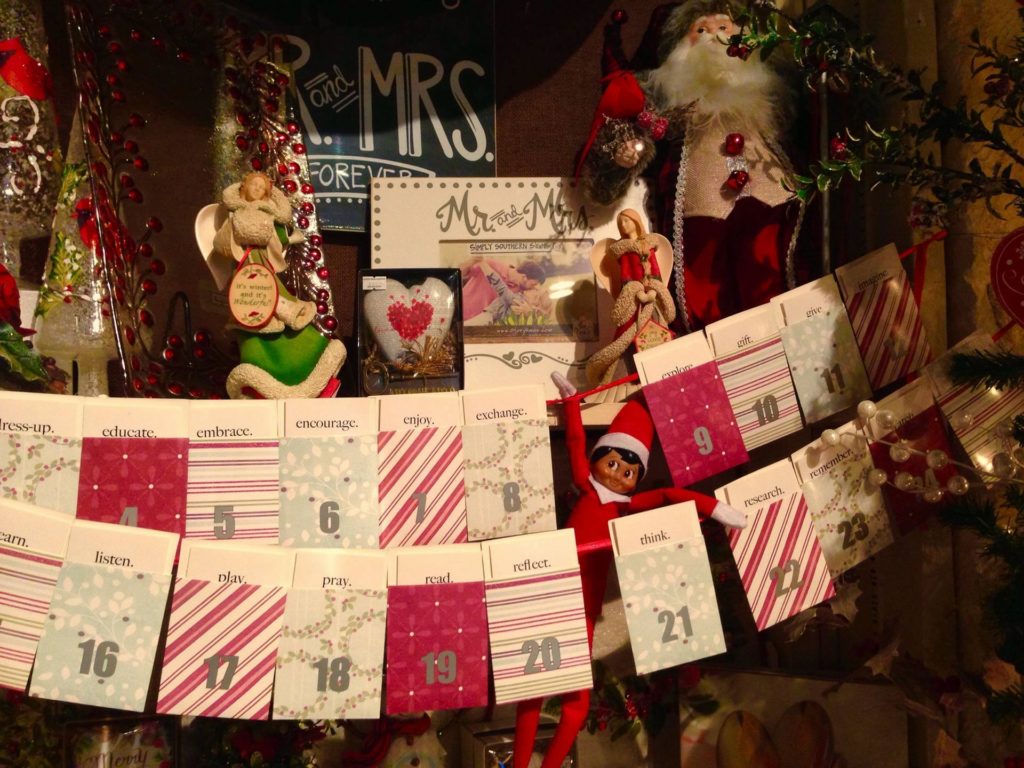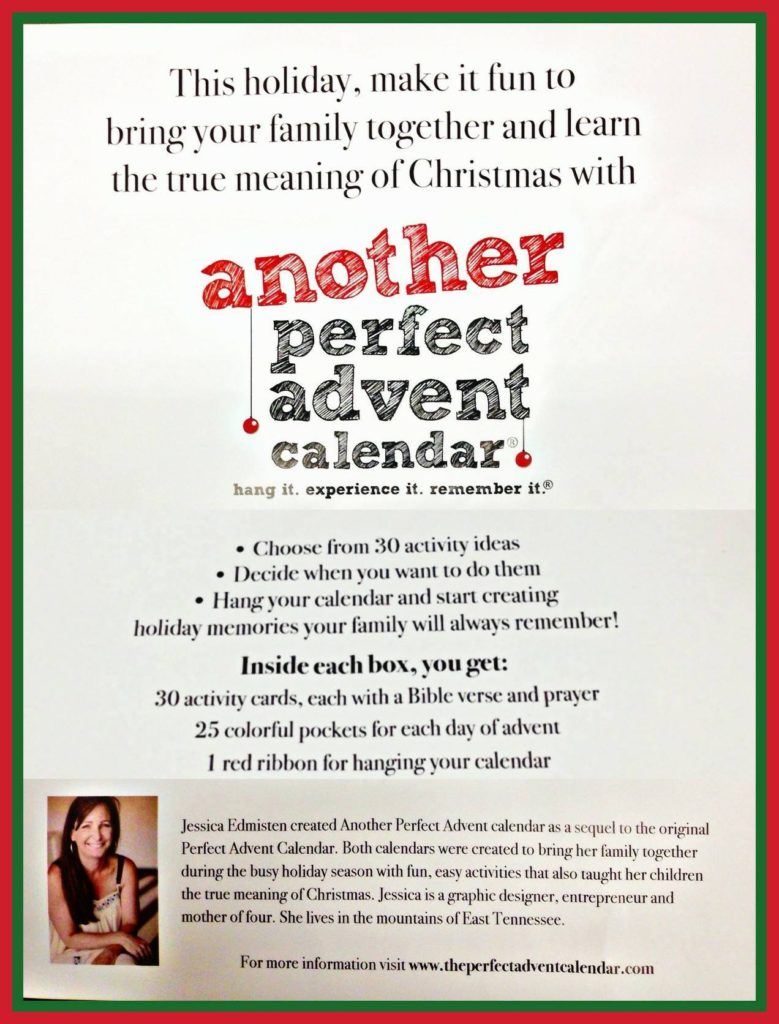 With all the hustle and bustle at home this time of year, and especially at The North Pole (and the undoubtedly growing to-do lists.) We should all take some time to reflect on keeping Christmas in the glory of Christ. Santa would be proud!
~S'more the Elf
Previous S'more Blog ~~~~ Next blog coming soon!
We are oh, so social! Follow us on Facebook, Pinterest, and Instagram!
Get the latest S'more Blog in your email by clicking HERE!