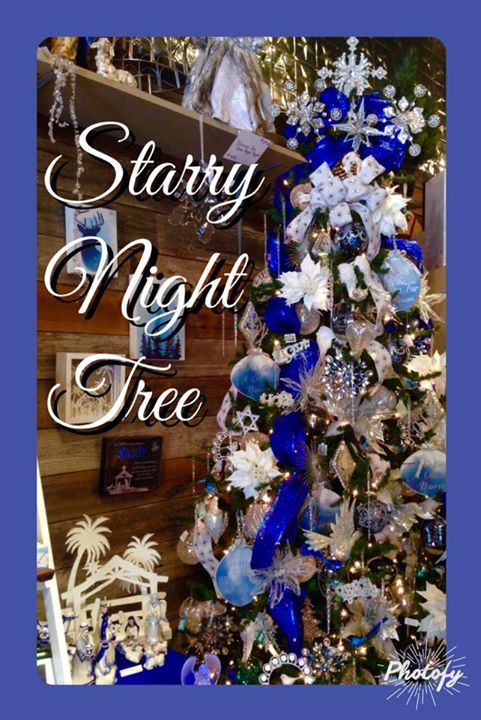 The Starry Night Tree!
The Christmas Shoppe is proud to present its latest themed tree: The Starry Night Tree!
This beautiful tree will take your breath away. It's designed to represent the starry night sky over Bethlehem at Jesus' birth.
We used royal blue and striking white with sprinkles of silver. Notice our topper. We have several toppers in stock every year. So, we picked silver stars and a pearl and silver cross to group at the top, backed by bows of royal blue.
The bright whites come from a beautiful ribbon, soft and clean poinsettias, and angel wing ornaments. Glass ornaments filled with silver glitter proclaim the reason for the season: "Silent Night, Star Above, Blessed Gift of Hope &I Love." Large wooden ornaments look dipped in blue water color and pronounce, "For unto us a Child is born!"
Lastly, we scattered the tree with pretty birds, acrylic stars, and glass icicles. We have hand chosen beautiful nativities to compliment such a look. These nativities are simple, elegant, and bright.
Come by soon to check it out and find treasures to make your own beautiful tree.
Check out all our other themed trees by visiting
http://www.pinterest.com/thechristmasshoppe
Did you know we blog? The latest is available here:
https://thechristmasshoppetx.com/2017/09/15/smore-friends/
 Like what you see? You can purchase a few of the ornaments that match this tree direct from our online store. Check them out here: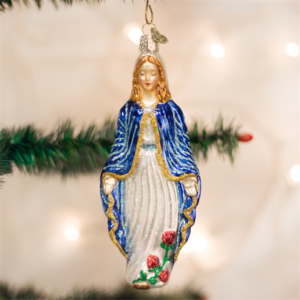 Save
Save
Save