S'more Stocking Stuffer
Hi, all! S'more the elf here! You are probably like me and getting all your shopping done like a Christmas ninja. Don't forget to look for s'more stocking stuffers to make the season's bright. As one of Santa's elves, I am an expert in stuffing the perfect stocking. Here are my go to tips!
Recipe for a great stocking!
The first step in stuffing stockings is much like the first step in a recipe. You need to gather your "ingredients." Below are my favorite ingredients for an epic stocking.
The trick is to not go too crazy, or else you will find yourself wrapping ornaments to sit on the mantle next to your stocking. There's nothing wrong with that, but less can be more when it comes to a stocking. I usually only pick no more than 7 items for a stocking, but the following are some great ideas to put into a stocking.
First, you need the stocking! We are the place for stockings! Here are some of my favorites.

A piece of fruit, like an apple, orange or pear. Seriously. This is a s'more traditional stocking stuffer because fruit is so rare in the winter that in years gone by this was thought to be a special treat.
Small toys or gifts. Don't be afraid to give a toy to an adult. They sometimes are a kid at heart. These photos include just some of the great small gifts we have in stock.
Nuts with their shells. Again, this is super old school! Just like me! Walnuts and pecans can be bought at the grocery store and are great to add a little something to your stocking. The kids will get a kick out of cracking nuts the old fashioned way.
Small ornaments or snow globes! You should know that we are the perfect place to shop for those! These 21 and over ball ornaments are kinda larger, but they come with cool socks inside! They are $11.99.

CANDY! We have a little bit of candy in the store to show you.

Small stuffed animals are a great to top off your stocking. They look so cute hanging out of the top of a stocking.
Get it embroidered!
Guess what, y'all! Bradley over at Hill Country Scrubs and Embroidery came in earlier this year and had a brilliant idea. He will give 20% off embroidering names onto stockings for anyone who has a receipt from The Christmas Shoppe. So, after you buy your stocking from us, you can head over there to get it embroidered at a discount!
Stuff your stockings!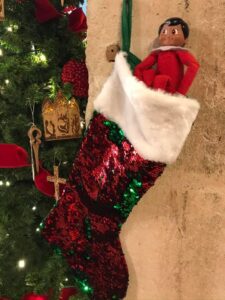 Alright! I am perched on top and ready to stuff! Here are some tips for making it all fit and look awesome.
Mr & Mrs C like to wrap the easy to wrap items for the stocking before they go in. It just adds a little something extra special.
Put big, round things in first and in the toe.
Next, put in the long skinny gifts, like our cool holiday specs.

Now, you can put in most of your remaining gifts.
Last, put in any loose candy or all those fun pecans and walnuts. They will sift into the empty spaces.
Very last, put a small stuffed animal or a candy cane on top so that it hangs out a bit.
Ta-da! Don't you love your stocking? I think it's swell.
And, if you are feeling very unsure. We are happy to put together a stocking for you! We will even make a run to the grocery store to buy a little extra candy, fruit, or nuts. In fact, we will offer 10% off if you have us design your stocking for you.
Merry Christmas and "Celebrate Always" (I Thessalonians 5:16).
Want to see my past blogs?
CHECK OUT OUR BLOG ARCHIVE HERE
Want to be the first to see my future blogs? 

GET IT IN YOUR EMAIL HERE
LOVE FROM,
S'MORE