Pumpkin Chocolate Chip Cookies!
Hello, to all my "Celebrate Always" friends! I recently came across the most scrumptious recipe for Pumpkin Chocolate Chip Cookies.
You are probably not aware, but there are Facebook Groups for just about everything. So, I joined a group called Christmas Decorations Lovers. It just makes me so happy to see everyone's Christmas decorations and share pictures of mine.
One member of the group came up with a brilliant idea to do a virtual Christmas cookie exchange by exchanging our very favorite recipes. What fun! I am always looking for new recipes.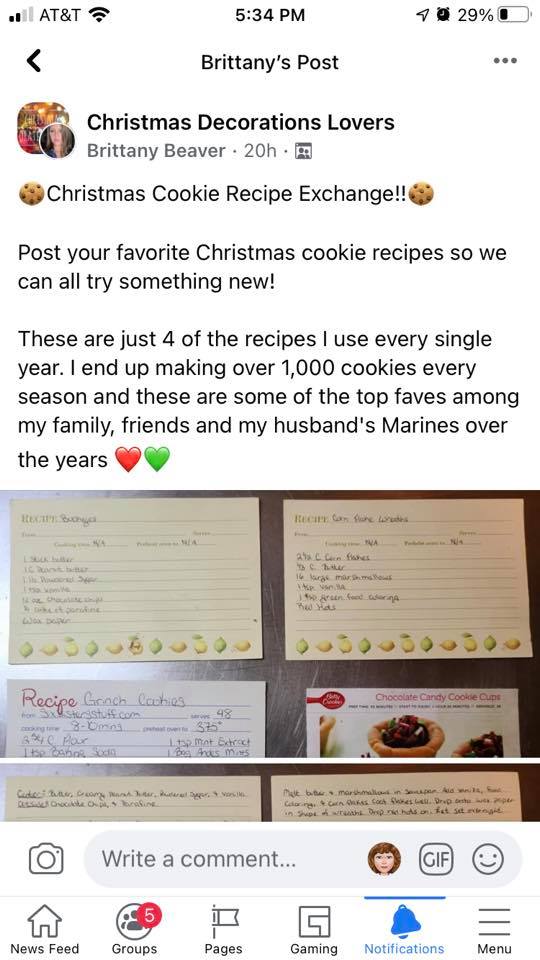 If you are anything like me, you probably want to try every single recipe gathered from this posting. So, I saved them all! And I will share them all.
My original plan was to try baking several over the past few weeks to show you pictures, give tips, and describe the cookies for you, but… life got in the way.
This last Sunday, S'more and I dug through the cupboards and discovered that we already had all the ingredients on hand to whip up the Pumpkin Chocolate Chip Cookie Recipe that got shared.
I had to substitute Stevia for 1/3 of the sugar in the recipe, and I ended up just using the last of the nutmeg and chocolate chips without actually measuring.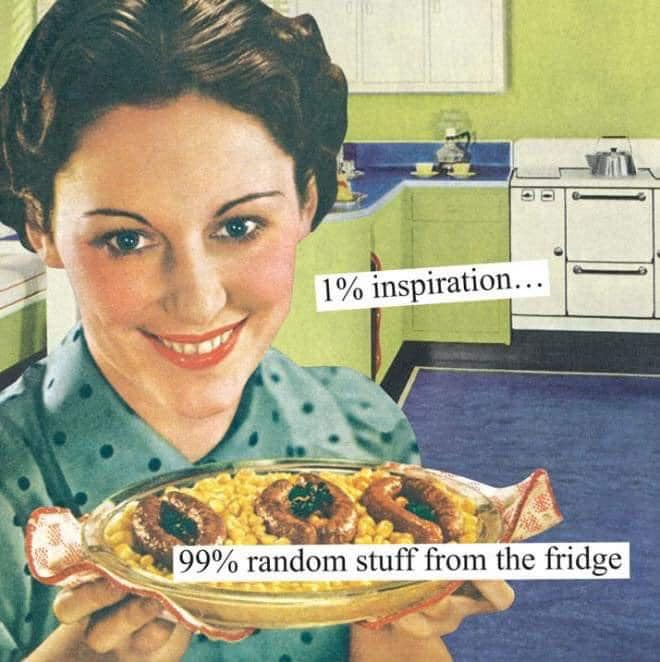 It was one of the ones that I was most excited to try, too, because it has a little bit of Oregon fame…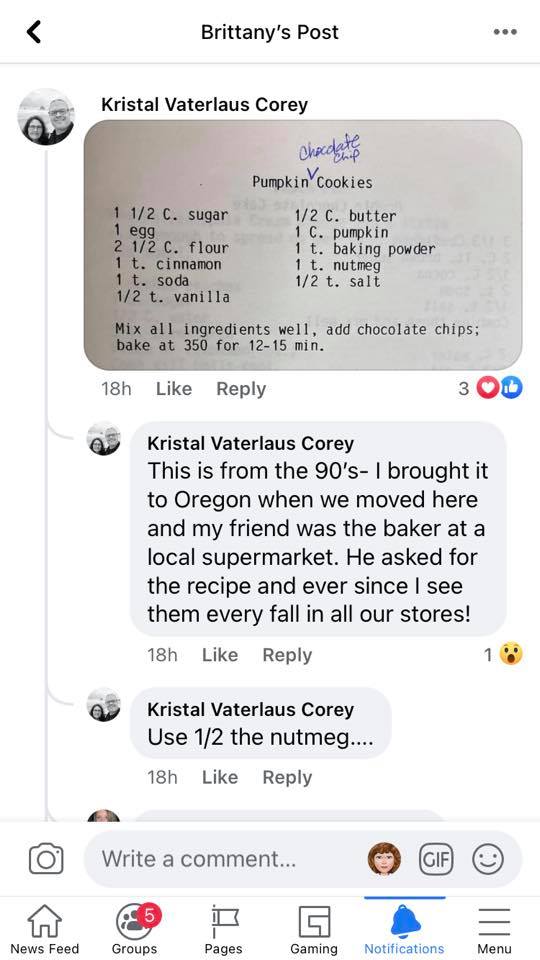 You're wondering, "How does it taste, though." Not everyone loves pumpkin. It's VERY tasty. The cookies come out soft and almost cake like. They're not too sweet. It definitely has some fall flavor to it, but if you like the combination of cinnamon and chocolate (which I do!), you will love these.
They're kinda addictive, too. I've been known to eat a dozen in one day.
Now, let's start baking!
---
Pumpkin Chocolate Chip Cookies
Recipe courtesy: Kristal Vaterlaus Corey
Prep time: 15-30 minutes
Cook time: 12-15 minutes
Ingredients:
1/2 cup unsalted butter
1 1/2 cup sugar (I only had 1 cup on hand. So, I used 1/2 cup granulated Stevia to make up the difference.)
1 egg
1/2 teaspoon vanilla
2 1/2 cup flour
1 teaspoon cinnamon
1/2 teaspoon nutmeg
1 teaspoon baking soda
1 teaspoon baking powder
1/2 teaspoon salt
1 cup pumpkin puree
1/2 cup semisweet chocolate chips (give or take, depending on preference)
Directions:
Preheat the oven to 350°.
Mix together all the ingredients. I used my standing mixer and combined them in the order I listed above.
So, I creamed the butter and sugar first.
Beat in the egg and vanilla.
Added all the dry ingredients and mixed in to create a thick batter.
Added the one cup pumpkin puree and mixed. It is still a thick batter.
Then, I stirred in the chocolate chips with a spatula.
Spoon onto a baking sheet and bake for 12-15 minutes at 350°. Larger cookies take longer to bake. I used a small cookie scoop to keep them uniform in size.
---
Cookies this tasty deserve some glamour shots.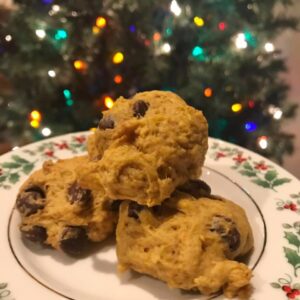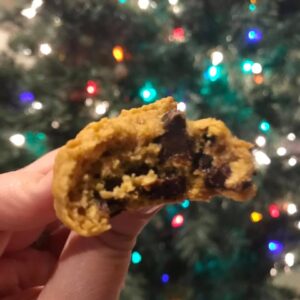 If you like this recipe, you should check out all the other recipes I gathered. They are in S'more's blog: S'more Sweetness!
For all of our recipes, just check out our Pinterest board or the Recipes on our website.
Thank you for reading. We hope this is just one more way to help you "Celebrate Always" (I Thessalonians 5:16)
Love,
Mrs. C.