The Posh Penguin Tree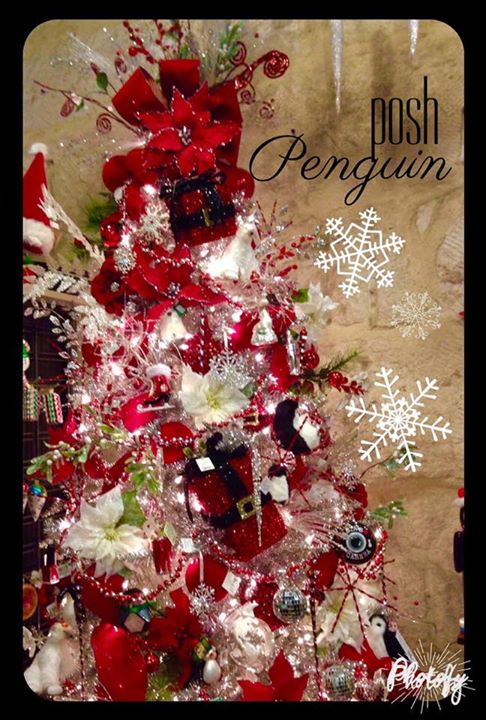 It's Sunday, and you know what that means… a new featured tree just for you! The Posh Penguin Tree is now up and decorated in plenty of time for our Fall Diva Night on November 9th.
This glitzy tree is inspired by a tree we saw in the Select Artificials, Inc. showroom at Dallas Market. It's a show stopping combination of diva red velvet, charcoal black, snowy white florals, and icy silver rhinestones.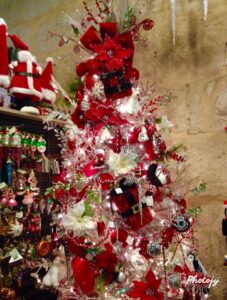 The key to taking this tree over the top is that we started with a silver tinsel tree. Anyone interested in replicating this style or creating a bright and different look should seriously consider investing in a tinsel tree. They are a bit more expensive than traditional pine trees but worth every penny. Unlike tinsel trees from the 60's, these come prelit and look much fuller. Right now, we have them in stock along with several varieties of traditional trees.
Baby, it's cold outside! So, we wrapped our tree with red velvet ribbon and poinsettias that have just a touch of glitzy silver glitter on their edging. Next, we added flocked and iridescent florals to give that polar feel. The ball ornaments are red velvet, snowy white, and red glass.
To make it Posh, we sprinkled the whole tree in items a diva desires: big, shiny packages, jeweled icicles and snowflakes, and red nail polish and lipstick ornaments.
At the North Pole, they sure know how to have a good time! A liberal dose of penguins and other polar inhabitants are frolicking, partying, and dancing all over this tree.

Our plush penguin migration has landed here, too! So, everyone can have their own little penguin to love and play with for Christmas.
Like what you see? Call or drop by to make a purchase and get the look for yourself.
Wanna watch us in action? Our how-to video is coming soon!
View all our other themed trees by visiting http://www.pinterest.com/thechristmasshoppe
Did you know we blog? The latest is available here for your enjoyment: https://thechristmasshoppetx.com/2017/10/21/smore-unplugged/
Save