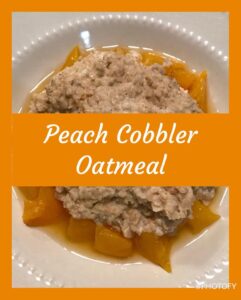 Good morning, fellow elves!
Today I am going to share with you my Peach Cobbler Oatmeal recipe. This delicious, warm breakfast is just what I needed on a rainy morning like today.
I love rainy, fall days. Don't you? We don't get a lot of rain or fall weather at the North Pole. So, I love being in Texas, where I can watch the thunder and lightning and rain pitter-pattering on the oak leaves out my kitchen window. Of course, it's not really cold yet, but if I turn down the air conditioning, I can pretend it is.
This rainy weather has been almost non-stop lately. While shopping Main Street is a lovely (mostly) indoor activity when you have been stuck in the house all day, I love to take a lazy morning off, too. Let's call it a mental health day. Sometimes, we all need a day to rest, stay in our pajamas, drink hot tea, read a book, and gaze out the window at this awe-inspiring, life-giving weather.
Should you be celebrating the rain with me, I have the perfect recipe for you to enjoy on such a morning. I call it Peach Cobbler Oatmeal, and it is easy, quick, and has all the tastes of late summer and fall that you are craving.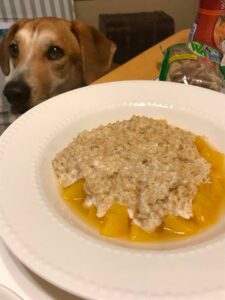 Mr. C always calls cobbler "bobbler". Don't ask me why. I almost named the recipe "Peach Bobbler Oatmeal", but it probably wouldn't show up in search engines.
Actually, this recipe is so easy, it barely qualifies as a recipe. I started making this when I first moved out on my own. It really is just a quick oatmeal with a few additions and tweaks, but I love it. It's, also, a fairly healthy option. So, it makes me feel good in lots of ways.
First you gather your ingredients. Here are mine. Yes, my kitchen always has Christmas decorations. I have a good excuse to enjoy it year 'round. So, don't judge.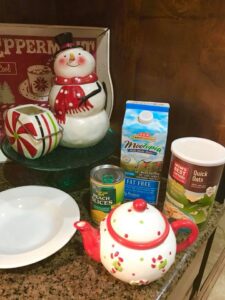 Bringing milk to a gentle boil is remarkably time consuming, and it is the most difficult part of this recipe. So, in between stirring the milk, I go ahead and chop up some canned peaches in the bottom of my bowl. Feel free to use fresh peaches or spiced canned peaches, but I prefer mine to be in light syrup and I don't let much syrup into the bottom of my bowl. Look at those beautiful, sunny peaches.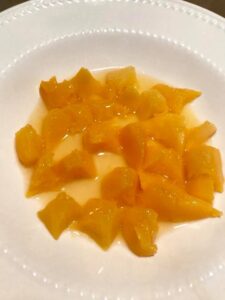 You will need to stir the boiling milk almost constantly to prevent a skin from forming at the top. However, don't be alarmed that some of the milk will scorch to the bottom of your pot. I have found no way to avoid it. I just don't scrape the bottom of the pot while stirring so that the scorched part doesn't get mixed into the oatmeal. I've found it makes clean up easier afterward serving, too. I just let the scorched part dry out in the bottom of the pot after all the oatmeal has been removed. Once it's dry, it just peals right out of the pot. So, you don't need to do any heavy scrubbing.
I have, also, noticed that the oatmeal never looks quite thick enough on the stove, but it will thicken as it cools. The picture below is pretty much done.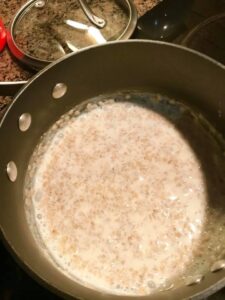 The milk turns into a sweet cream and pools around the peaches and oatmeal. With the chopped peaches, cinnamon sugar, and walnuts, this breakfast is just the right amount of sweetness. The crunch of the walnuts, the warmth of the cinnamon, and the soft peaches make this taste just like a warm peach cobbler.
Ever since I tried it, I haven't been able to eat the packaged, instant oatmeal. It's too sweet by comparison and somehow has a smaller portion size. This doesn't take that much longer to make and is definitely worth the effort.

By the way, that is Sideways, the good dog, doing a photo bomb in the background. I wish we could bring him to the shoppe, but it's like working with a toddler underfoot. He has a tendency to pick up stuffed animals and leave them in random places. Maybe one day, though.
So, let's try this tasty dish!
Peach Cobbler Oatmeal
Serves 2
Ingredients:
1 3/4 cup fat free milk
1 cup quick oats (we used Mom's Best brand)
1/2 can of peach slices in light syrup
Granulated stevia, sugar, or sugar substitute
Ground cinnamon
Walnuts or pecans (optional)
Directions:
Put milk in a medium sized heavy pot on medium-high heat and bring to a gentle boil while stirring gently and nearly constantly.
Meanwhile, chop or dice peaches and place in serving bowls. You can use more or less peaches to your preference.
Once milk comes to a gentle boil, stir in oats and continue boiling for one to two minutes. Again, gently stir almost constantly.
Spoon half of oatmeal into the serving bowls on top of the peaches. Sprinkle with sweetener of choice to taste. I only use about a teaspoon of stevia. Sprinkle with ground cinnamon to taste. Lastly, sprinkle with chopped nuts to taste.
Serve immediately. This tastes delicious with a warm mug of chai latte.
I hope you enjoy this tasty oatmeal as much as I do, and I hope you get the chance to take joy in the midst of this weather.
Looking for more recipes? Follow us on Pinterest to see all of our recipes, as well as some favorites we have found from other pinners.
Don't like Pinterest? You can now find all of our recipes by looking in our menu or clicking HERE.
Thanks for visiting with me today.
Love,
Mrs. C.
https://thechristmasshoppetx.com/product/a-tree-a-prayer/
Save