S'more Thankful
Hi, all! S'more the elf here! Golly gee whiz, it's Thanksgiving week already! I am s'more thankful this year than ever before.
Thankful for Health
I'm sure we are all thinking the same things this year. With a huge pandemic going on and the number of cases increasing, we all know someone or know of someone who has come down with the 'Rona buggy. So, just like you, I am so thankful for all the friends and family members who are healthy.
I am, also, thankful that none of the elves at The Christmas Shoppe have contracted the virus. We are hoping that if we get sick at all, it will be in mid January to early February. You see, this is the time of year that all hands are on deck. So, if one of us is exposed, we are all exposed, and we would have to be closed for awhile.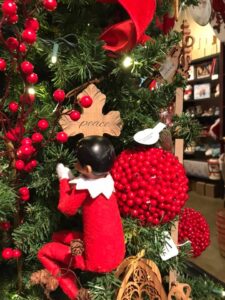 Thankful for Being Open
Yup, this year was pretty scary. We had to be closed for 5 weeks! We decided that we would only close our doors if we HAD to. So, we reopened May 1st.
Then, we worried about a decreased number of shoppers. Honestly, money is not our top priority. The health and safety of everyone absolutely is our most highest top priority. (Well, it's #2 after Jesus.) However, we were a little stressed.
So, we are oh-so-thankful to all of you have showed up and shopped local. Even just buying an occasional greeting card helps us to keep our doors open.
So, we scraped by when things were tough, thanks to God who provides all our needs and you who shopped with us or shared posts or attended Facebook Lives or just gave us a thumbs up once and awhile. Now, because people are out and about and intentionally taking their business to small businesses instead of big box stores, our sales are exactly where they should be.
Oh, yeah! Do the thankful dance with me!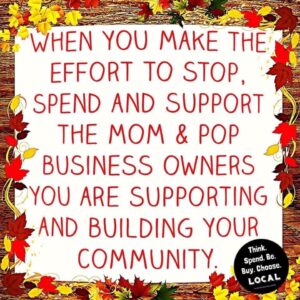 Thankful for Fall Weather
Did you notice? The weather is beautiful! I am digging the fall breezes and the golden sunsets and the piles of leaves.
Honestly, the Hill Country has been blessed with beautiful sunshine-y weather all year! It's a little on the dry side, and the allergies are Geez-La-Wheez crazy. However, for the most part, it's been beautiful!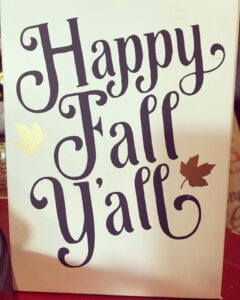 Thankful for Southern Hospitality
Last, but not least, I am s'more thankful than ever for YOU! You've had a rough year, too, but you are reacting with grace and love and kindness.
This year has made our ability to serve you a little more difficult.
Some items you love weren't able to ship.
Sometimes we couldn't reorder things.
It takes longer to ring up people when we sanitize between purchases.
Occasionally, special orders are taking longer to arrive.
It's really hard to hear customers easily through masks.
In fact, no one likes wearing masks.
But, almost everyone has handled these irritations with understanding and kindness.
Did you know that this is the fruit of the Spirit? Yup, all that love, joy, peace, patience, kindness, goodness, faithfulness, gentleness, and self-control that you show under pressure is proof that you are a child of God. It is totally what Jesus would do (and what Santa would do). Don't believe me? You'll find it in Galatians 5:22.
Pumkin spice is great, but you bring the "everything nice."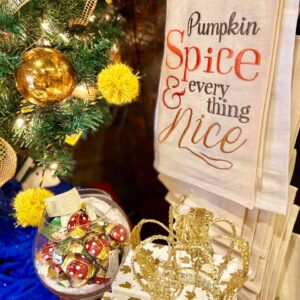 So again, thank you! And, remember to "Celebrate Always" (I Thessalonians 5:16).
Want to see my past blogs?
CHECK OUT OUR BLOG ARCHIVE HERE
Want to be the first to see my future blogs? 

GET IT IN YOUR EMAIL HERE
LOVE FROM,
S'MORE