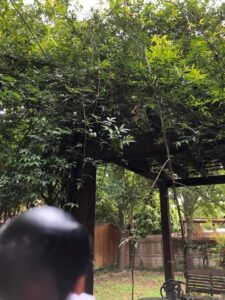 S'more Staying Home!
I've been spending a s'more time outside while doing s'more staying home thanks to a certain pandemic. So, welcome to the backyard!
Ahhh, Springtime!
So much GREEN!
I like green. Green is a good Christmas-y color, too! What's YOUR favorite color?
The Whomping Jasmine in our backyard is growing like crazy! Mr. C told me not to get too close!
hohohohoho
ooooooo…. everybody watch out for the-whoop! What the?!?
AAAAAAAAAA!!!!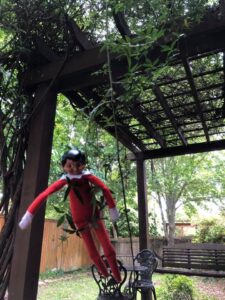 AAAAAAAAAAAAAAA!!!!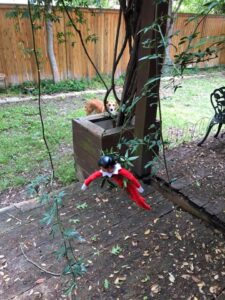 SIDEWAYS!
Thank goodness you're here!
Run for help, boy!
…n-nooo! There's no time for sniffing! You can go potty later!
*sigh* I think I'm doomed. HEEEEEEEEELP!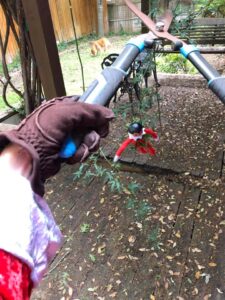 Mr. C! YAY!
I'm sorry I didn't listen to you!
Although, are you sure this is the best way to do this…?
I'm up pretty hi-WAAAAAAA… *thud*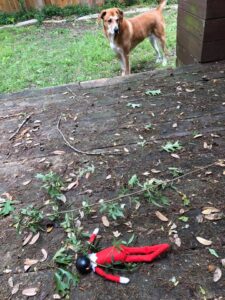 ugh.
Thanks, Sideways. You're my hero.
I think I'm going back inside, now. It's kinda cool out here, anyway. Plus, Mrs. C wants to bake a cake.
Want to join me inside and bake a cake with Mrs. C? Follow the link to bake with us:

[button type="btn_border" url="https://thechristmasshoppetx.com/2020/04/16/coconut-cake/" target="" button_color_fon="#a90b00″ ]Unforgettable Coconut Cake[/button]
For Santa sanctioned, SARS safe, shop small supportive, special sales shopping
[button type="btn_text" url="https://shop.thechristmasshoppetx.com/" target="" button_color_fon="#a90b00″ ]CLICK HERE[/button]
Don't forget! Use the special code
CORONA20
at checkout to get 20% off your
entire order!!!

Want to see my past blogs?
Check out our Blog Archive HERE
Want to be the first to see my future blogs? ?
GET IT IN YOUR EMAIL HERE
Love from,
S'more
Save
Save