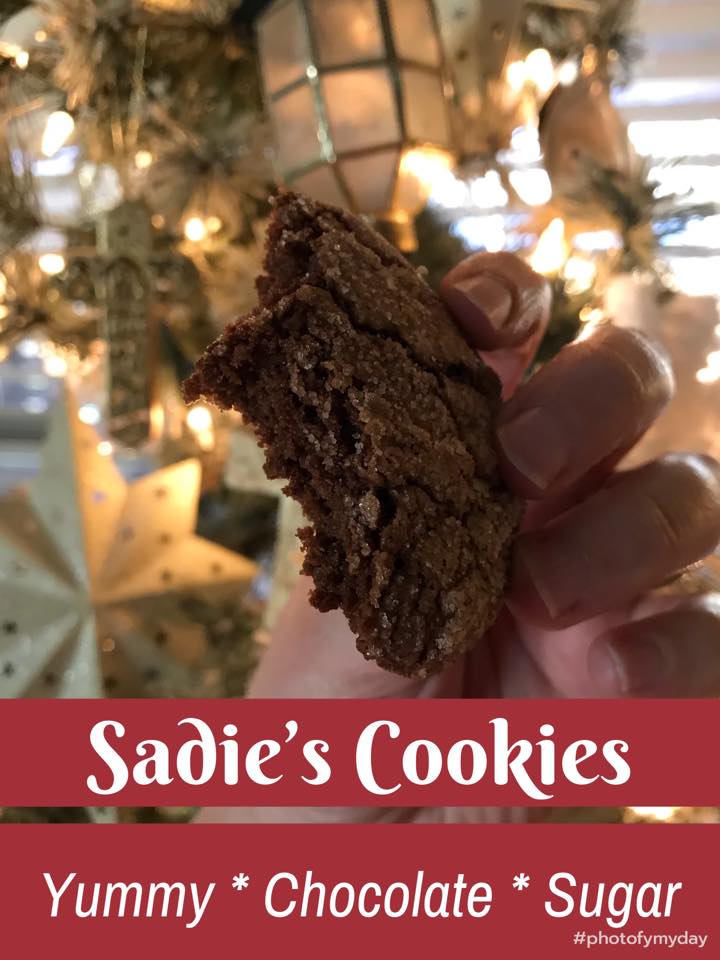 Sadie's Cookies Recipe!
Hello, to all my "Celebrate Always" friends! I know I'm not the only one who has had a crazy week. However, I have a wonderful solution. We can bake some cookies together. Sadie's Cookies Recipe is a yummy chocolate sugar cookie recipe from one of our sweet elves at The Christmas Shoppe, Sadie.
Now, I know that cookies won't solve all the problems of the world, but they certainly can make life a little sweeter. Well, and as they say, every little bit helps.
Now, Sadie is a part-time elf, part-time High School student. She was hired to help us get through the busy Christmas season, but she is doing such a good job, that we decided to keep her on the schedule as much as possible. She does beautiful personalization on ornaments (without any training, I might add), and she always goes above and beyond to help out with whatever needs doing at the shoppe.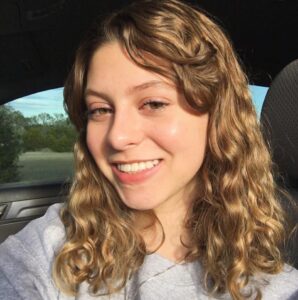 This Christmas, she even baked a bunch of these soft, chocolate-y, sugar cookies as gifts for Mr. C and I and all the elves. They were so yummy that I asked for the recipe and asked if I could share it with everyone. Sadie was happy to oblige with this adorable photo of the original recipe.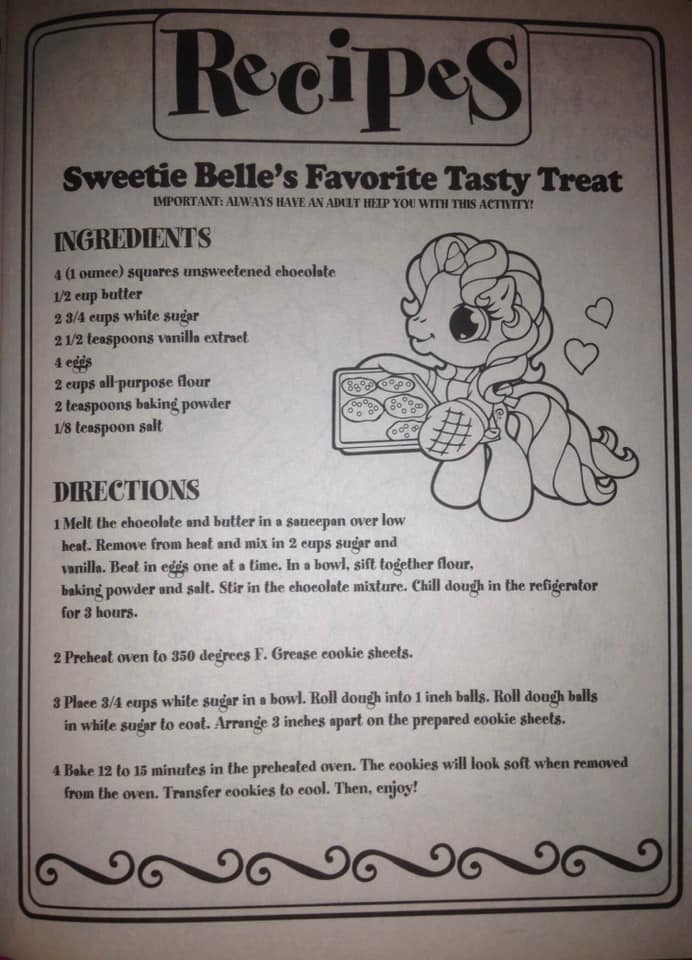 Turns out they were a childhood favorite from her My Little Pony Cookbook! Don't you love it? Well, you will love the cookies, too, and the recipe because it's pretty easy.
Speaking of My Little Ponies, I have been speaking with the toy making elves at the North Pole, and we are planning to carry more toys in 2021. We already carry a few, including some classic style My Little Ponies. So, remember to do your toy shopping at The Christmas Shoppe this year for birthdays and baby showers as well as Christmas gifts.
Now, let's start baking!
---
Sadie's Cookies – a.k.a. Sweetie Belle's Favorite Tasty Treat
Recipe courtesy: The My Little Pony's Cookbook
Prep time: 3 1/2 hours (including chill time)
Cook time: 12-15 minutes
Ingredients:
4 (1 ounce) squares of unsweetened chocolate
1/2 cup butter (one stick)
2 3/4 cups white sugar (you will have to divide it)
2 1/2 teaspoons vanilla extract (be sure to stop and smell the vanilla, dear)
4 eggs
2 cups all purpose flour
2 teaspoons baking powder
1/8 teaspoon salt
Directions:
Melt the chocolate and butter in a saucepan over low heat. Remove from heat and mix in 2 cups of the sugar (save 3/4 cup for later) and vanilla. Beat in eggs one at a time.
In a separate bowl, sift together flour baking powder and salt.
Stir in the chocolate mixture.
Cover and chill the dough in the refrigerator for 3 hours.
Then, preheat the oven to 350° and grease a cookie sheet or two.
Place the remaining 3/4 cups white sugar in a bowl. Roll dough into 1 inch balls. Roll dough balls in white sugar to coat. Arrange 3 inches apart on prepared cookie sheets.
Bake 12 to 15 minutes in the preheated oven. The cookies will look soft when removed from the oven. Transfer cookies to cool.
After they have cooled, store in an air tight container to keep the cookies nice and soft until you finish eating them.
---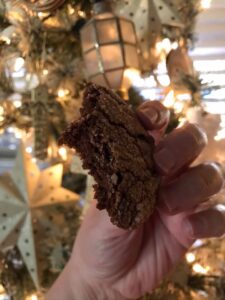 Take a bite! They are delicious! I hope you like this recipe. I am hoping that I can share more wonderful recipes from all of our elves. It's a great chance to get to know them all better and add another recipe to our collection.

If you like this recipe, you should check out our other favorite cookie recipes, like Mrs. C's Favorite Cut Out Cookies.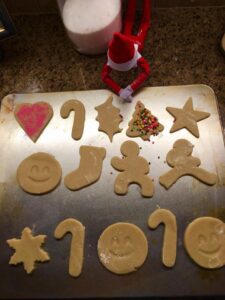 [button type="btn_border" url="https://thechristmasshoppetx.com/2017/08/09/smore-cookies-3/" target="" button_color_fon="#de001c" ]Cut Out Cookies Recipe[/button]
Plus, we have a recipe for S'more the elf's favorite Elf Kiss Cookies!
[button type="btn_border" url="https://thechristmasshoppetx.com/2017/10/07/smore-kisses-3/" target="" button_color_fon="#de001c" ]Elf Kiss Cookies Recipe[/button]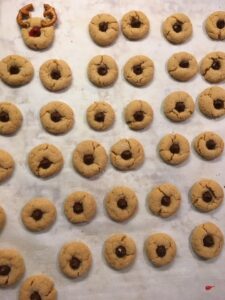 For all of our recipes, just check out our Pinterest board or the Recipes on our website.

Thank you for reading. We hope this is just one more way to help you "Celebrate Always" (I Thessalonians 5:16)
Love,
Mrs. C.