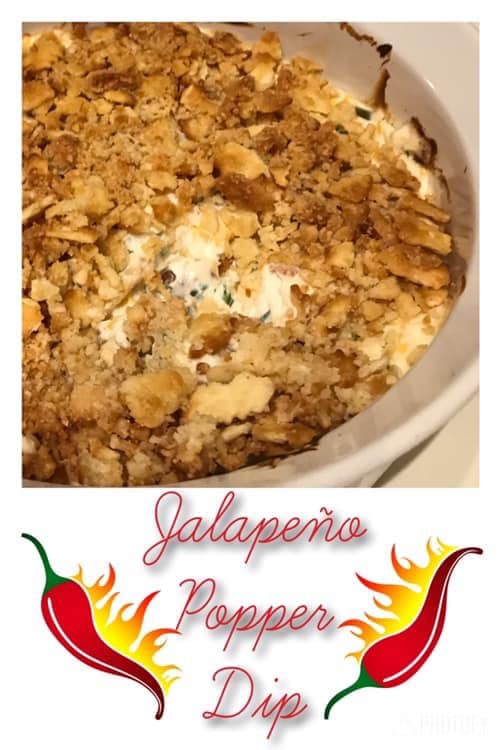 This past week, was our Spring Diva Night in Boerne, a fun night of shopping, games, and girl-time! Our most attention getting food was the Jalapeno Popper Dip. It got so many "WOW"s and "You made this?"s and "Can I get the recipe?"s. So, I promised I would share.
Now, I know you see the flames in the picture and you are thinking it's spicy. It is not. You could probably make it hotter with more jalapenos, more seeds, and more inner ribbing. Since this was my first time, I made it mild. One lovely Diva child said (after eating quite a bit), "This has jalapenos? I thought I didn't like jalapenos!" So, yay! Kid friendly!
I found the recipe on Pinterest. So, the link to the original recipe is attached at the bottom, but I tweaked it a bit. I always do that. Sometimes with mixed results. Considering the great response, I think my lower calorie version is still a winner.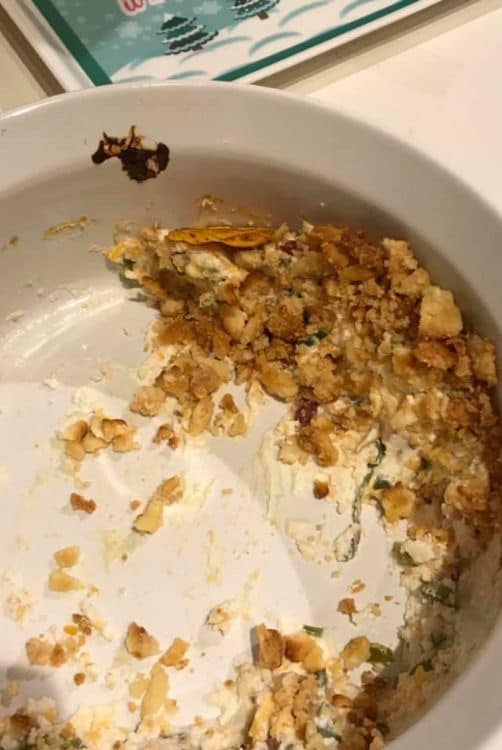 In case you hadn't noticed, I've lost about 45 pounds in the past couple years. So, I am now changing recipes all over the place to be lower in fat and calories. Just because Santa should have a "belly like a bowl full of jelly" does not mean Mrs. C. should.
Now that you are drooling, check out this easy and awesome hot dip.
---
Jalapeno Popper Dip
Courtesy of Numstheword.com
Makes about 20 servings
Prep time: 20 minutes
Cook time: 30 minutes
WW Points: About 5
Ingredients:
2 8oz packages of 1/3 fat Neufchatel, softened
6-8 slices of center cut bacon, cooked crisp and crumbled (See my tip below on how to keep extra bacon in the freezer)
1 cup Fat Free Greek Yogurt
4-6 Jalapenos, seeded and diced
1 cup shredded, sharp cheddar – fat free or low fat
1/2 cup shredded mozzarella – fat free or part skim
1/4 cup diced green onion tops
1 cup crushed Ritz Toasted Chips
1/2 cup Parmesan Cheese
1/4 cup melted butter
Directions:
Preheat oven to 350°.
Use a mixer to whip up the Neufchatel until smooth.
Stir in bacon, yogurt, jalapenos, cheddar, mozzarella, and green onion until well combined.
Transfer mixture to an 8×8 casserole dish (or about that size). Spread the top fairly smooth.
In a small bowl, combine crushed Ritz, Parmesan cheese, and melted butter. Sprinkle on top of the mixture in the casserole dish.
Bake for 20-30 minutes, until bubbly. Serve immediately with whatever will scoop it.
---
Can you smell it? It's so good.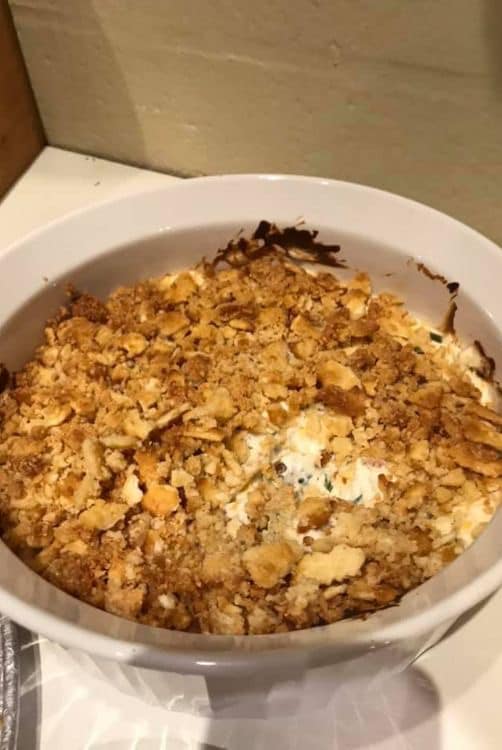 Now for my awesome tip on storing bacon! Back before I married Mr. C., I never bought bacon because I couldn't use it all before it went bad. My sweet friend, Nancy, gave me this awesome tip a couple years ago, and it has been life changing!
Bacon Tip:
Just tear some sheets of wax paper long enough to form a square with the bottom (not super long or short, and it doesn't have to be perfect). Lay two slices at the bottom of the sheet, next to each other (not on top of each other like they come in the package). Fold the top over. Fold in half. Repeat for all your bacon. Then, put it all in a freezer friendly zip lock bag and store in your freezer. Because the bacon is no longer stacked, it thaws in minutes!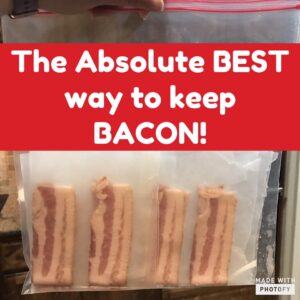 For those who want to see the original Jalapeno Popper Dip Recipe, you can find it on our Pinterest Board here:
Mrs Claus Recipes
For those who don't use Pinterest, here is the link directly to the website:
Num's the Word Jalapeno Popper Dip
Thank you for reading. I will be posting about my Babies in Blankies as well within the next week.
Love,
Mrs. C.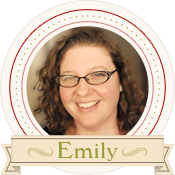 Save