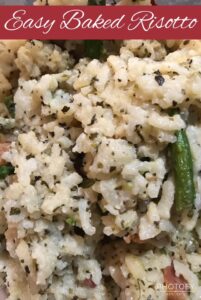 Easy Baked Risotto!
Happy Summer, everyone. We are getting well into summer vacation. Naturally, temperatures are high, and children are getting bored. I hope all the moms and dads are taking some days off, letting the kids be bored and find their own forms of entertainment.
At the Claus household, we all work. Consequently, even the little ones (you know, the elves) stay busy. However, our nephew came to town for two and half weeks. While we did do a lot of stay-cation fun, Mr C and I are no longer spring chickens. So, we made regular plans to just vegetate (as the youngsters say), playing video games, taking naps, reading, and observing our nephew's exceptional juggling skills.

I love to cook, as you know, and usually I spend a lot of time on recipes, especially cakes and cookies. However, for a lazy day, I like to make the easy recipes. Easy Baked Risotto lives up to its name. It is a bit time consuming, but that is mostly because it sits in the oven awhile. Compared with traditional risotto, this is mind blowing. On a hot summer day, no one wants to stand over a hot stove continually stirring while risotto soaks up broth.
My friend, Nancy Christmas shared this recipe with me, and the whole family loves it!
Of course, I am assuming you have tried risotto. If you haven't, you need to get you some. It is the epitome of comfort food. Comfort food is my favorite kind of food. For those of you who are unfamiliar, risotto is an Italian rice that, because of the nature of the grain, soaks up broth slowly. The end result is a creamy, pasta-like creation. This recipe pairs the risotto with bacon and Parmesan cheese. If you like Alfredo Pasta, you will like this.
Speaking of bacon, do you ever get stuck with a big package of unused bacon that goes bad before you can cook it all? It used to happen to me all the time, and this recipe only uses a little bacon. However, my friend who gave me the recipe, gave me an excellent tip on how to save extra bacon. The tip is down below the recipe!
Now that you are drooling, check out this easy and awesome recipe.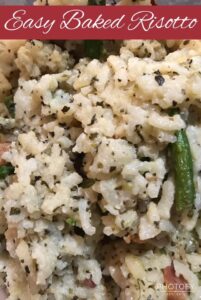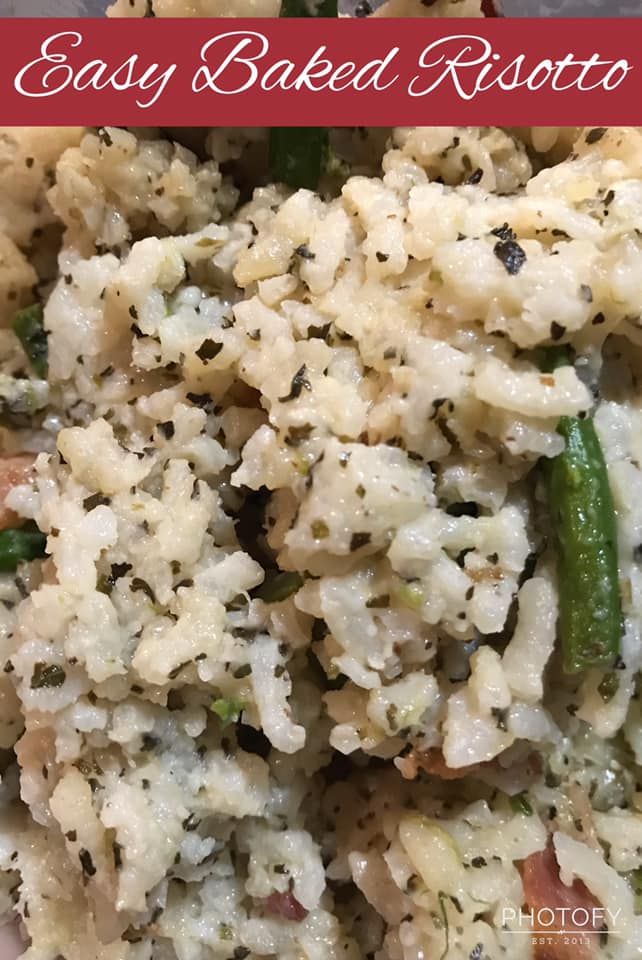 ---
Easy Baked Risotto
Makes 6 servings
Prep time: 15 minutes
Cook time: 35-45 minutes
WW Points per serving: 8
Ingredients:
4 strips bacon, chopped
1 medium onion, diced, or 1 cup diced onion (I use the frozen kind)
1.5 cups Arborio rice
1/2 cup dry white wine (or chicken broth)
1 cup Parmesan cheese (I've used both the grated kind and the fresh, shredded kind with great results)
salt & pepper to taste
1/2 cup chopped, fresh basil (or 5 1/2 Tablespoons dried basil)
2 Tablespoons unsalted butter
1 cup frozen or fresh peas or chopped asparagus (we use asparagus)
4 cups chicken broth
Directions:
First, preheat oven to 400°.
Place an oven safe pot on the stove at medium heat and cook the chopped bacon. I use a dutch oven, but any good sized pot that is safe to put in the oven will work. I suppose you could start on the stove and transfer to a casserole dish with oven safe lid before putting it in the oven, if you don't have an oven safe pot.
Next, remove bacon with a slotted spoon and set aside.
Add the diced onion to the bacon drippings and cook until translucent.
Add rice and stir to coat.
Now, stir in wine (or 1/2 cup chicken broth) and cook for 1 minute.
Stir in broth, salt and pepper, and bring to a boil.
Cover and bake for 20-25 minutes. Rice should be done and liquid mostly absorbed. Stir in veggies and basil.
Bake uncovered for 5 more minutes.
Remove from oven. Stir in butter, cheese, reserved bacon and more salt and pepper to taste.
Garnish with additional Parmesan cheese and basil, if you are feeling fancy.
---
Can you smell it? It's so good.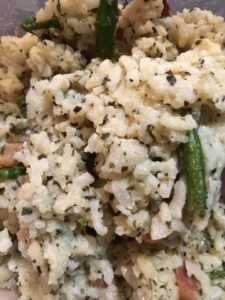 How to Save Bacon:
(You will want to see the pictures)
Tear sheets of wax paper about 5 inches long.
Lay two slices of bacon next to each other (but not touching) in the bottom half of the piece of waxed paper.
Fold the top of wax paper over the bacon.
Fold it all in half.
Repeat for all the bacon.
Place the wax paper packets in a freezer safe, plastic bag. Press out most of the air.
Store in the freezer until you are ready to use again. The bacon thaws super quickly because the pieces are so thin.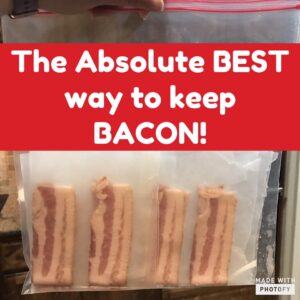 For all of our recipes, just check out our Pinterest board or the Recipes on our website.
Thank you for reading. We hope this recipe and tip is just one more way to help you "Celebrate Always" (I Thessalonians 5:16)
Love,
Mrs. C.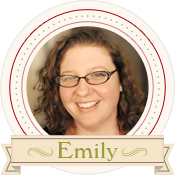 Save