Latest Update to our Corona Policy!
As of May 1st we can reopen to the public, meaning Coronacation is drawing to an end.
Our new hours are:
Monday-Saturday, 10am to 6pm
Sunday, noon to 6pm
For your safety we are:
Wearing masks. Please, keep us safe by wearing a mask, too.
Limiting the number of customers in the store to less than 75% of capacity.
Offering hand sanitizer when you enter our store.
Asking that customers not touch items unless they are seriously considering purchasing it.
Maintaining proper social distancing.
Sanitizing the register after each purchase.
Washing our hands when we enter the building and after each customer transaction.
Thoroughly sanitizing the entire store at the end of the day.

We continue to offer online and phone shopping with shipping and curbside options, should your prefer.
Contact us by…
***Phone: 830-816-2176***
***Online: TheChristmasShoppeTX.com***
***Email: Christmas.Elves@gvtc.com***
Outside of shop hours you can message us on Facebook or Instagram…
***Facebook: @TheChristmasShoppeTX.com***
***Instagram: @TheChristmasShoppeBoerne***
We are essential to morale. Please, help us stay strong by
shopping today!
The following is our modified original post, before we could reopen, should you care to read it.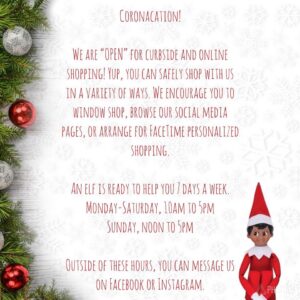 Hello, all!
This coronavirus thing has made me have to think outside the box. The truth is that I really did not want to have to be closed for this or for this long. I like my routine, and our online store is not as established as I would like it to be.
We definitely want everyone to be safe. A vacation is lovely. However, we still want to spread joy, and our usual way of interacting with you is in person. So, things will be a bit different for the next couple weeks.
I have never liked receiving loads of emails or online ads, and I imagine you don't either. On the one hand, I could just give everyone a vacation (including you) from the holidays. On the other hand, I could ramp up our online presence. I'm torn because I think we all could use a little more hope and holiday cheer right now, but everyone else is bombarding you with online sales pressure and my idea of a vacation includes less time spent on social media.
So, bear with me if you see more OR less of us than you would like. I may go live on Facebook. I may go on Instagram TV (or whatever it's called). I may not. I think I WILL give you a coupon to shop our online store. It's located below.
---
20% off your entire purchase!
Online code: CORONA20
Expires: 4/30/2020
---
In the meantime, as the photo above states, I will be here at The Christmas Shoppe because we have some shipments scheduled to arrive, office work to take care of, bills to pay, orders to place, and some chores I have put off (defrosting the freezer, moving the sleigh, painting a wall, etc.).
Update as of 4/21/20: Because we are transitioning into reopening to the public, the elves can return! So, we are open 7 days a week again.
Monday through Saturday, 10am to 5pm
Sunday, Noon to 5pm
In the meantime, here's what YOU can do to help our shop and all of Main Street:
[ox_list type="ox_list_simple"]
Shop our online store at

thechristmasshoppetx.com

Call us to place an order over the phone at 830-816-2176
Window shop!
Schedule personalized shopping through FaceTime
Follow us, like our posts, share our posts, and leave comments!
Invite your friends to join our email list(s)
Host a Facebook party!

Message

us on Facebook to set one up.
[/ox_list]
Yes, there are lots of fun things we can do on coronacation! I am still my cheery self! The Christmas Shoppe is still here and still awesome! And, we truly miss you and appreciate your smiling faces.
Hope to hear from you soon!
Love,
Mrs. C.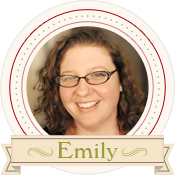 P.S. We have since had to extend our Coronacation. So, we will be reopening sometime soon. The CORONA20 discount continues until we reopen fully and you can shop in store. We are thinking of some big, fun ideas for our grand reopening that weekend and hope you can join us!
Save
Save
Save
Save
Save