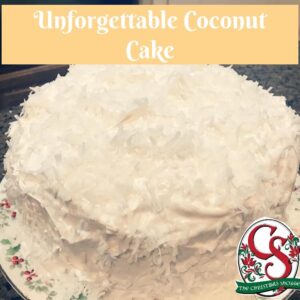 Unforgettable Coconut Cake Recipe!
Hello, to all my Coronacation friends! I hope you are all staying healthy and safe by staying home. I have been going stir crazy and baking like mad. So, I thought I would share this yummy Unforgettable Coconut Cake recipe with you today.
Personally, I have a weird southern association between coconut cake and Christmas. I really have no idea why. We never served anything particular for desserts at Christmas when I was growing up, but for some reason I think of pies for Thanksgiving and cake for Christmas, especially coconut cake.
Why cake for Christmas?
Naturally, Jesus should have a birthday cake for his birthday. Plus there is a lovely thing called a Buche de Noel or Yule Log that is definitely a Christmas tradition.
Well, this last Christmas, we had a lot going on, and although I had planned to try out the following cake, I ran out of time and energy. Don't worry! We had pie instead.
Thanks to Rona, I have a little more time and energy and decided to bake it up, now.
There is nothing new under the sun. So, I rarely invent my own recipes. This one (like a lot of my really good recipes) comes from Southern Living, specifically the 2001 Southern Living Annual Cookbook.
In other news, I love coconut! Coconut EVERYTHING!
As I type, I am drinking my favorite soda, which is Diet Dr. Pepper with Blue COCONUT flavoring. It's only available at Sonic, as far as I know, and I LOVE it.
I had a COCONUT truffle in my lunch today that is from my Easter basket.
I am wearing COCONUT lip balm by Naked Bee (we sell it, if you want some).
And, this is a COCONUT cake.

As much as I love coconut, that is not why I picked this recipe for Christmas.
The real reason is that…
It includes a recipe for "Fluffy White Frosting."
When I was little, my grandma used to make all our birthday cakes with a particular frosting. She called it 7 minute frosting or boiled frosting. My dad loves nothing more than a chocolate cake with this particular frosting.
Well, I tried to follow her recipe, but whether too many details were left out or I was too young at the time, I failed. My grandma has passed on. So, I can't ask her how to do it correctly, but the frosting in the following recipe looks identical to my grandma's recipe and has a few extra details that she probably left out.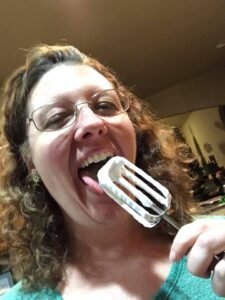 I've tried it out! It tastes wonderful! It looks stiff and fluffy! It's marshmallow-y! It looks so shiny! It's my grandma's frosting.
Sideways, the dog, likes the frosting, too. Check out Mr. C. giving him a taste while honoring National Wear Your Pajamas To Work Day.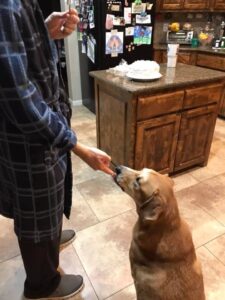 Even better, the recipe has COCONUT and a yummy apricot filling. You should make it! Here's how!
---
Unforgettable Coconut Cake
Makes one 3-layer cake
Prep time: 2 hours
Cook time: 20 minutes
Cake Ingredients:
2 1/2 cups cake flour
2 1/2 cups baking powder
1/2 teaspoon salt
1 cup milk (preferably full fat and room temperature)
1/4 cup water
1 1/2 teaspoons vanilla extract
4 egg whites
1/4 cup sugar
1/2 cup shortening
1/4 cup butter, softened
1 1/4 cups sugar
1 (3 ounce) can or bagged sweetened flaked coconut – I used the bagged stuff and guessed on the amount
Apricot Filling Ingredients:
2 (6 ounce) packages dried apricots
2/3 cup sugar
1 tablespoon cornstarch
1/8 teaspoon salt
3/4 cup water
1 tablespoon lemon rind
1/3 cup lemon juice
1 tablespoon butter
2 egg yolks, lightly beaten (save the whites for the frosting)
Fluffy White Frosting Ingredients:
1 cup sugar
1/8 teaspoon cream of tartar
1/8 teaspoon salt
1/4 cup cold water
2 egg whites (remember that the yolks go in the filling)
1 1/2 teaspoons vanilla extract
Directions:
Preheat the oven to 350°. Grease and flour three 9 inch cake pans.
Starting with the cake ingredients: combine the first 3 ingredients and set aside. Combine milk, 1/4 water, and vanilla; set aside.
Beat 4 egg whites with an electric mixer until foamy. Gradually add 1/4 cup sugar, 1 tablespoon at a time, beating until soft peaks form.
Combine shortening, butter, and 1 1/4 cups sugar in a large mixing bowl. Then, beat at medium speed for 3 minutes. Add flour mixture alternately with milk mixture, beginning and ending with flour mixture. Mix well after each addition. Fold in beaten egg whites.
Pour batter into cake pans.
Bake at 350° for 15 to 20 minutes or until a wooden pick inserted in the center comes out clean. Cool in pans 10 minutes. Remove from pans and cool completely on wire racks.
While the cake is baking, begin the Apricot filling. Process apricots and sugar in a blender or food processor until finely chopped.
Combine apricot mixture, cornstarch, and next 5 ingredients in a heavy saucepan. Bring to a boil over medium heat, and cook, stirring constantly, 3 to 4 minutes or until thickened. Reduce heat, and cook, stirring constantly for 1 minute.
Let filling cool and then cover and chill 1 hour.
About 35 minutes after the filling goes into the refrigerator, start the frosting.
Combine the first five Fluffy White Frosting ingredients in the top of a double boiler or in an oven proof bowl that will sit on top of a pot of boiling water. (Call me if you are confused.) Meanwhile, bring a couple inches of water to boil in the bottom of the double boiler or a pot.
Using a hand mixer, beat in the top bowl for 30 seconds. Then, place the bowl over boiling water. Now, beat at high speed for 7 minutes or until stiff peaks form. Remove from heat. Add vanilla, and beat 2 minutes or until thick enough to spread.
To assemble the cake, spread the chilled apricot filling between the layers of the cooled cake. Then, spread the Fluffy White Frosting on top and sides of the cake. Sprinkle with flaked coconut!
---
It is so yummy! I love the flavors.
Tips:
The cake takes a long time to make. Consequently, here are a few "mistakes" that I made and how I fixed them or what I recommend for the future.
I didn't have enough dried apricots. So, I used dried cranberries to finish out the filling. It was yummy!
I don't have three cake pans of the same size. So, I used one slightly smaller cake pan, and it became the middle layer. No one knows or cares when you are in quarantine.
I made the cake days before I finished the frosting and filling and assembled. I put it in the fridge, but I didn't keep it air tight. So, my cake was a tad dry. I recommend making this all in one day. If you refrigerate the cake, be sure it is air tight. The frosting might help seal in the moisture.
Vanilla is yummy, but next time, I think I will use coconut extract in place of the vanilla extract for the cake and frosting. Why? Because COCONUT!
For all of our recipes, just check out our Pinterest board or the Recipes on our website.
Thank you for reading. We hope this is just one more way to help you "Celebrate Always" (I Thessalonians 5:16)
Love,
Mrs. C.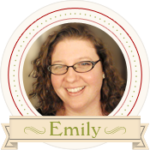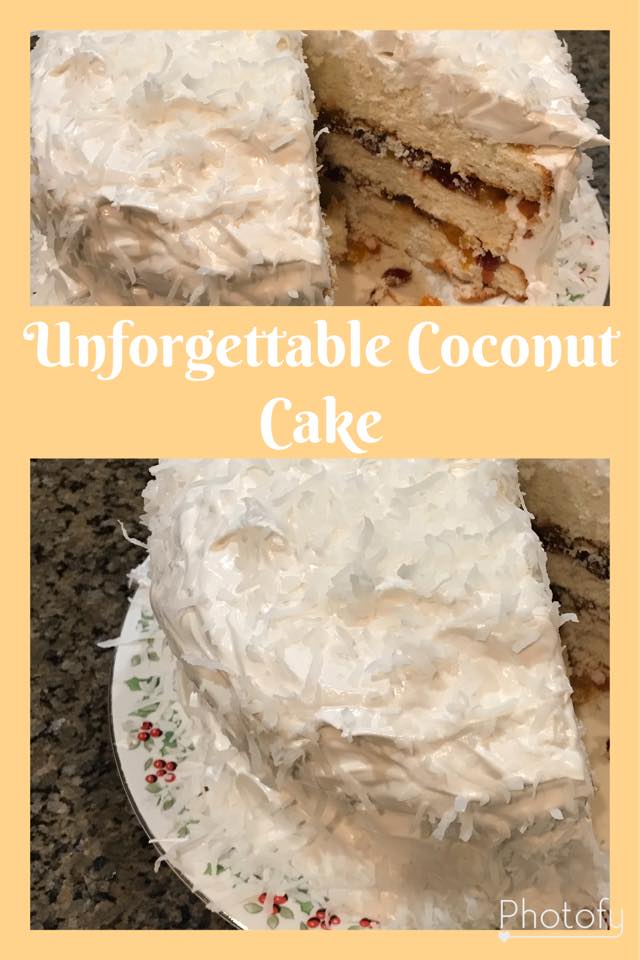 Save