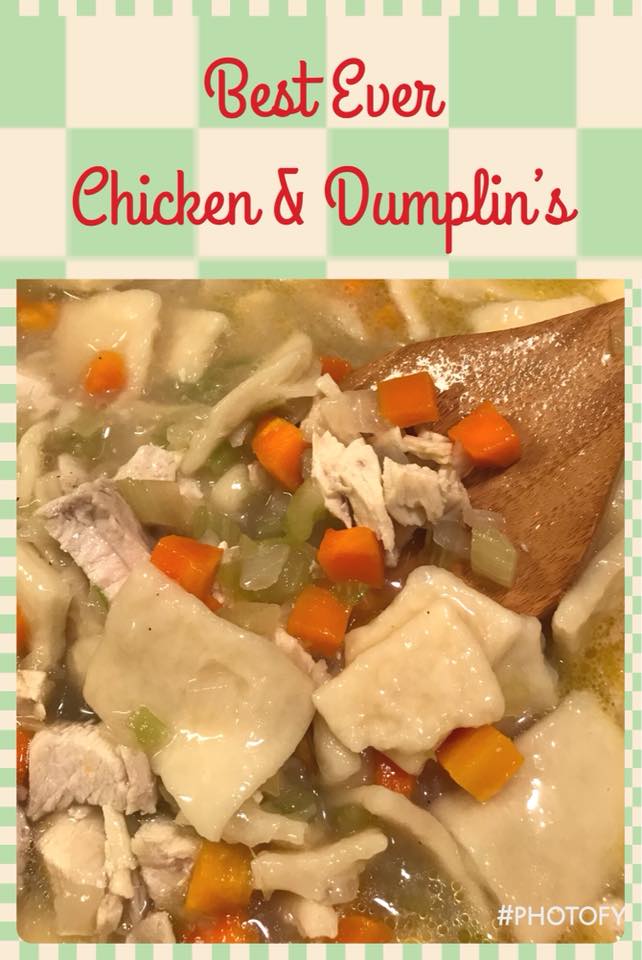 Hello, Sweethearts!
Who loves good, old fashioned Chicken & Dumplings? Who loves homemade Chicken Noodle Soup? Honestly, I would have never said yes unless I had tried this recipe.
When I was growing up my father would make his favorite Chicken & Dumplings on a regular basis. They were simple drop dumplings made from Bisquick dropped in with chicken and broth. He would serve them with copious amounts of Karo syrup, and as much as I love syrup, I never came to love his Chicken & Dumplings.
As to Chicken Noodle Soup, maybe I just have bad memories associated with it because I only ate it if I was sick. I found the canned stuff really salty, and when someone made it for me homemade, I didn't care for all the big chunks.
Thankfully, Little C came into our lives and firmly requested Chicken & Dumplings as one of her preferred comfort food. It took some research on my part because I had never heard of rolled dumplings. Here she is below, about to dig into a big bowl of the recipe I created based on her description.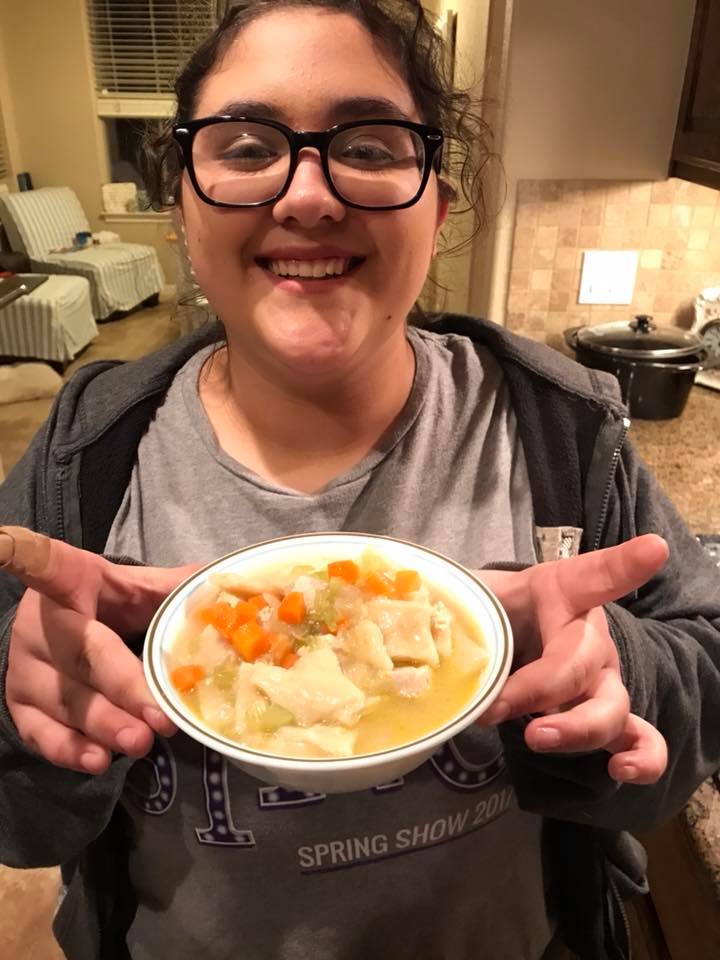 Based on most recipes, veggies are not included, and Little C was very surprised the first time I made it and included the veggies. I just thought it needed to be a bit healthier. So, in my research, I combined these two recipes I found on Pinterest, as well as Little C's favorite baked chicken recipe (she likes her chicken as moist as possible, aka almost not cooked).
Suffice it to say, it is a Winner Winner Chicken Dinner for the whole family. We eat it any time of year, but during this cold winter, we ate it a lot. It reminds me of Chicken Noodle Soup, too, but I like it much better. Definite comfort food. It's so good, I had to take the 'g' off of "dumplings" to capture it's down home goodness.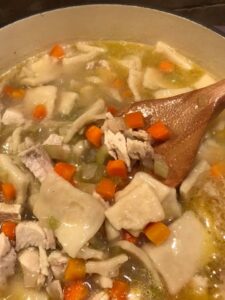 The base recipe is here.
The veggie part is here.
The baked chicken is here.
However, I'm not going to make you figure out how to combine it all in one recipe. I'll do that part for you below. I will warn you, all the chopping and steps mean it's pretty time consuming. Worth every minute!
---
Chicken & Dumplin's
Serves 8                    WW Smartpoints 5 per serving
Ingredients:
2 chicken breasts
1 Tblsp melted butter (I use Smart Balance because it's lower in fat and calories)
Salt & pepper
2 Tblsp oil
1 onion, finely chopped
5 carrots, peeled & chopped
3 ribs celery, chopped
2 quarts fat free chicken broth
2 cups flour
1/2 tsp baking powder
1 pinch of salt
2 Tblsp butter, softened (Smart Balance here, too)
1 cup milk or buttermilk (I use skim without problems)
extra flour for rolling
Parsley (optional)
Directions:
To bake the chicken: Soak the chicken in a bowl of salt water for 15 minutes. Preheat the oven to 450°. Then, pound the chicken fairly thin. Spread butter on a 9X13 baking dish and put in the chicken. Brush the tops of the chicken with more butter and sprinkle with salt and pepper and any other seasonings of choice. Bake for 15-18 minutes. Let rest for 5 minutes covered in foil before chopping. Keep covered in foil until ready to add to the soup.
Start the broth while the chicken is baking. I prefer a dutch oven, but any big pot will work. Heat oil and gently sauté the onion, carrot, and celery for 5 minutes. Add the chicken broth and bring to a simmer.
While the veggies and broth are cooking, start the dumplings. Stir flour, baking powder, and salt. Cut in butter until crumbly. Stir in milk until a dough forms. Dust a work surface with lots of flour and place the ball of dough. Dust with plenty more flour and roll out until as thin as possible. Use a pizza cutter to slice into thin strips. Then slice at a 90° angle to form small squares. They don't have to be uniform, but the smaller the better because they expand.
Time to combine everything. Bring broth to a boil and transfer dumplings with a floured spatula to the broth. Drop the dumplings one spatula full at a time into the boiling broth. The flour will fall in to and thicken the broth. Gently stir in the dumplings as you go. After all the dumplings are added, simmer for another 15 minutes to cook the dumplings.
Add the chopped chicken and some parsley and enjoy!
---
Hope you love this recipe as much as I do.
Love,
Mrs. C.