S'more Coziness
Hi, all! S'more the elf here! Well, it's been a hard and troubling week. I'm not joking when I say that a lot of people are already filling up the naughty list. So, if you can, I recommend filling your life with s'more coziness to help keep you nice and your heart whole this January.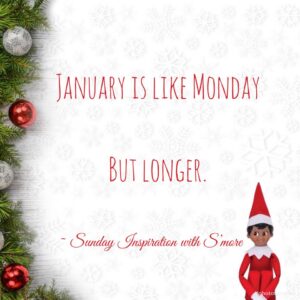 There's lots of ways to be more cozy this month. Some people focus on self-care, while others have their favorite and more specific ways to comfort themselves. I especially like the Scandinavian idea of hygge (pronounced something like "hyoo-gah"). To the Scandinavians winter is the perfect time to seek comfort and peace.
Now, here are my favorite ways to seek comfort and joy and hygge and s'more coziness.
Out with the bad in with the good!
While news and information and social media can be good and all, sometimes you have to put the ugly parts down and surround yourself with the good parts. The new year is a great opportunity to clean up your feed!
Did you know you can click on messages on Facebook and say you don't want to see certain posts? Yup. This way you can still see some posts from your friends, but not the posts that are upsetting. It doesn't work all the time, but it helps by keeping some of the posts from popping up. Don't worry, you can always click on a friend's account to see all their posts when you choose to.
You can pick and choose how you get your news. It's good to know what's going on in the world, but some sources aren't trustworthy. Mrs. C recently decided to use her "news" app for news and her social media for work and fun! So, now she only looks at the news when she wants to (and a lot less) than she looks at work stuff and fun stuff – bring on the puppy photos!
Mrs. C got super picky by unfollowing news sources on social media and setting trustworthy news sources for her news app. Again, it doesn't work all the time, but it helps.
And, every now and then, we just put the phone down. Put it down!
In with more good!
Yup, go looking for more good stuff to add to your life. S'more coziness to add. S'more happiness to add.
I have a stock pile of images that make me smile. I save them on my phone, but you can print them out and frame them if you like.
S'more Cookies!
I'm noticing a theme in my happy photos. S'more coziness means s'more cookies for S'more.
Say! I need s'more cookies! Wanna see me try my hand at cooking on Facebook?
Cooking with S'more: Gas Stove
Well, my cooking doesn't always go as planned. Good thing Mrs. C just baked some of Sadie the Elf's Chocolate Sugar Cookies!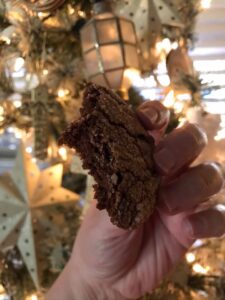 Well, that was an adventure! An adventure that ends in cookies. That's my kind of adventure.
"Celebrate Always" (I Thessalonians 5:16)
Want to see my past blogs?
CHECK OUT OUR BLOG ARCHIVE HERE
Want to be the first to see my future blogs? 
LOVE FROM,
S'MORE