S'more's Key to Happiness
Hello fellow Christmas lovers!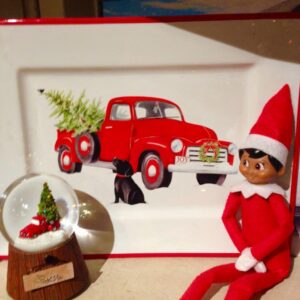 Here's a riddle for you: What never decreases by being shared?
Happiness!
My life as an Elf has taught me many things. Flying to and from the North Pole every night, the most important thing I've seen as one of Santa's Elves is happiness. Also as a helper Elf at The Christmas Shoppe. We specialize in sharing happiness. What is the secret to happiness? I know the key!
The key to your new house. (And don't worry if your new house doesn't have a chimney, you can leave a magic key for Santa.)
The key to your heart. Maybe that means your true love. A wedding or anniversary gift or token of rememberence. Maybe the key to someone's heart is through their stomach with one of my delicious recipies. 😉
The key to your new car, or your first car, or a my favorite, a vintage car.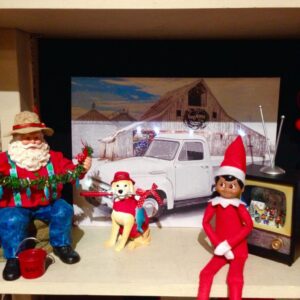 What do all of these things have in common? Smiles! Smiles go right along with happiness! But I'm here to tell you the real key to happiness is family. Maybe it's your work family, or your church family. Or maybe you have a pet and that makes a furry family! But spending precious time with the people we care about is surely the key to happiness!
Speaking of spending time with family, I have another key to mention: The Key to the Hills Rod Run. This is a great family activity that will surely make the whole family smile as you walk the streets of Boerne together.
This annual event brings together all the best when it comes to Hot Rods! The show features a pre-1949 cut-off (1948 and earlier) which distinguishes it from a "classic car show" (1949-1964). There are almost 500 coupes, sedans and roadsters which come from all over the country. The Hill Country Mile is closed from Rosewood to Blanco today and a rainbow of fabulous cars are on display throught downtown and in Main Plaza. The festivities include outside vendors as well as Boerne shops, cafe's and  bakeries.
Remember to stop in and see me and all the merry Elves at The Christmas Shoppe! We want to help you find the ornaments that celebrate all the key moments in your life! I bet we have an ornamemt for you! And for all the hot rod enthusiasts, we have some vintage car themed items too!
~S'more the Elf
Previous S'more Blog ~~~~ Next blog is HERE!
We are oh, so social! Follow us on Facebook, Pinterest, and Instagram!
Get the latest S'more Blog in your email by clicking HERE!
Save