S'more Kisses!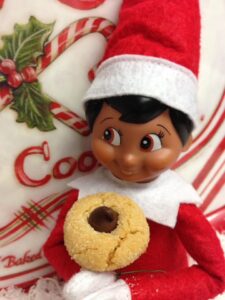 Hello, fellow Christmas lovers!
Fall weather makes me crave sugar! So, today I am sharing my very special Elf Kiss Cookie recipe. If you like Peanut Butter Cookies and Peanut Blossom Cookies, you will love these sweet little bites. Be sure to read after the recipe to get our toddler friendly version of the recipe that is perfect for small hands and small attention spans. In other words, elf friendly, too!
Now, here is my secret to baking cookies that are just right for an elf's small mouth. …….
I made the Peanut Blossom Cookies smaller! Shocking, I know.
AAAANNNND, I used chocolate chips instead of Hershey Kisses for the center. It's mind blowing. It's, also, what happens when you forget to buy Hershey Kisses.
FYI: These are a fun way to tempt dieters.
—————————————————————————
S'more's Elf Kiss Cookies
Ingredients:
1/2 cup shortening
3/4 cup Peanut Butter
1/3 cup sugar
1/3 cup light brown sugar
1 egg
2 Tblsp milk
1 tsp vanilla
1 1/2 cup flour
1 tsp baking soda
1/2 tsp salt
more sugar
8 oz bag of Hershey Kisses or chocolate chips
Directions:
Preheat oven to 375.
Cream shortening and peanut butter with sugars. Then, add egg, milk, and vanilla and mix.
Add flour, baking soda, and salt. Stir and mix to incorporate.
Roll a thumb size of dough into a ball for Elf Kisses. Roll into 1 inch balls for Peanut Blossoms.
Roll balls of dough in extra sugar and place on a cookie sheet.
Bake 5-6 minutes for Elf Kisses or 8-10 minutes for Peanut Blossoms.
Press chocolate chips into hot cookies for the Elf Kisses. Use Hershey Kisses for Peanut Blossoms.
———————————————————————————-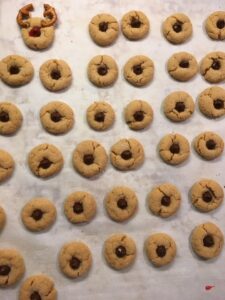 ———————————————————————————
Now, time for our….
Super Kid Friendly Peanut Blossom Cookie Recipe!
Ingredients:
1 package Peanut Butter Cookie Mix
Eggs, oil, and water per mix instructions
Granulated Sugar
8 oz package Hershey Kisses
Directions:
Adult preheats the oven per instructions on Cookie Mix.
Adult measures ingredients while child pours them into the bowl.
Child mixes the dough!
Even toddlers can roll the dough in their palms, roll the balls in a small bowl of sugar, and place on a cookie sheet.
Have the child count the cookies.
The adult puts the cookie sheet in the oven for 8-10 minutes.
Have the child count out the same number of kisses as there are cookies and unwrap them from the foil.
When the cookies come out of the oven, your child can carefully push a kiss into the center of each warm cookie.
Everybody says, "VOILA!"
——————————————————————————-
Now, let's all enjoy our favorite part! EATING THE COOKIES!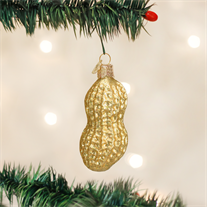 Peanuts symbolize mystery since their shells completely hide their contents. Called "treasures beneath the ground," nuts are also associated with wisdom because their contents are compact, sustaining, and enclosed with a single shell. Long ago peanuts were wrapped in gold or silver foil and used as Christmas tree ornaments. It's such a delightful tradition to decorate your Christmas tree with edible gifts! Our little Peanut Ornament by Old World Christmas is just $5.99 and makes a perfect gift for your "peanut"!
Buy our Peanut Ornament by Old World Christmas by clicking
HERE
!
Hope to see you soon. Remember, we have lots of sweet decorations that are perfect for your kitchen!
~S'more the Elf
Previous S'more Blog
~~~~ Next blog coming soon!
We are oh, so social! Follow us on
Facebook
,
Pinterest
, and
Instagram
!
Get the latest S'more Blog in your email by clicking HERE!
Save